Watch musicians, celebrities, and other interesting people teach us their favorite sustainable recipes – right from their own kitchens!
A video series hosted by REVERB Co-Director and Guster guitarist/singer Adam Gardner with guest chefs teaching us sustainable recipes and chatting about food, music, the environment and more! Follow REVERB's Facebook Page to get alerts about shows and join us LIVE!
Never miss an episode! Check back here and follow us on REVERB's YouTube or IGTV channels to see all the shows.
---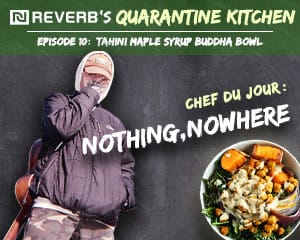 nothing,nowhere. (Joe Mulherin) is a man of many talents. Singer, rapper, musician, producer, filmmaker… the list goes on. But one talent he's not known for: cooking. That's about to change!
Joe joined our host/REVERB Co-Director Adam Gardner to make one of his favorite recipes: Tahini Maple Syrup Buddha Bowls! And just like Joe, this recipe is vegan!
Check out the video and recipe!
---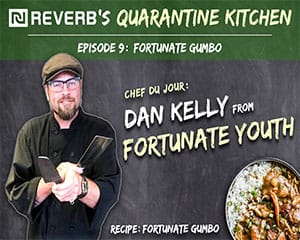 Reggae fans rejoice! Fortunate Youth lead singer Dan Kelly is bringing some irie vibes into the Quarantine Kitchen to cook up something that's sure to warm your soul.
Dan joined host/REVERB Co-Director/Guster frontman Adam Gardner to make his version of a Louisiana favorite: Fortunate Gumbo. Let this delicious dish stick to your ribs and the good vibes lift up your spirits!
Check out the video and recipe!
---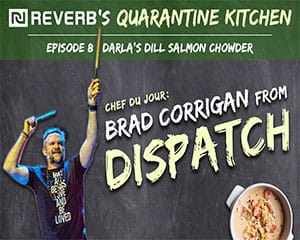 Whether he's on stage with Dispatch or at the helm of his nonprofit Love, Light + Melody, Brad Corrigan always brings love and kindness into all that he does. And now he's bringing that passion into the Quarantine Kitchen!
Brad joined our host/REVERB Co-Director/Guster guitarist Adam Gardner to make Darla's Dill Salmon Chowder!
Don't miss Brad's powerful song at the end!
Check out the video and recipe!
---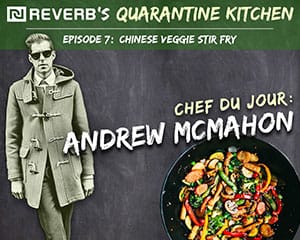 Andrew McMahon is many things – musician, songwriter, cancer survivor, advocate. And now we can add a new title: chef!
Andrew joined REVERB Co-Director/Guster frontman Adam Gardner in REVERB's Quarantine Kitchen to make a vegetarian staple – Chinese Veggie Stir Fry! It's a quick, simple, sustainable meal you can make any night of the week!
So bust out your wok, chop some veggies, and get your stir fry on!
Check out the video and recipe!
---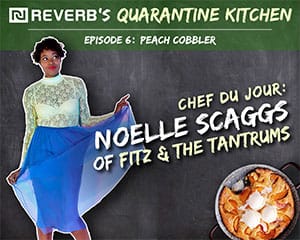 Fitz and The Tantrums co-lead vocalist Noelle Scaggs is one incredible singer, but did you know she's a powerhouse in the kitchen, too!?
Well if you didn't know you're about to find out because Noelle joined us in the kitchen to make Table for One Peach Cobbler.
Friends, this one is sweet!
Check out the video and recipe!
---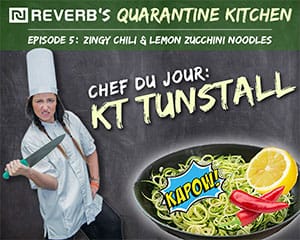 Rock goddess, environmental warrior, and all-around kick-a$$ human, KT Tunstall joins us in the Quarantine Kitchen to whip up her Zingy Chili & Lemon Zucchini Noodles! Zucchini noodles, you ask? Yes friends, noodles made of zucchini. And. They. Are. Good.
So grab a spiralizer, some zucchini, and your joie de vivre – let's get cooking!
Check out the video and recipe!

---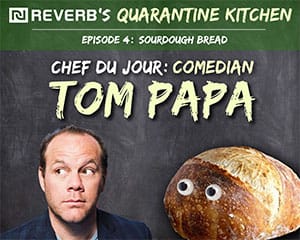 Have you been seeing all your friends posting pictures of their homemade bread online and thinking, 'I should really do that?' Tom Papa has… and he's going to help you make your own delicious, Instagram-worthy Sourdough Bread!
Tom has been perfecting his sourdough recipe for years and in this episode he shows us all the steps to make a delicious sourdough loaf right from home – flour, salt, and water is all you'll knead.
Check out the video and recipe!
---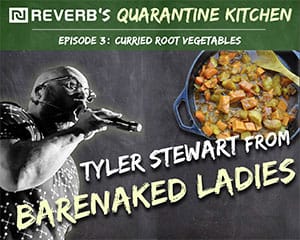 Curry and root vegetables and barenaked ladies – oh my! Our good friend Tyler Stewart – the multi-talented drummer of our partners Barenaked Ladies –joined us to make Curried Root Vegetables.
Tyler's ability behind the drums is well known, but his prowess in the kitchen is the stuff of legend. Don't miss the opportunity to cook along with him and learn a new recipe – right from Tyler's own kitchen!
Check out the video and recipe!
---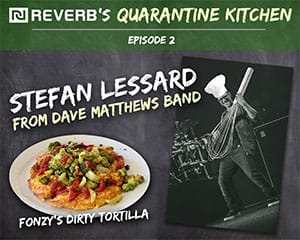 This episode we welcomed our good friend and longtime REVERB partner, Stefan Lessard, bassist extraordinaire of Dave Matthews Band.
Before joining DMB, Stefan worked in the kitchen of a restaurant – you can even see a picture of him from those days in the video – and he's also learned a thing or two from his friend, Chef José Andrés. In fact, Chef Andrés taught Stefan the basis for this recipe: Fonzy's Dirty Tortilla.
Check out the video and recipe!
---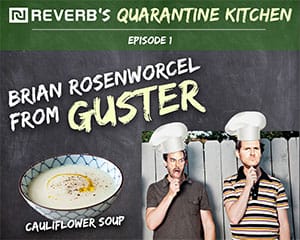 Our good friend and longtime REVERB partner Brian Rosenworcel from Guster – the Thundergod himself – is our first guest on Quarantine Kitchen.
He's making his famous, unbelievably simple, and really delicious Cauliflower Soup! Adam Gardner, REVERB's co-Director and Brian's bandmate in Guster, is our host.