REVERB's Kitchen – Episode 27: Chef Alejandra Schrader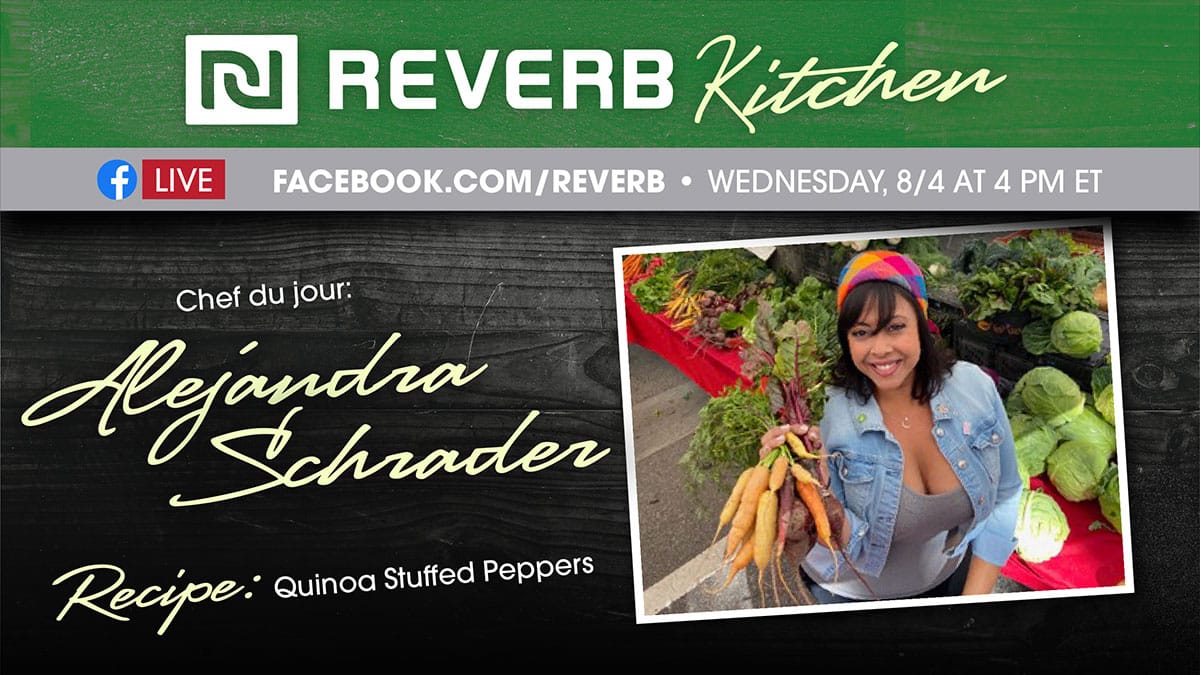 Chef Alejandra Schrader is a plant-based chef on a mission. Building on culinary influences from her childhood in Venezuela, Alejandra has been promoting Earth-friendly sustainable eating as a way to fight climate change and help people live healthier lives. As a "Sisters on the Planet" Ambassador with Oxfam, noted speaker at the United Nations and World Bank, and even as a contestant on MasterChef, Alejandra has been delivering a message of plant-based foods and reduced waste to create a better future for people and the planet. She just recently published a cookbook titled, "The Low-Carbon Cookbook & Action Plan."
Chef Alejandra joins host / REVERB Co-Director / Guster frontman Adam Gardner to make QUINOA STUFFED PEPPERS

Join us LIVE at 4pm ET on Wednesday, August 4 on REVERB's Facebook Page or YouTube Channel!
Listen to Chef Alejandra's Low-Carbon Cooking Playlist
Check out the recipe below so you can cook along! AND WATCH PAST EPISODES HERE!
Special thanks to our partners Impossible™ Foods for their support of REVERB's Kitchen


---
QUINOA STUFFED PEPPERS
Recipe from Chef Alejandra Schrader's Book, "The Low-Carbon Cookbook & Action Plan"
I learned all about stuffed peppers from Mama Irene, my mother-in-law, whose recipe inspired this dish. I've used eggplant and lentils to add a comforting and satiating meatiness to the stuffing. I also added quinoa because it's a nutrition powerhouse that has great texture.
PREP TIME: 15 TO 20 MINUTES
COOK TIME: 49 TO 52 MINUTES
YIELD: 4 PEPPERS
INGREDIENTS
4 large bell peppers (any colors)
3 quarts (3 liters) water
11⁄2 tsp plus 2 pinches of coarse sea salt, divided
2 tbsp coconut oil
2⁄3 cup small-diced celery
2⁄3 cup thinly sliced scallions
2 large garlic cloves, minced
1 cup small-diced Japanese eggplant
1⁄2 cup small-diced tomato cores
1⁄4 tsp ground annatto
1⁄4 tsp ground coriander
1⁄4 tsp ground black pepper
11⁄4 cups cooked Quinoa (page 242)
1 cup cooked Green Lentils (page 239)
2 tbsp Vegetable Broth (page 232)
2 cups red dandelion leaves
1 cup Swiss chard leaves
1⁄2 tbsp extra-virgin olive oil
1⁄2 tbsp balsamic vinegar
FOR THE JAM
1lb (450g) ripe Roma tomatoes 1⁄4 cup coconut sugar
11⁄2 tbsp apple cider vinegar
1 tbsp blackstrap molasses
1⁄2 tbsp stone-ground mustard 1⁄4 tsp coarse sea salt
1⁄4 tsp ground cinnamon
RECIPE
To make the jam, core the tomatoes (and save for the quinoa mixture) and roughly chop the flesh. In a small saucepan on the stovetop over medium heat, add the tomatoes and the remaining jam ingredients. Bring to a boil, stirring often, then reduce the heat to low. Simmer until the liquids have evaporated and the jam is thick and sticky, about 25 minutes, stirring occasionally. Remove the saucepan from the heat and allow the jam to cool.
Preheat the oven to 375°F (190°C).
Cut off about 3⁄4 inch (2cm) from the top of the peppers and remove all the seeds and white membranes. In a medium saucepan on the stovetop over medium-high heat, bring the water to a boil. Stir in 1 teaspoon of salt. Add the peppers and poach for 2 minutes. Use a mesh ladle to transfer the peppers to a baking tray lined with a clean kitchen towel. Keep the saucepan covered on the stovetop at a very low heat.
In a large sauté pan on the stovetop, heat the coconut oil over medium heat. Add the celery, scallions, and garlic. Sauté for 1 minute, stirring often. Stir in the Japanese eggplant and cook for 2 minutes.
Add the tomato cores, annatto, coriander, black pepper, and 1⁄2 teaspoon of salt. Cook for 2 minutes, stirring often. Add the quinoa, lentils, and broth. Cook for 2 minutes more, stirring occasionally.
Place the peppers in a glass baking dish. Stuff the peppers with the quinoa mixture and use a spoon or spatula to compact the filling as you go. Place the dish on the top rack in the oven and bake until the peppers are tender, about 15 to 18 minutes. Remove the dish from the oven and set aside.
Add the dandelion leaves and Swiss chard to the simmering saucepan. Poach for 1 minute, then strain. Transfer to a large bowl. Drizzle the olive oil and balsamic vinegar over the top. Season with the remaining 2 pinches of salt.
Place the peppers on 4 plates. Top each with a mound of leaves and chard as well as 1 to 11⁄2 tablespoons of tomato jam. Serve immediately.