REVERB's Quarantine Kitchen – Episode 9: Fortunate Youth's Dan Kelly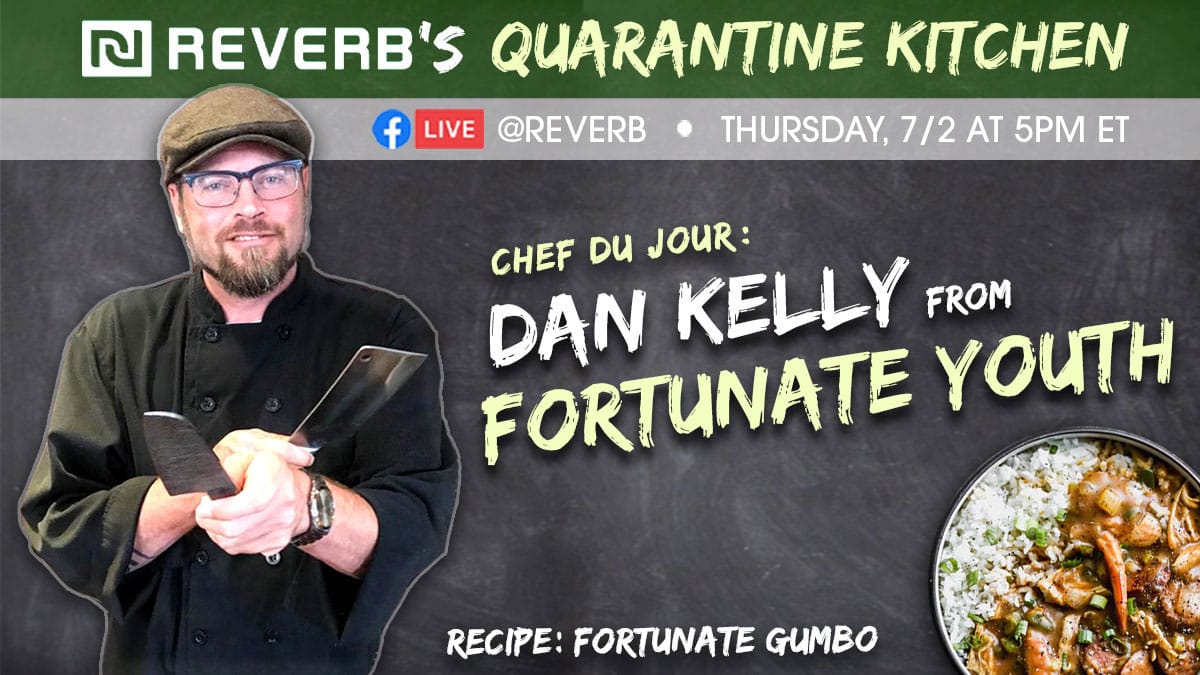 The food's looking fine in episode 9!
Reggae fans rejoice! Fortunate Youth lead singer Dan Kelly brought some irie vibes into the Quarantine Kitchen and cooked up something that's sure to warm your soul.
Dan's music may be laid back, but he's a serious cook. He's joined host/REVERB Co-Director/Guster frontman Adam Gardner to make his version of a Louisiana favorite: Fortunate Gumbo. Let this delicious dish stick to your ribs and the good vibes lift up your spirits.
Check out the recipe and video below!
Special thanks to our partners at Clif Bar & Company for their support of Quarantine Kitchen and donating 1,000 Clif Bars to Dan's nonprofit of choice: The Sidewalk Project.
---
Ingredients:
2 Onion (minced)
2 Stocks of celery (chopped)
1 Med sized red bell pepper (chopped)
2 Med sized green bell pepper (chopped)
1 Med sized jalapeno (chopped)
5 Cloves garlic (minced)
4 Green onion for garnish (chopped)
3 Dry bay leaves
1 Cup vegetable oil
1 Cup flower
2 Cups long grain white rice
2 Teaspoons salt
1 Tablespoon pepper
1 Tablespoon cayenne pepper
1 Tablespoon smoked paprika
1 Gallon chicken stock
1LB Chicken (salt & peppered) – Try locally raised, organic chicken when possible!
1 LB Smoked sausage – you can consider meat alternative sausage, too, just add a bit more oil.
1 LB Shrimp – Check out this resource for the most environmentally-friendly shrimp options
½ LB King crab legs – US King Crab are a best pick according to EDF
Roux 
1 Cup vegetable oil
2 Cup flower
Directions
Chop peppers, celery, jalapeño into small cubes, mince the garlic and mix all of them together; add all the spices and set aside to combine with ruox after its done.
Add oil to large pot. Put on med heat, wait 5 min then add flower. Stir consistently for 30 min until dark and chocolaty.
Add all veggies and spice mix to roux, cook for 5 min or until veggies are soft then add chicken stock slowly to avoid lumps in your gumbo.
Throw in cut smoked sausage to your gumbo mix and cook for 2 to 3 hours.
Place chicken seasoned with salt and pepper in oven at 350 degrees until cooked (about 20 min).
Add your cooked chopped chicken to the gumbo mix.
Okay now for the good stuff…after a few hours of cooking your gumbo it should be done so it's time to add the raw shrimp and king crab legs. Let simmer for another 10 to 15 min (until shrimp is pink).
As all that's going on, cook your rice. If you don't k now how to cook rice…google it!
Spoon a large awesome amount of gumbo in a bowl on top of the rice you just googled how to make, garnish with green onion and enjoy!