REVERB's Quarantine Kitchen – Episode 24: The War on Drug's Charlie Hall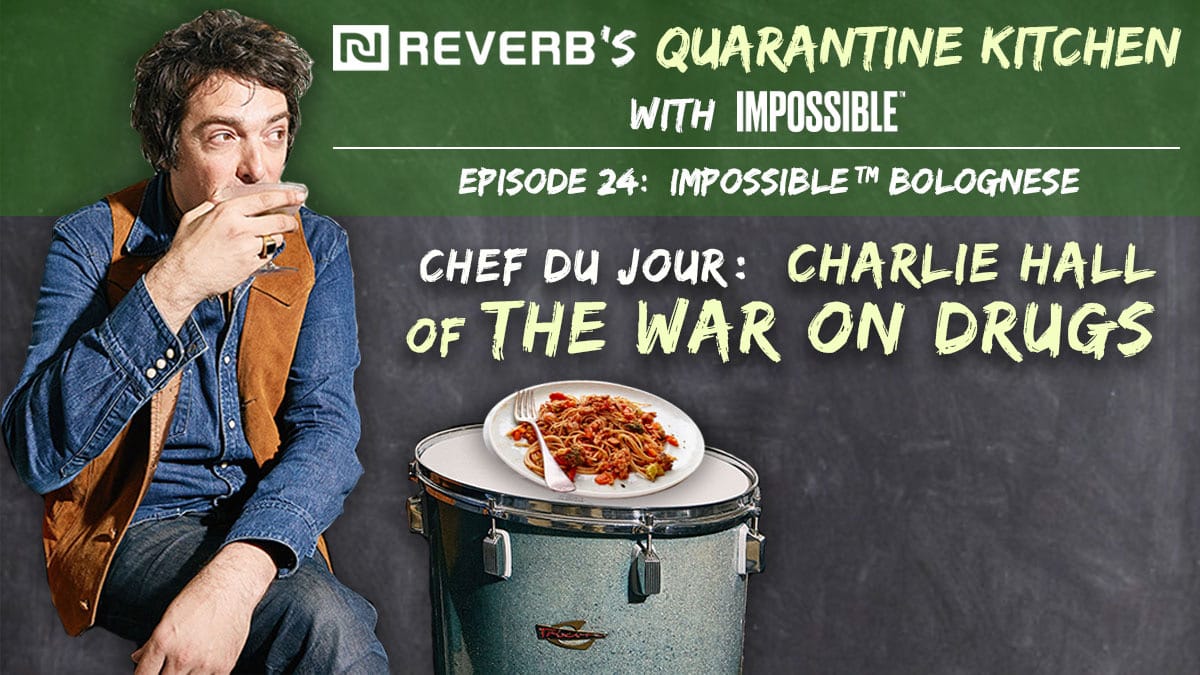 Charlie Hall is truly a renaissance man. In addition to being the renowned drummer for the band The War On Drugs, he's also an accomplished cook and well known for his abilities as a bartender.
This week, Charlie joins host / REVERB Co-Director / Guster frontman Adam Gardner to make a vegan version of a classic recipe that's usually heavy on the meat – Vegan Bolognese with Mushrooms, Walnuts, and Impossible™ Burger. Here's a bit more about the recipe from Charlie:

"I know what you're thinking – 'it's not Bolognese without a bunch of meat and dairy', but if you want to skip the trip to the butcher and keep things clean, this recipe is equally rich, robust and complex, owing to seared mushrooms, Impossible burger and toasted walnuts, which are bolstered by balsamic vinegar, tomato paste, soy sauce and Vegemite. Serve over your favorite pasta (I like rigatoni which helps capture all the delicious bits), over some ricotta toast (if you're not actually vegan), or incorporated into your favorite lasagne recipe."
Check out the recipe below so you can cook along! AND WATCH PAST EPISODES HERE!
Special thanks to our partners Impossible™ Foods for their support of Quarantine Kitchen


---
Impossible™ Vegan Bolognese with Mushrooms & Walnuts
Adapted from a recipe by Alexa Weibel (yields about 6 cups)
Ingredients
❏ 1 cup shelled walnuts (about 100 grams), chopped into pieces no larger than 1/4-inch
❏ 12 oz fresh mushrooms (preferably half shiitake and half cremini)
❏ 8 oz Impossible Burger
❏ ½ cup olive oil, plus more for serving
❏ 2 teaspoons soy sauce
❏ 2 teaspoons thick, syrupy balsamic vinegar
❏ 1 medium yellow onion, finely chopped (about 1 1/3 cups)
❏ 1 medium carrot, peeled and finely chopped (about 1 cup)
❏ 2 celery stalks, peeled and finely chopped (about 3/4 cup)
❏ 4 garlic cloves, chopped
❏ 1 teaspoons dried oregano
❏ ¾ teaspoon red-pepper flakes
❏ 3 tablespoons tomato paste
❏ 2 teaspoons Vegemite
❏ ½ cup dry red wine
❏ 1 (28-ounce) can crushed tomatoes
❏ Kosher salt and black pepper
❏ Fresh Italian parsley or basil, for serving
Preparation
Add the chopped nuts to a large Dutch oven or heavy pot and toast over medium, stirring frequently, until they visibly sweat and become fragrant, about 5 minutes. Season with salt and pepper, transfer to a medium bowl and set aside.
Prepare the mushrooms: Stem the shiitake mushrooms and chop into 1/4-inch pieces.
Wipe out the pot, then heat 2 tablespoons olive oil over medium-high. Add half the mushrooms and season generously with salt and pepper, and cook, stirring occasionally, until browned, about 6 minutes. Transfer to the bowl with the toasted walnuts, then repeat with the remaining mushrooms. Stir the soy sauce into the mushroom mixture, then the balsamic. Set aside.
Wipe out the pot, then heat 2 tablespoons olive oil over medium. Add the onion, carrot and celery, season generously with salt and pepper, and cook, stirring occasionally, until starting to caramelize and brown at the edges, about 7 minutes.
Stir in the Impossible Burger and incorporate with the veggies, about 2 minutes.
Add mushroom-walnut mixture, garlic, oregano and red-pepper flakes, and stir until fragrant, about 2 minutes.
Stir in the tomato paste and Vegemite, and cook, stirring frequently, until darkened and caramelized, 4 to 5 minutes.
Pour in the wine and cook, stirring occasionally, until the alcohol cooks off and the liquid reduces until thick and sticky, 3 to 4 minutes.
Add the crushed tomatoes, along with 1 cup water. Bring to a simmer over high.
Reduce the heat to medium-low, cover and cook, stirring occasionally, until the tomatoes are cooked through and flavors meld, 30 to 40 minutes. Stir in 2 tablespoons olive oil, for richness, then season to taste with salt and pepper. (Makes about 6 cups.)
Cook your pasta until al dente, and toss with the desired amount of sauce.
Drizzle with a little olive oil to finish and sprinkle with parsley or basil, if using, and serve immediately. (Leftover sauce will keep covered in the refrigerator for a few days, or frozen for up to 3 months.)