REVERB's Quarantine Kitchen – Episode 16: Adam & Jack from AJR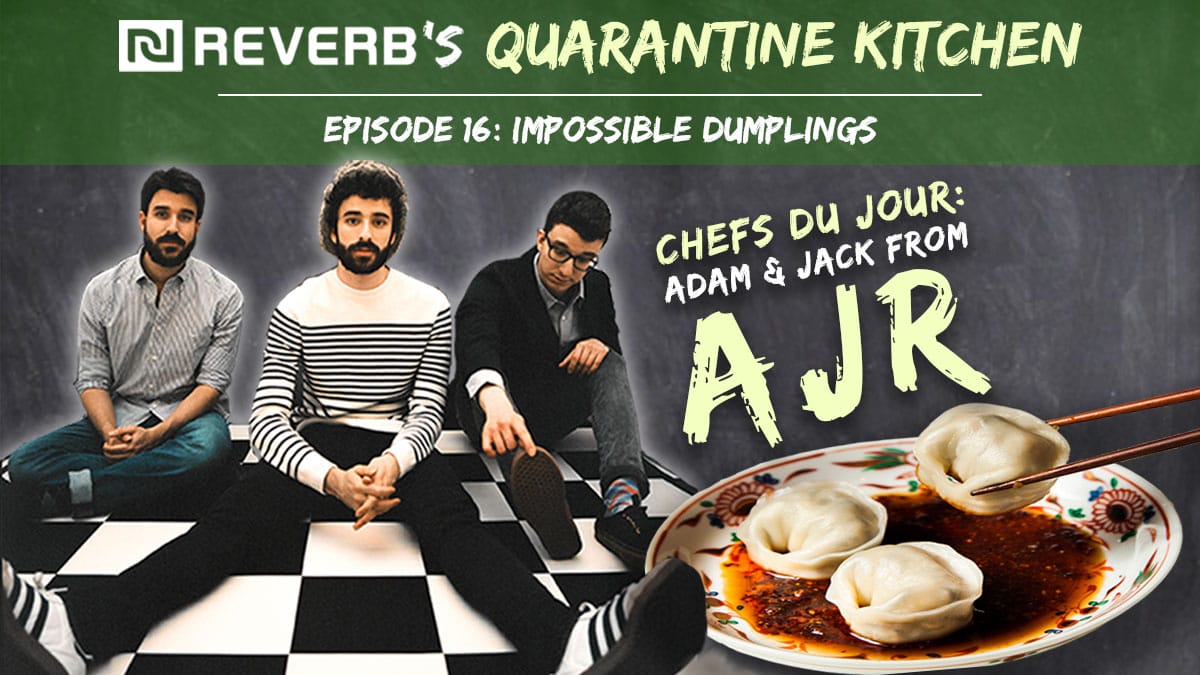 It's a brotherly team in episode 16
Adam and Jack Met – AKA the A & J of AJR – have always been  DIY-ers. From creating music together in their apartment when they were younger to busking on the streets of New York City to writing, producing, and playing all the instruments on their albums, the brothers Met aren't afraid to roll up their sleeves and get to work!
Now we're going to find out if their DIY prowess extends to the kitchen!
We're delighted to have Adam and Jack join us in the Quarantine Kitchen to make Impossible Dumplings!
Check out the recipe below so you can cook along at home!
Special thanks to our partners at Clif Bar & Company for their support of Quarantine Kitchen and donating 1,000 Clif Bars to Adam and Jack's nonprofit of choice: Freedom from Hunger.
---
AJR Impossible Dumplings
Ingredients
Dipping Sauce
1 cup low-sodium soy sauce
2 1/2 tablespoons Sriracha sauce
Juice of 3 lemons
Impossible Meat Dumplings
1 tablespoon minced garlic
2 teaspoons minced ginger
2 teaspoons sesame oil
1 small bunch scallions, white and green parts, chopped
12 ounces Impossible Meat
3 tablespoons hoisin sauce
2 teaspoons low-sodium soy sauce
1 teaspoon Chinese five-spice powder
1 egg
1 package round dumpling wrappers
1 tablespoon vegetable or peanut oil, for frying
Directions
For the dipping sauce: Combine the soy sauce, Sriracha and lemon juice in a bowl and set aside until ready to serve.
For the Impossible Meat dumplings: Heat a large nonstick skillet over medium-high heat. Add the garlic, ginger, sesame oil and scallions and cook until fragrant, 1 to 2 minutes (you just want to take the bite off of the raw ingredients, not saute them). Remove from the heat and allow to cool 1 minute.
Combine the cooked garlic, ginger and scallions with the Impossible Meat, hoisin, soy sauce, five-spice powder and egg in a large mixing bowl.
Working with the dumpling wrappers, start with the floured surface facing down. Place 1 1/2 teaspoons of filling in the center of a wrapper. Wet the edge of the dumpling with water, using your finger, and fold the circle in half without sealing, like a taco. Pinch one end closed. Create pleats on one side using your thumb and forefinger, pressing against the other flat edge to seal as you go. Flatten the bottoms so they can get a nice pan fry on them. Repeat until all the dumplings are filled. Keep the dumplings on a lightly-floured sheet tray to keep them from sticking, and cover with a slightly damp towel to keep from drying out.
Heat the veggie oil over high heat in the same skillet. Working in batches, pan-fry the dumplings by placing them bottom-side down and frying until golden brown, 1 to 2 minutes.
Once the dumplings are golden brown, working carefully (it will splatter), pour 1/2 cup water into the skillet to cover the dumplings halfway. Immediately cover with a lid, leaving a small crack for steam to escape. Cook until the water has evaporated, 5 to 7 minutes. Transfer the dumplings to a paper towel-lined plate to soak up excess oil and repeat the process with the remaining dumplings.
Dough
Ingredients
All-purpose flour
Salt
Hot Water
Cold Water
See the recipe HERE