REVERB's Quarantine Kitchen – Episode 6: Noelle Scaggs of Fitz and The Tantrums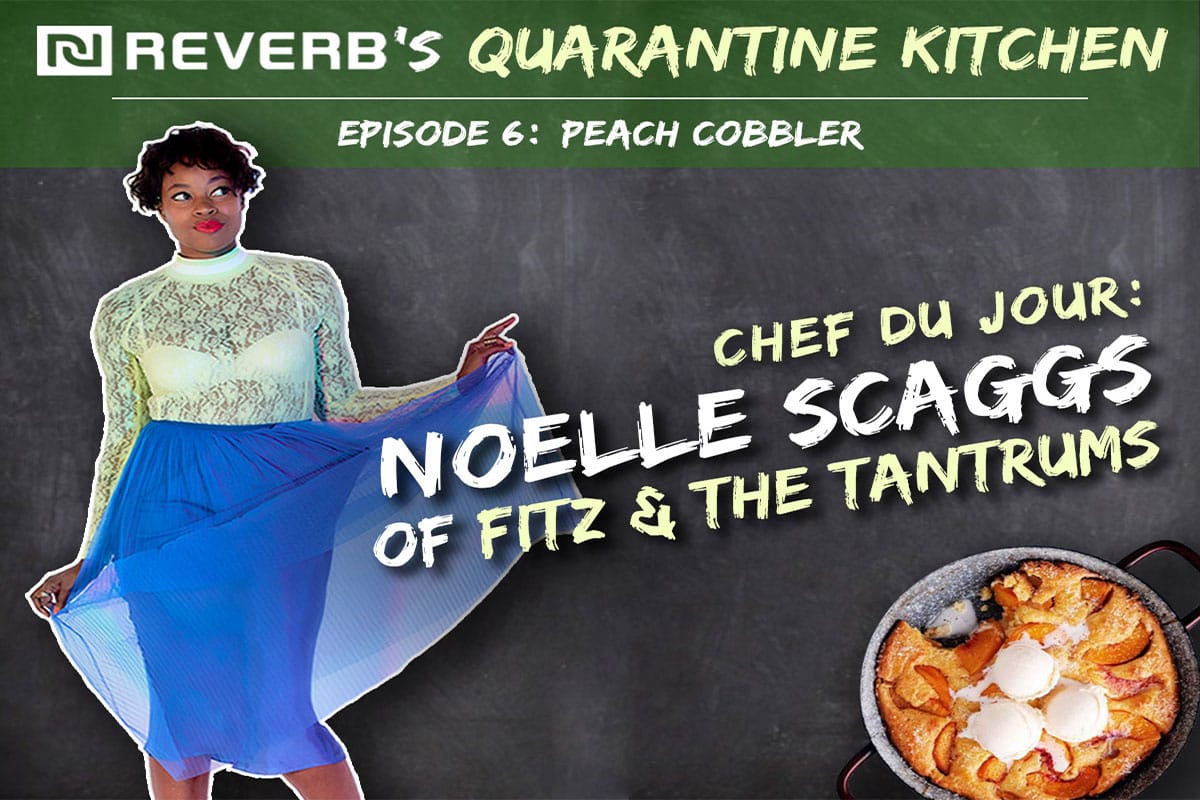 Episode 6 will have you singing the praises of peaches!
As anyone who's heard the soulful sounds of Fitz and The Tantrums knows, co-lead vocalist Noelle Scaggs is one incredible singer. But did you know she's a powerhouse in the kitchen, as well!?
Well if you didn't know you're about to find out because Noelle joined host/REVERB Co-Director Adam Gardner in Episode 6 of Quarantine Kitchen making Table for One Peach Cobbler. Friends, this is one sweet episode!
Check out the video and recipe below!
---
Shopping List:
NOTE: for larger cobbler double the peaches and where there is an *
1/2 to 1 dozen fresh peaches
Organic sugar cane
Vanilla extract
Lime juice
Korintje cinnamon (Indonesian cinnamon)
Ground nutmeg or fresh nutmeg
Ground Cardamon
Maldon salt or Fleur du sel (high quality salt, Celtic Sea salt works too)
Unbleached All purpose flour
Baking powder
Organic milk or milk alternative (Oatly barista blend, or Macademia nut milk is best) the fat matters
Unsalted Butter
Vanilla ice cream (Or for home made whipping cream grab Organic whipping cream)
Foil
Tools
6 in cast iron skillet
13.47- 14 inch gratin dish
If making a larger 13x9in glass casserole or 12 inch skillet
2 medium mixing bowls
A wooden spoon
Spatula
Chefs knife
Pairing knife
Tools to measure
Ramekins to serve
Table for One Measurements. (*) Double for larger cobbler.
1 cup flour*
3 tsp baking powder*
1/2 cup Macademia nut or Oatly*
1/8 tsp salt*
3 TBSP Butter sliced into 1/4 inch* squares
Directions
Pre-heat oven to 375
In medium bowl using a wooden spoon, gently toss peaches in lime juice, sugar, vanilla, cinnamon, nutmeg and cardamon. Being careful not to smush the peaches. The flavor layering is important. Toss each ingredient one after the other. Place aside in your baking dish of choice.
For batter using a spatula, mix all dry ingredients with the milk of choice. Fold together till moist and slightly smooth. Think a waffle batter. Don't over work the batter. Pour batter over the peaches and spread over. Place the butter slices on top.
Bake for 40-45 minutes until light golden brown.
Remove from oven and sprinkle a little sugar on top.
Stick under your broiler until golden brown and slightly caramelized. You have to watch! It cooks fast! About 3 minutes.
Remove from broiler, Allow to cool for 3 minutes before serving in ramekin(s) with choice of topping. Sprinkle a little cinnamon.