REVERB's Quarantine Kitchen – Episode 15: DMB's Stefan Lessard Part II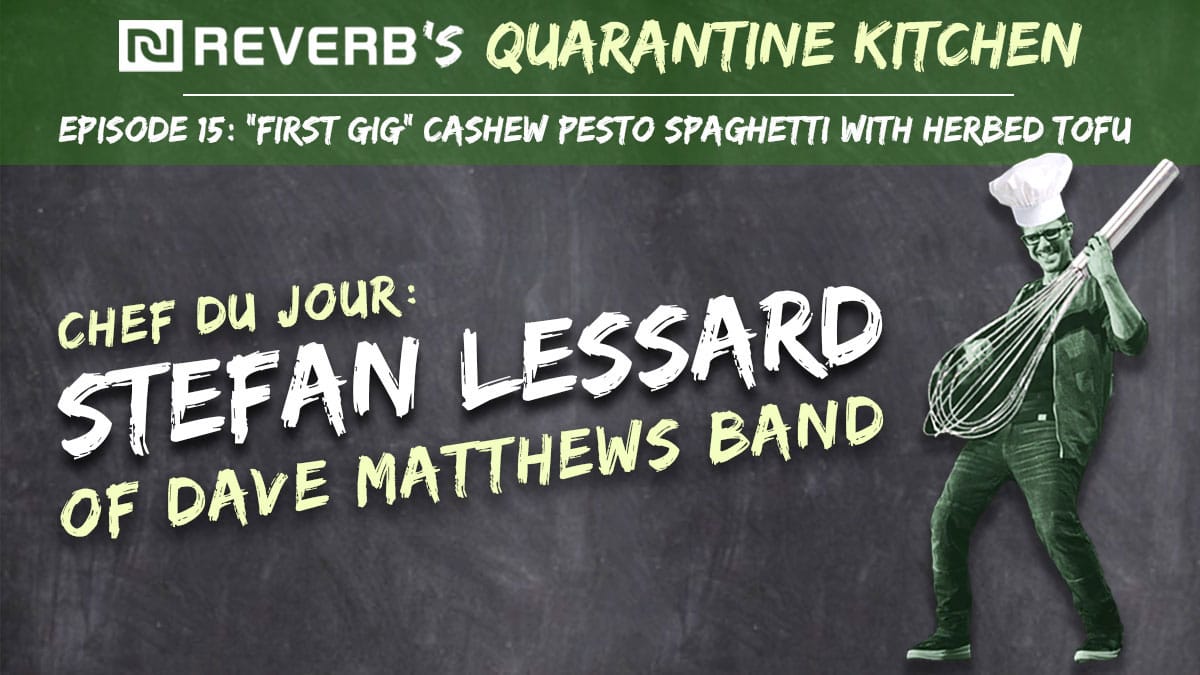 Fonz is back on the scene in episode 15!
Stefan Lessard is one of the world's great bassists, but he's anything but bass-ic in the kitchen! We're thrilled to have Fonz returning to the Quarantine Kitchen to cook a dish that was inspired by DMB's first gig at Trax.
Join Stefan and our host / Guster frontman / REVERB Co-Director Adam Gardner to learn how to make "First Gig Cashew Pesto Spaghetti with Herbed Tofu" and hear why it's connected to DMB's first show.
Check out the recipe below so you can cook along at home!
Special thanks to our partners at Clif Bar & Company for their support of Quarantine Kitchen and donating 1,000 Clif Bars to Stefan's nonprofit of choice: Second Harvest Food Bank Orange County in California!
---
Stefan's First Gig Cashew Pesto Spaghetti With Herbed Tofu
Cuisinart required for pesto
Gluten Free and Dairy free options
**Organic Ingredients if possible**
Cashew Pesto
1 Cup basil leaves
1/3 Cup Roasted unsalted cashews
1 Tablespoon minced garlic
1/3 Cup EXTRA VIRGIN Olive Oil
1/3 Cup Shredded Parmesan or Vegan Substitute (nutritional yeast)
1/2 teaspoon salt
1/4 teaspoon black pepper
1/2 teaspoon fresh lemon juice
Herbed Tofu
1 pound of Tofu
1 teaspoon fresh oregano
1 teaspoon fresh thyme
1/4 teaspoon salt
1/4 teaspoon black pepper
1/2 tablespoon olive oil
Additional Ingredients
1 cup of cherry tomatoes
Italian Parsley for garnish
Regular, gluten free, or grain free spaghetti or pasta of choice.