REVERB's Quarantine Kitchen – Episode 13: Joe Pisapia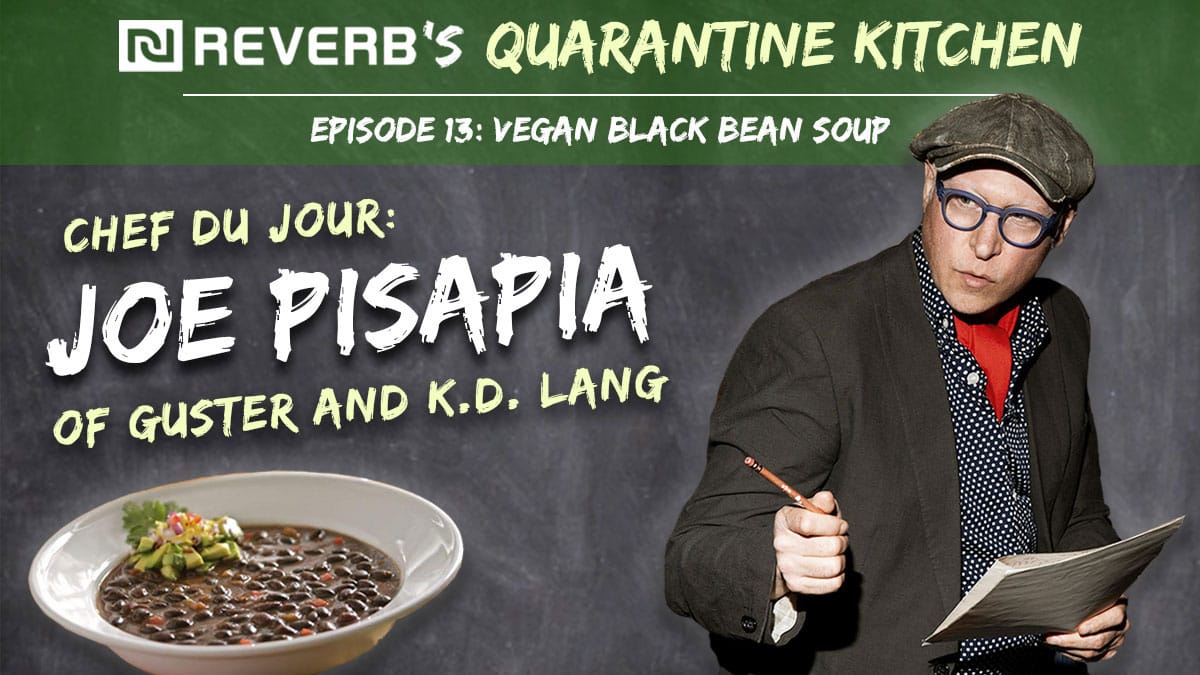 It's an ode to the black bean in episode 13!
Take one part singer-songwriter, mix-in a dollop of producer, add a heaping helping of Guster and a dash of K.D. Lang and what do you get…
You get a Joe Pisapia, friends!
We're so excited to have one of our favorite humans joining us in the Quarantine Kitchen this week! Joe will be making VEGAN BLACK BEAN SOUP with host / REVERB Co-Director / Guster Frontman Adam Gardner.
Check out the recipe and video below! And don't miss Joe's COOKING PLAYLIST!
Special thanks to our partners at Clif Bar & Company for their support of Quarantine Kitchen and donating 1,000 Clif Bars to Joe's nonprofit of choice: Safe Haven Family Shelter in Nashville!
---
Joe Pisapia's Vegan Black Bean Soup
Ingredients:
2 medium onions
2 carrots
3 celery stalks
4 cloves garlic
2 poblano peppers
1 jalepeno pepper
Enough olive oil to coat the bottom of the pot.
3-4 cups black beans (soaked and cooked without salt,) OR
2 to 3 14 oz cans (drained and rinsed.)
1/4 cup white wine
1 lime
1 avocado
1 sm bunch of cilantro
1 large bunch of greens of choice. (I'll be using an assortment of spinach and kale.)
Spices: salt, pepper, oregano, thyme, cumin, chili powder, chipotle powder
For the Vegan Broth:
vegetable scraps
dehydrated mushrooms
dash Worcestershire (make sure it's vegan!)
2 tablespoons apple cider vinegar
Recipe:
Fill a side pot with 2-3 quarts of water with trimmings of onion, celery, carrot, etc. *I have shiitake mushroom stems on hand, which I feel gives the vegan broth the best flavor. I'll also add in some dry mushrooms. Add apple cider vinegar, and worcestershire. Add salt and whole peppercorns as well. (Generally whatever you have around in terms of vegetable scraps that is too good for the compost pile, might go into this broth.)
Sautee onions until slightly carmelized and "see through." Add chopped celery, carrot, and pablano peppers. Once all of those vegetables become soft, add the minced garlic. Add all spices. Allow these vegetables to become "sticky" to the bottom of the pot. At that point, begin to "unstick" with white wine, and or vegetable stock. Do this a few times to seal in flavor.
Next add the beans, and once they begin to get "sticky," strain and add your vegetable broth.
Bring to a boil, and then turn down to simmer.
Add greens 15 to 20 minutes before eating so that they stay vibrant and verdant.
Garnish with avocado, cilantro, and a spritz of lime.