REVERB's Quarantine Kitchen – Episode 2: Stefan Lessard of Dave Matthews Band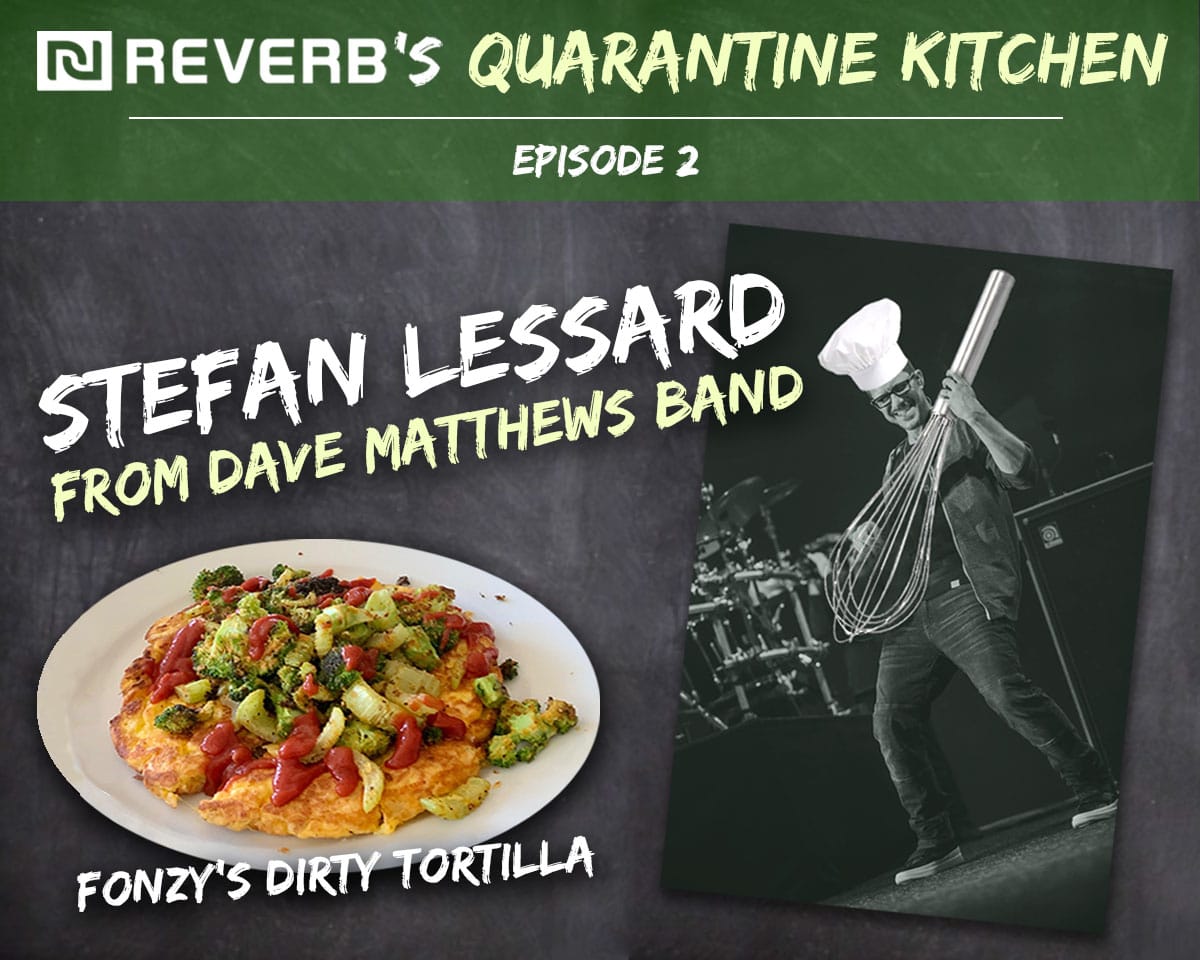 Welcome to the second installment of REVERB's Quarantine Kitchen!
This episode we welcomed our good friend and longtime REVERB partner, Stefan Lessard, bassist extraordinaire of Dave Matthews Band.
Stefan's prowess on bass is well known, but did you know he's no slouch in the kitchen? Before joining DMB, Stefan worked in the kitchen of a restaurant – you can even see a picture of him from those days in the video – and he's also learned a thing or two from his friend, Chef José Andrés. In fact, Chef Andrés taught Stefan the basis for this recipe: Fonzy's Dirty Tortilla.
Check out the video below and cook along! You can also listen to Stefan's Cooking Playlist.
Make sure to follow REVERB on Instagram, Twitter, Facebook, YouTube, and Spotify to hear from more of your favorite artists. Keep an eye out for more REVERB Quarantine Kitchen episodes and join them live!
---
REVERB's Quarantine Kitchen: Episode 2 – Stefan Lessard of Guster
Fonzy's Dirty Tortilla
Ingredients
3 eggs

1 small bag of Potato Chips or 1/2 cup of roasted potatoes 

1/2 cup Grated Cheese of choice (Mozzarella, cheddar, jack, shredded)

Dash of pepper

Pinch of salt 

2 stalks of celery

1 small bunch of kale (or any hardy greens) 

Dash of Tamari (or soy sauce)

2 Tbsp Nutritional Yeast

Dash of olive oil 

Ketchup or favorite hot sauce
Recipe
Chop kale (or hardy greens of choice) and celery

Heat oil in a small nonstick pan over medium heat.

Add kale to pan and sauté to "al dente" and then add nutritional yeast, pepper, and Tamari. Turn off heat and set aside in hot pan to keep warm.
Crack the eggs into a bowl and whisk until combined. Crunch 1-2 fistfuls of potato chips and add to eggs, mixing until well coated. Let stand for 5 minutes so that the chips rehydrate in the eggs.
Combine grated cheese into egg mixture. Add pinch of salt if chips aren't already salted.

Heat more oil in a small nonstick skillet over medium heat. Add the egg mixture and shake the pan in a circular motion for 10 seconds to keep the mixture loose as the eggs start to coagulate. Then lower the heat and cook for 1 minute more, or until the egg on the bottom is set but the tortilla is still loose on top. (This will produce a loose tortilla—if you want a firmer tortilla, cook for another 30 seconds to a minute before flipping.)

Go for the flip!!  For those less adventuresome, put a plate over the pan, invert the pan, and shake the tortilla onto the plate. Add a bit more olive oil to pan if needed and slide the tortilla back into the pan, uncooked side down, and cook for another minute or so.
Slide the tortilla onto a serving plate and cover with your sauted veggies.

 Top with hot sauce of choice and serve!