REVERB's Quarantine Kitchen – Episode 21: MISSIO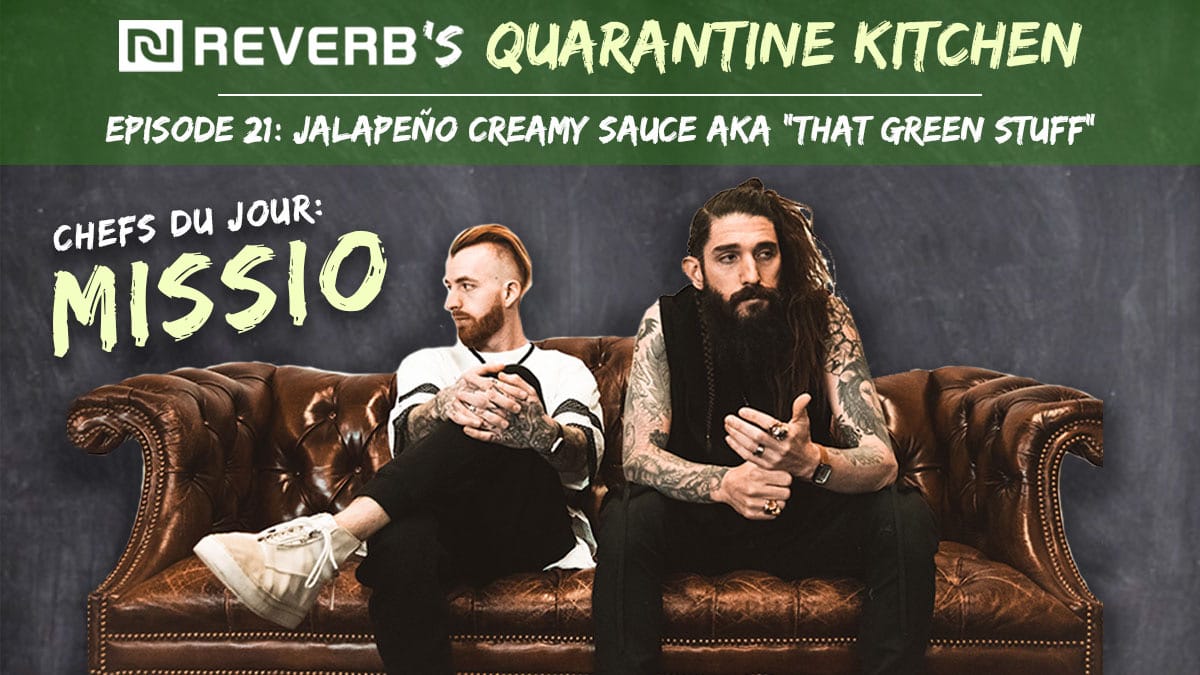 Things are supremely saucy in episode 21!
Matthew Brue and David Butler – the prolific songwriting duo known as MISSIO – are all about combining elements to create something great. Whether it's their music which combines rock, alternative, electronic, pop and more, or the food for which their hometown of Austin, TX is best known – Tex-Mex!
MISSIO join host / REVERB Co-Director / Guster frontman Adam Gardner to make a Tex-Mex classic sauce, Jalapeño Creamy Sauce (a.k.a. "That Green Stuff").
Check out the recipe and video below so you can cook along!
Special thanks to our partners at Clif Bar & Company for their support of Quarantine Kitchen
---
Jalapeño Creamy Sauce
Ingredients
6 large fresh jalapeños (~1/2 pound)
1/4 large yellow onion
2 large garlic cloves
1/2 – 3/4 cup Corn, Sunflower, OR Grapeseed Oil
1 teaspoon Kosher or sea salt
Recipe
In a small pot bring water to a boil, enough water to cover the chiles and piece of onion. Simmer the jalapenos and onions for about 15-20 minutes until they change in color and are fork tender, but not mushy. Carfuly remove stems after they cool down a bit and strain some of the excess water.
Using an immersion blender, a food processor or a regular blender, combine the corn oil, garlic cloves, strained jalapeños onions and salt.
Blend until smooth and creamy, about 3-4 minutes using an inversion blender, about 5-6 minutes on a blender or food processor, until it looks frothy, creamy and pale green.
Taste for salt, adjust if necessary. Transfer to a squeeze bottle, and refrigerate. It will last for about a week… If you can contain your self!…. Enjoy!
Recipe Notes:
Warning and Notes:
*This sauce is really spicy when is warm. Please, do not panic, once the sauce cools down and its refrigerated, the extra spiciness will settle and will have a comfortable mild bright spicy flavor.
**If sauce is to thick add bit of the water in which the jalapeños were cooked, or a dash of apple cider vinegar. It always its more lose when recently made, once its refrigerated it tends to congeal, just give it a couple of nice shakes and it will be alright.
Keep in the refrigerator. It last about 2 weeks… if you are lucky!
6 Jalapenos too much for you?…
Substitute 3  jalapeños for 1 large or 2 small poblano peppers, remove seeds and veins. Add a teaspoon of apple cider vinegar to brighten up the flavor. Blend, Enjoy!
***Depending on how spicy are your chiles, adjust using a little splash of apple cider vinegar to brighten up the flavor. Remember you can use any other chiles you prefer, like Serranos, Poblanos, Habaneros, Bell peppers, Anaheims, Gueros, California, Hatch… or a combination of them!