REVERB's Quarantine Kitchen – Episode 18: Ben & Jerry's Sarah Fidler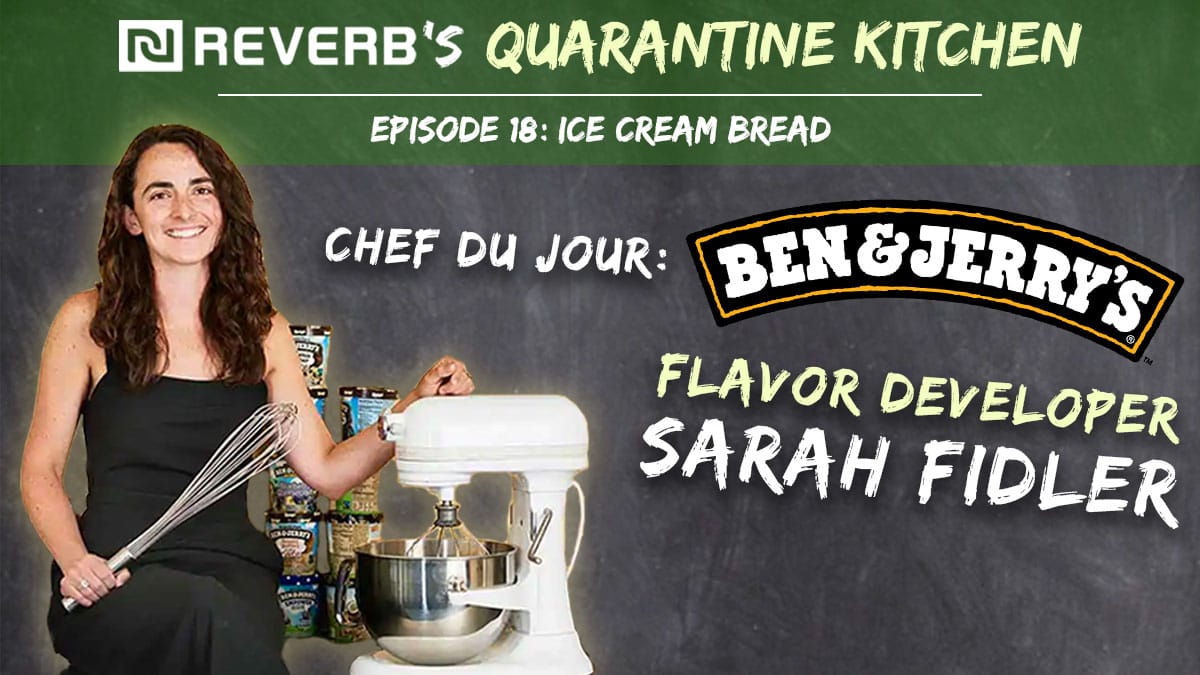 Episode 18 is gonna be sweet!
REVERB and Ben & Jerry's go together like chocolate and vanilla… mixed with gobs of chocolate chip cookie dough and fudge brownies, like sweet cream & cookies, like chocolate ice cream with gooey marshmallow swirls, caramel swirls and fudge fish…
Sorry, we might have had too much Coffee Coffee BuzzBuzzBuzz!
We're so excited to have our long time partners Ben & Jerry's joining us for a very SWEET episode of Quarantine Kitchen. Ben & Jerry's Flavor Developer Sarah Fidler teaches host / REVERB Co-Director / Guster frontman Adam Gardner to make Ice Cream Bread. That's right friends! Ice. Cream. Bread.
Check out the ingredients and recipe below!
We want to extend a GIANT THANK YOU to Ben & Jerry's for all the good they're doing for people and the planet, their partnership over the years, and supporting this episode of Quarantine Kitchen!
As always, special thanks to our partners at Clif Bar & Company for their support of Quarantine Kitchen and donating 1,000 Clif Bars to Ben & Jerry's nonprofit of choice: Spectrum Youth and Family Services in Burlington, VT.
---
Ice Cream Bread
Ingredients
1 Pint Ben & Jerry's Chocolate Chip Cookie Dough (or any flavor) ice cream, melted
1 Pint Ben & Jerry's Chocolate Fudge (or any flavor) ice cream, melted
3 cups self-rising flour**, divided in half
**Make your own self-rising flour: For each cup of flour add 1 1/2 tsp of baking powder and 1/4 tsp salt
Recipe
Preheat oven to 350°F.  Spray a 9" x 5" loaf pan with cooking spray and set aside.  Put 1-1/2 cups of flour in one medium sized bowl and the other 1-1/2 cups flour in another medium sized bowl.  Add one melted pint to one bowl, the other pint to the other bowl. Stir each bowl to combine ingredients.
Using an ice cream scoop (or two if you don't want to clean it between scoops), scoop the batters into the pan in an alternating checkerboard pattern, four scoops down by two scoops across. Repeat for the second layer, topping the Chocolate Chip Cookie Dough scoops with Chocolate Fudge Brownie and vice versa. Continue until all batter has been scooped into the pan. Then take a wooden skewer or chopstick and run it through the top of the batter, making a swirly pattern.
Place the pan in the oven and bake for 50-60 minutes or until a skewer poked into the bread comes out clean. To avoid overly browning the loaf, tent aluminum foil over the top of the pan after the first 30-40 minutes.
Remove from oven and allow to cool before slicing.