REVERB's Quarantine Kitchen – Episode 23: Guster's Ryan Miller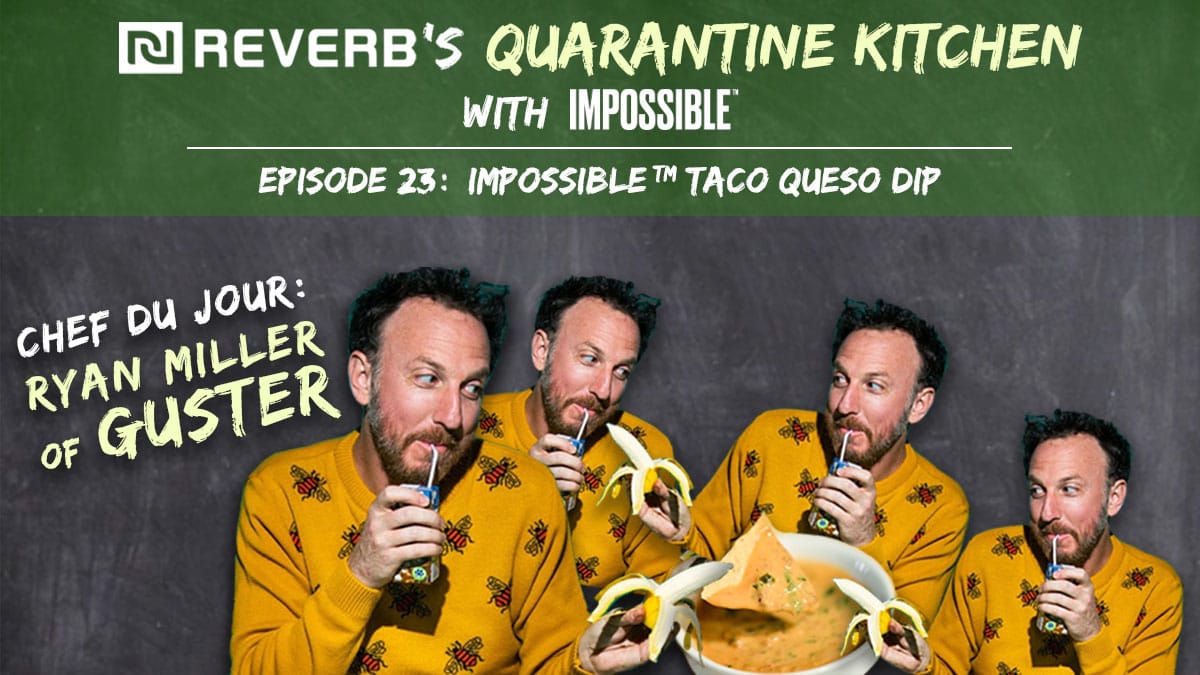 This is one cheesy episode of Quarantine Kitchen
Ryan Miller is a man of many talents. Perhaps you've seen him on stage as lead singer of Guster. Or maybe you've heard one of his film scores. It's even possible you've seen him "Makin' Friends" on TV. But chances are you've never seen him cook. Well friends, that's about to change.
Ryan joins host / REVERB Co-Director / Guster bandmate Adam Gardner to make a recipe that comes straight from his Texas roots with a sustainable twist – Impossible™ Taco Queso Dip.
Check out the recipe below so you can cook along! And watch past episodes HERE!
Special thanks to our partners Impossible Foods for their support of Quarantine Kitchen


---
Impossible™ Taco Queso Dip
Ingredients
1/2 pound monterey jack cheese, grated (organic, local preferred)
1/2 pound sharp cheddar cheese, grated (organic, local preferred)
1 tablespoon cornstarch
2 tablespoons olive oil
1/4 cup finely chopped yellow onion
1 small jalapeño, stemmed, seeded, and finely diced
1 teaspoon garlic (about 1 medium clove)
1 teaspoon chili powder
1 teaspoon ground cumin
1 teaspoon dried oregano
1/2 pound Impossible Burger
1/4 cup salsa
5 ounces evaporated milk
1/4 cup sour cream (organic, local preferred)
2 tablespoon chopped fresh cilantro leaves
1/2 teaspoon zest from 1 lime
Kosher salt
Tortilla chips, to serve
Recipe
Place monterey jack and cheddar cheese in a medium bowl and toss with cornstarch until evenly coated. Set aside.
Heat oil in a medium saucepan over medium-high heat until shimmering. Add in onion and cook, stirring occasionally, until softened and lightly browned around the edges, about 5 minutes. Add in jalapeño, garlic, chili powder, cumin, and oregano and cook until fragrant, about 30 seconds. Add in Impossible Burger and cook, breaking up with a wooden spoon, until browned, about 5 minutes. Stir in salsa, reduce heat to medium, and simmer for 5 minutes.
Stir in evaporated milk, scraping bottom of pan to release any fond, and bring to a boil. Reduce heat to low and add in cheese. Stir constantly until cheese is melted and smooth. Stir in sour cream, cilantro, and lime zest. Season with salt to taste. Transfer to a bowl and serve immediately.