REVERB's Quarantine Kitchen – Episode 11: Maggie Baird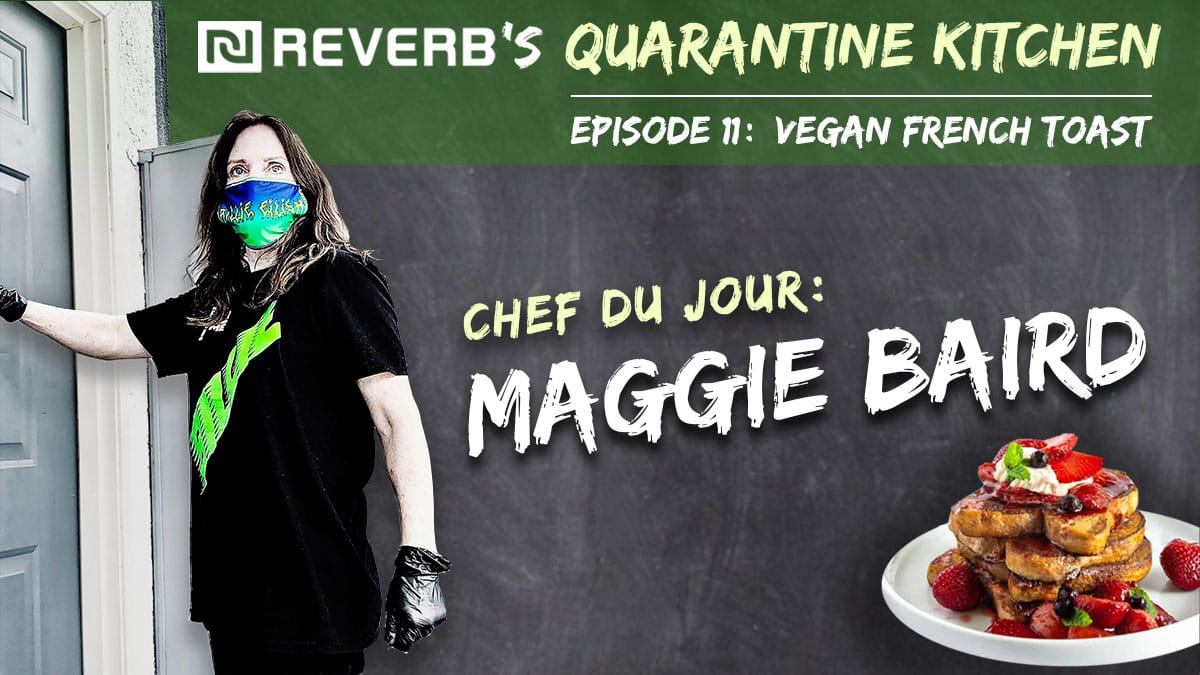 We're in syrupy heaven in episode 11!
Perhaps you know Maggie Baird from her work as an actress or musician & singer-songwriter. Or maybe you've heard of her efforts to help people and plant-based businesses during the COVID crisis by founding Support + Feed. Or it's possible you know Maggie as mom to a couple of very talented musicians – Billie Eilish and FINNEAS.
Well now's your chance to get to know her in a new role: chef!
Maggie joined our host / REVERB Co-Director / Guster Frontman Adam Gardner in the Quarantine Kitchen to make VEGAN BUTTERSCOTCH BANANA PECAN FRENCH TOAST right from her own kitchen!
See the video and recipe below!
Special thanks to our partners at Clif Bar & Company for their support of Quarantine Kitchen and donating 1,000 Clif Bars to Maggie's organization: Support + Feed.
---
Maggie Baird's Vegan Butterscotch Banana Pecan French Toast (Gluten Free option)
INGREDIENTS
1 1/2 Cup Non Dairy Milk of your choice (I use a combo of Almond, Coconut, Flax and Oat Milks)
1/4 cup ground chia seeds
1/2 tsp vanilla
1/2 tsp cinnamon
1/2 tsp salt (optional – Himalayan Black Crystal Kala Namak Salt – smells like eggs)
1 T nutritional yeast (optional)
6 slices of bread (best to not be super fresh, can be Gluten Free)
Vegan Butter (Earth Balance or  Mykonos)
BANANA PECAN BUTTERSCOTCH MAPLE SYRUP
2T Vegan Butter
1/3 cup Coconut Brown Sugar
1/2 tsp vanilla
3 large bananas (or 4 small) Split in half lengthwise and and then in thirds
1/3 cup chopped, salted pecans
1/2 cup Maple syrup (or not – only if you want your topping more syrup-familiar)
OPTIONAL: Cashew Yoghurt on the side!
DIRECTIONS
Whisk together non dairy milk, ground chia seeds, vanilla, cinnamon, salt, and nutritional yeast in a shallow pan such as an 8 " glass pyrex pan
NOTE: Let mixture rest while you slice, unfreeze, or assemble your bread. Best if the mixture sits for about 10 – 15 minutes
Heat up griddle to low/medium heat and add vegan butter.
Dip slices of bread in mixture, turn once and coat each side (scrape off extra back into pan)
NOTE: If you are making both regular and Gluten Free French toast, dip the GF bread first
Place dipped bread onto the griddle and repeat with as many pieces as you can fit on the griddle.
Let cook on first side until slightly brown and crisp  (but not dry and burnt)
Flip and cook the other side of each slice until firm (but not dried out)
When all pieces are done, and still on Med heat Add 2 T Vegan Butter to griddle, and add Coconut Brown Sugar and vanilla. Stir until sugar is melted and add Bananas, Gently stir to coat and slightly cook. Add chopped, salted pecans.
Add Maple Syrup if you like a more syrupy goo.
Plate it all up. French Toast, a little more vegan butter if you like (or not) and top with Butterscotch Banana Pecans. If you ike, go crazy with some Cashew Yoghurt on the side!!!