Billie Eilish World Tour 2020
Of course it's going to be green. Duh.
REVERB is hitting the road with Billie Eilish for her Where Do We Go? World Tour helping the tour reduce its environmental footprint while increasing its positive impact.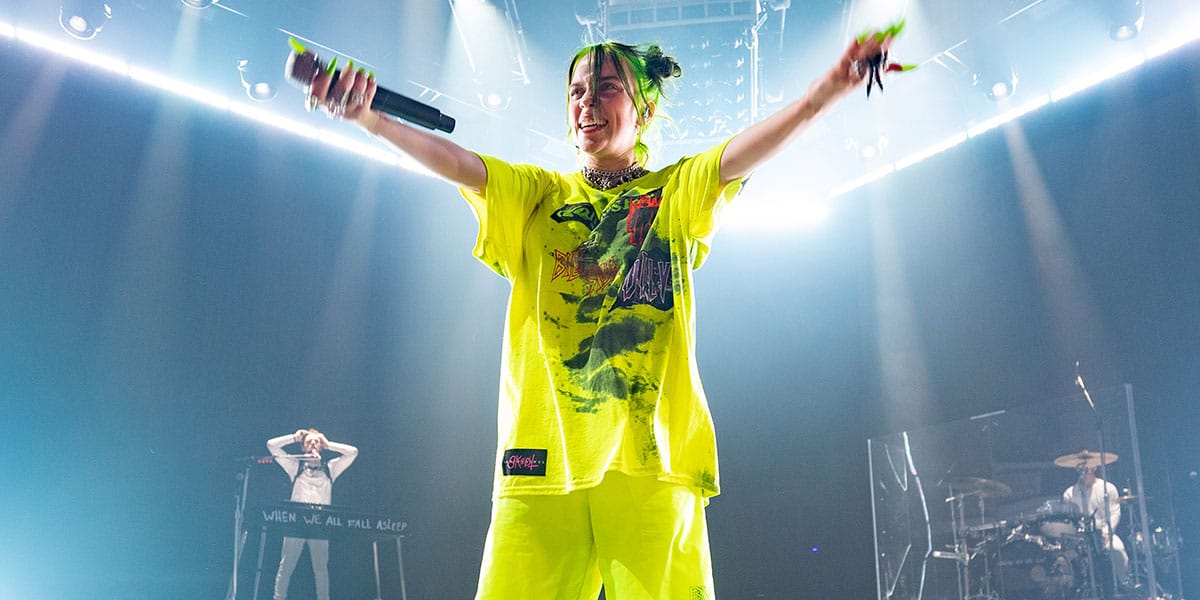 Eco-Village
The REVERB Eco-Village will be at every on Billie's 2020 tour with opportunities for fans to take action for people and the planet. Actions include:
Defend What You Love with Defend our Future
Donate for a custom Billie #RockNRefill Nalgene bottle
Ditch Disposables – fill up at the FREE Filtered Water Refill Stations
Connect with local nonprofits and find out how you can get involved in your community
Register to vote with HeadCount
Take Action Now
Text "Billie" to 50155 to donate and help Billie support projects around the world that directly eliminate greenhouse gas emissions
(m

sg & data rates may apply)

Learn how you can reduce your carbon footprint with the unCHANGEit Campaign
Take Climate Action with Defend Our Future
Register to Vote with HeadCount
Tour Sustainability
Billie is committed to reducing her tour's environmental footprint and increasing its positive impact. REVERB is working with Billie and her touring crew to meet their goals with efforts including:
Recycling (including batteries) backstage, in catering, and on buses
Reusable water bottles and insulated mugs for all artists and crew
Water refill stations backstage and on tour buses
Donation of unused hotel toiletries to local shelters
Follow REVERB on Instagram, Twitter, and Facebook to get updates from the Billie Eilish tour and all the other REVERB artist partners tours' in 2020.
At Every Show

#RockNRefill

Eco-Village

Music Climate Revolution

Nonprofits

Volunteers