REVERB's Quarantine Kitchen – Episode 22: DJ Logic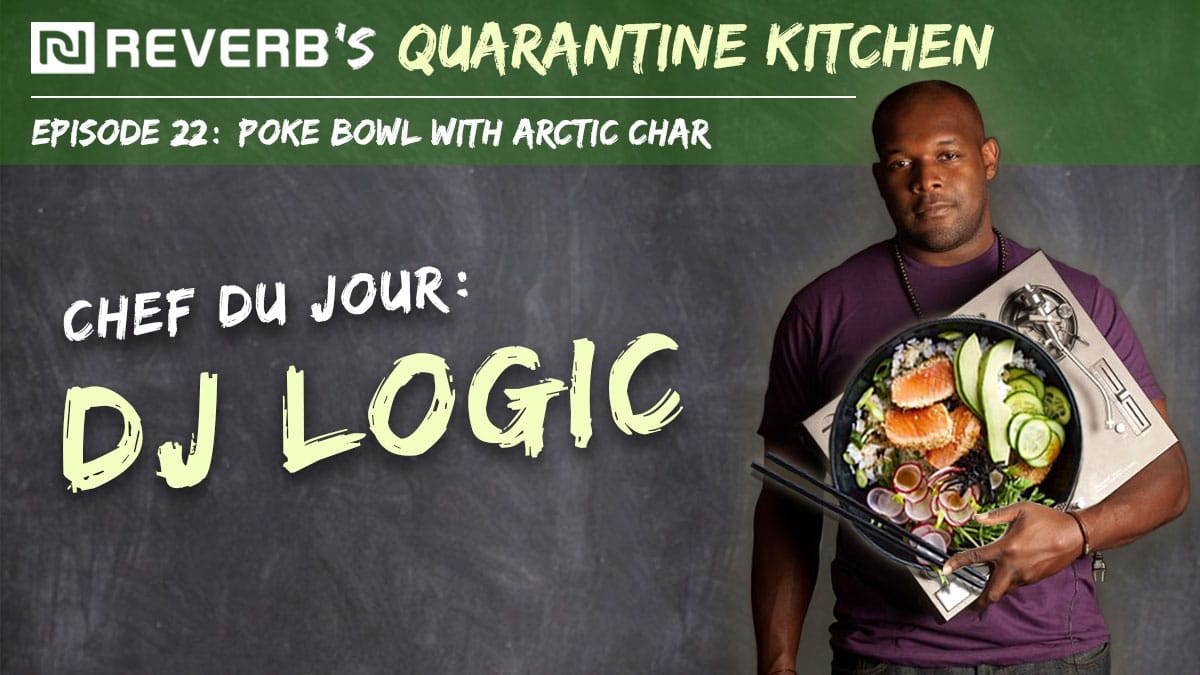 We're back for season 2!

When we set out to start Quarantine Kitchen, we didn't know if anyone would watch… Well you all certainly answered that for us! (The answer was yes, by the way)
We're kicking off season 2 with an amazing deejay and long-time REVERB friend, DJ Logic! Hailing from the Bronx, DJ Logic has been a well-respected turntablist and wax innovator since his start in the early 90s. Having worked with a genre-spanning who's-who of diverse collaborators including Jack Johnson, Carly Simon, and Mos Def, DJ Logic is truly in a league of his own.
Now we're going to see if his skills in the kitchen match his turntable talent.
DJ LOGIC joins host / REVERB Co-Director / Guster frontman Adam Gardner to make Seared Arctic Char Sushi Bowls.
Check out the recipe below so you can cook along!
---
Seared Arctic Char Sushi Bowl
by Taste.com.au
Ingredients
1 1/2 cups sushi rice, rinsed well
2 green onions, thinly sliced diagonally
1/3 cup mirin
2/3 cup sesame seeds
1/4 cup rice wine vinegar
2 tablespoons reduced-sodium soy sauce
2 teaspoons granulated sugar
2 teaspoons of sesame oil
1 garlic clove, crushed
4 x 4 oz. skinless arctic char fillets
2 teaspoons rice bran oil (or neutral oil)
2 oz. snow pea sprouts, trimmed
1 cucumber, thinly sliced
1 avocado, sliced
4 radishes, thinly sliced
Nori, thinly sliced, to serve
Japanese-style mayonnaise, to serve
Lemon wedges, to serve
Recipe
Place rice and 2 cups water in a saucepan over medium-high heat. Bring to the boil. Reduce heat to low. Cover. Simmer for 10 minutes or until liquid is absorbed. Remove from heat. Set aside for 10 minutes. Stir rice with a fork. Add onion and 1 tablespoon mirin. Stir until combined.
Place sesame seeds on a plate. Place vinegar, soy, sugar, sesame oil, garlic and remaining mirin in jug. Stir until sugar dissolves. Transfer half the mixture to a shallow dish. Add salmon. Turn to coat. Press salmon in sesame seeds to coat.
Heat oil in a frying pan over medium heat. Add arctic char. Cook for 2 minutes on all sides for medium-rare or until cooked to your liking. Transfer to a board. Cover. Stand for 2 minutes. Slice.
Divide rice among bowls. Top with sprouts, cucumber, avocado, radish and salmon. Drizzle with reserved soy mixture. Top with nori. Serve with mayonnaise and lemon.