REVERB's Kitchen – Episode 29: REVERB's Favorite Winter Recipes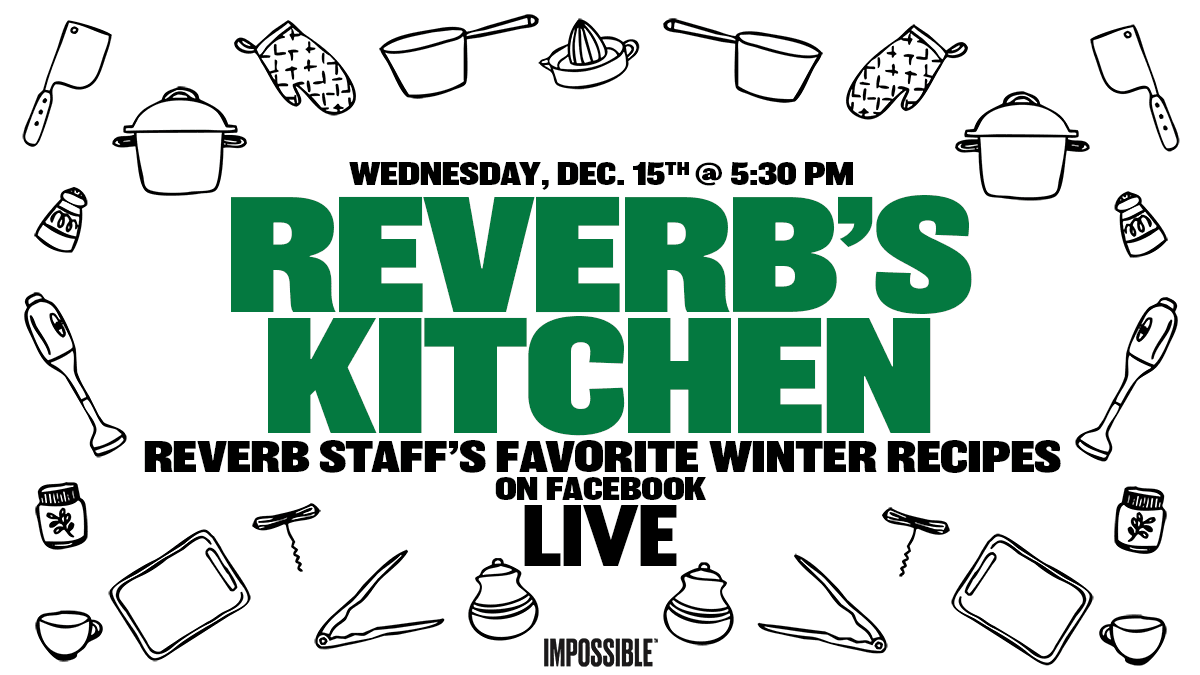 On this episode we're turning the cameras on ourselves and making some of the recipes that help us stay warm and cozy during the winter! We'll be featuring Logistics Coordinator Brian Farrell making a "Handsome Johnny" cocktail in honor of one of his favorite musicians, Volunteer and Community Programs Manager Paige Roth making Tomato Pasta Soup, and Social Media Manager MJ Gautrau making her famous vegan chocolate chip cookies!

Brian, Paige, and MJ join host / REVERB Co-Director / Guster frontman Adam Gardner to make their favorite winter recipes!
Check out the recipes below to cook along!
AND WATCH PAST EPISODES HERE!
Special thanks to our partners IMPOSSIBLE™ Foods for their support of REVERB's Kitchen


---
The Handsome Johnny
Ingredients
1 – 2 oz of Vodka
Ginger Ale (or Diet if you prefer)
Lemon in the summertime, Lime in the winter
Directions
Fill a cocktail glass with ice
Pour in vodka
Top with Ginger Ale
Stir and drop in the lemon or lime from approximately 6″ above, do not squeeze it
Tomato Pasta Soup
*From the Blue Zones Cookbook
Ingredients
4 Cups water
2 Cups vegetable broth
1 Fresh tomato
1 Cup tomato sauce
2 Tablespoons olive oil
1 Pound orzo pasta
1 Teaspoon salt
Salt and pepper to taste
Directions
In large soup pot, bring broth and water to a boil
Add tomatoes, tomato sauce, olive oil, orzo, and 1 teaspoon salt. Stir to combine
Reduce heat to low and bring pot to a simmer. Cook until broth is thickened (about 20 mins). Stir occasionally so orzo doesn't stick
Add salt and pepper to taste
Vegan Gluten-Free Chocolate Chip Cookies
Ingredients
1 cup white or GF flour
1/2 tsp baking soda
1/4 tsp salt
1/4 cup sugar
1/4 cup brown sugar or coconut sugar
2 chocolate dairy free bars – 80% cocoa or less if you prefer sweeter
2 tbsp milk of choice, plus more if needed
2 tbsp unrefined coconut oil
1/4 tsp pure vanilla extract
Directions
Combine all dry ingredients in a bowl.
Chop chocolate bars to make a variety chip sized shapes. Stir in all chopped splinters, shards, and pieces into dry ingredients.
Stir in wet ingredients to form a dough – it will be dry at first, so keep stirring until a cookie-dough texture is achieved. If needed, add 1-2 tbsp extra milk of choice. The dough should crumble a bit but still able to achieve dough ball structure.
Form dough into one big ball, then either refrigerate at least 30 minutes hours or freeze until the dough is cold.
Once dough is chilled, preheat oven to 325 F.
Form dough balls, and place on a greased baking tray, leaving enough room between cookies for them to spread. Bake 9-10 minutes on the center rack. They'll look underdone when you take them out. Let them cool on the baking tray 10 minutes before touching, during which time they will firm up.
Serve with your favorite dairy free milk and ENJOY 🙂
*This will make about 12 cookies. I almost always double the recipe.
*I've had great success with King Arthur's GF flour.