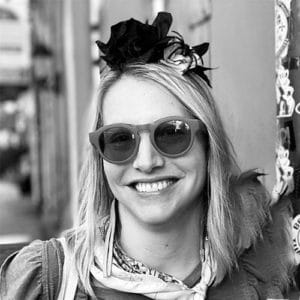 Paige Roth
Staff

Manager of Community & Volunteer Programs
Paige joined the REVERB team in 2013 to coordinate volunteers, and is now the Manager of Volunteer and Community Programs! Each year Paige manages thousands of volunteers (REVERB volunteers have logged 135,000 of service at music events!) and hundreds of local nonprofit organizations who table in our Action Villages (REVERB has provided over 4,000 tabling opportunities in the cities we visit!). Additionally, Paige oversees our Farm to Stage and Farm to Family programs, and our handworking intern teams. You can catch her at music festivals like Lollapalooza, Lockn, or Magnaball, heading up sustainability programs on the ground.
Paige balances her fun energy and positivity with a dedication to organization, responsiveness, and logistics to bring a personal touch to REVERB's community programs. She loves to connect people and organizations to live music, encourage them to take action, and shine a light on the great work being done in each community our tours visit.
Paige has been a guest speaker at Berklee College of Music, Penn State University, and New York University, as well as a guest on the Renegades & Mavericks podcast. Spreading the word about REVERB allows her to connect more and more volunteers, farms, and organizations to our artist partners, creating a vast and diverse REVERB community!
Staff
Board