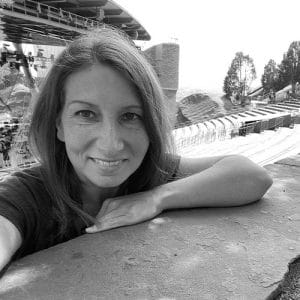 Lara Seaver
Staff

Director of Projects
As the Director of Projects, Lara works with artists, tour crew, management, and venues to design and implement REVERB's programs. Since 2011, she's worked with REVERB as a hands-on project manager for over 100 tours and festivals, taking inspiration and turning it into reality, for both backstage and fan-facing programs. In addition, she leads REVERB's talented Project Management team through each event, hurdle, new system and success.
Lara's work backstage includes helping tours eliminate single-use plastic, implement food and materials donation programs, and elevate waste management systems. In developing fan-facing Eco-Villages, Lara takes causes from endangered animals to clean water to the climate crisis and creates activations for fans to learn and get engaged without losing hope. Lara's work on the Billie Eilish tour includes helping create Overheated, a music climate summit at the O2 in London. She also worked with The Lumineers to create the industry's first climate positive tour in 2020. Lara's specialty is seamlessly integrating environmental and social efforts into touring without overwhelming already busy teams.
Lara figures that in the course of setting up each tour's greening efforts, she's been on more tour buses than anyone else in the industry. Her favorite part of the job is training new tour staff, combining coaching with getting her hands dirty.
Staff
Board