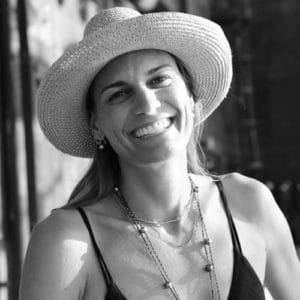 Kim Johnson
Advisory Board

Manager, Environmental Educator
A teacher who stumbled into music management, Kim Johnson utilizes her education theory to create community engagement programs for music tours and festivals as well as environmental foundations and schools.
In 2003 Kim, together with her musician husband Jack Johnson founded the Kōkua Hawaiʻi Foundation (KHF) to support environmental education in the schools and communities of Hawaiʻi. From 2004-2010, Kim led the production team of  the Kokua Festival which raised funds for KHF and served as a model of sustainability – striving for a zero-waste and carbon-neutral event. In 2008, Kim and Jack founded the Johnson Ohana Foundation to support environmental, art, and music education worldwide.
As Jack's manager, Kim serves as creative lead in advancing green touring initiatives, and in the development of fan engagement campaigns through their All At Once social action network. In 2014, Kim helped spearhead the Sustainable Concerts Working Group and in 2019 led the global launch of the BYOBottle Campaign to promote reusable water bottles and reduce plastic waste at music events.
Kim has participated in music industry panels including Pollstar and FestForums, and has recently joined the advisory board for REVERB, as part of an ongoing effort to take green touring practices to the next level industry-wide. Throughout all of these efforts, Kim & Jack strive to raise awareness in support of sustainable local food systems and plastic free initiatives.
Staff
Board