REVERB's Quarantine Kitchen – Episode 14: REVERB 5-Minute Recipes!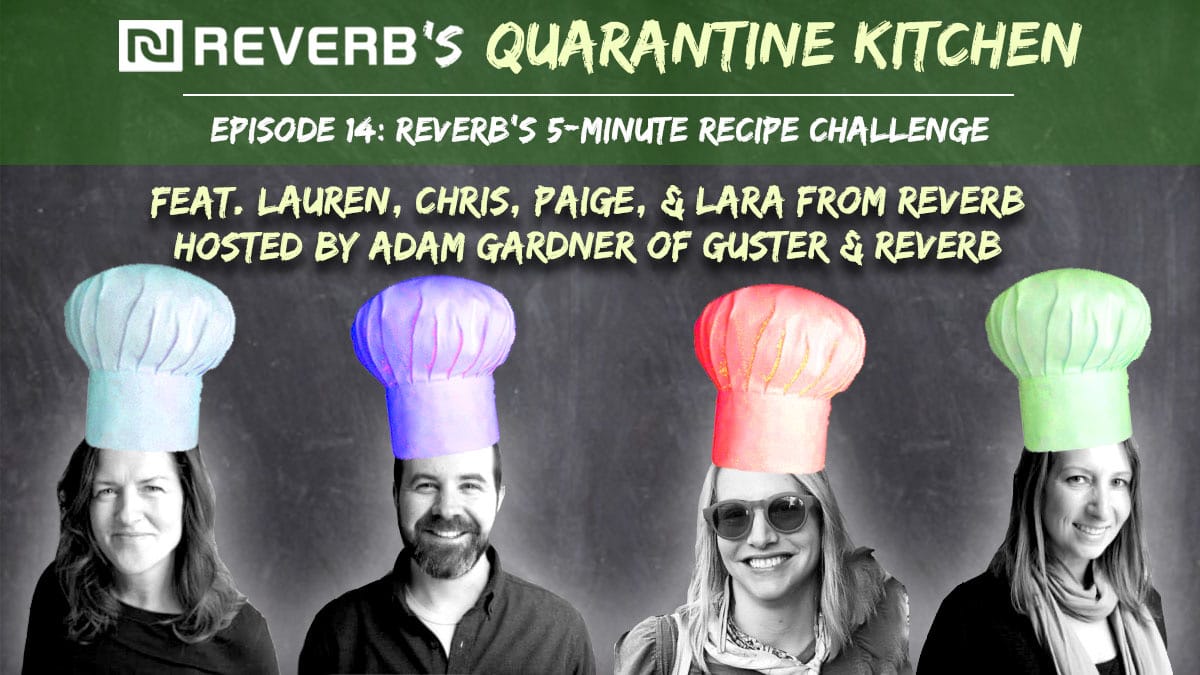 We're turning the cameras on our team in episode 14!
We've been having a blast on Quarantine Kitchen over the past 13 episodes getting to know some really incredible people and discovering their talents in the kitchen. This time around we're turning the cameras on ourselves and bringing you 5-minute or less recipes from the REVERB team!
Join Lauren, Chris, Paige, Lara, and our host Adam as the REVERB team brings you their favorite quick recipes! Learn how to make the "perfect" margarita, quick hummus, a burrata, peach & basil appetizer, and vegan chocolate soft serve ice cream! And to add to the challenge, Adam will be timing each chef to make sure they stay under the 5 minute mark!
See the recipes below so you can take the 5-minute challenge with us and give OUR COOKING PLAYLIST a listen!
Check out the episode below and discover some quick recipes with great results!
Special thanks to our partners at Clif Bar & Company for their support of Quarantine Kitchen and donating 1,000 Clif Bars to our nonprofit of choice: The Locker Project in Maine!
---
Chris's "Perfect" Margarita
Ingredients
1 lime
2 – 3 ounces tequila blanco
.75 ounces orange liqueur (Couintreau is my favorite)
.75 ounces simple syrup or Agave
Club Soda / Seltzer
Ice
Salt (if you're so inclined)
Directions
Add all ingredients to a cocktail shaker filled with ice and shake until the outside of the shaker gets frosty
Strain into rocks glass over ice (with a salted rim!)
Add a splash of soda
Enjoy (responsibly) preferably in a hammock whilst barefoot
---
Supremely Creamy Hummus
From Leah Koenig's Modern Jewish Cooking
Serves 8

Ingredients
1/2 cup tahini
1/3 cup extra virgin olive oil + extra for a heavy drizzle at the end
1 large garlic clove, roughly chopped
3 Tbsp fresh lemon juice
Kosher salt
2 (two) 15.5oz cans chickpeas drained, with liquid reserved
Za'atar or paprika for sprinkling
Directions
Combine the tahini, olive oil, garlic, lemon juice, and 2 tsp salt in a food processor and purée until slick and smooth.

Add the chickpeas and continue processing, using a spatula to scrape down the sides of the bowl as necessary, until a chunky paste forms, about 1 minute. With the motor running, slowly drizzle in 1/3 to 1/2 cup/ 80 to 120 ml of the reserved chickpea liquid to loosen the hummus. Continue processing until the hummus becomes whipped and very creamy, 2 to 3 minutes. When in doubt, keep blending for extra creaminess. Taste and add more lemon juice or salt, if desired.

Serve the hummus at room temperature drizzled with heavy pour of olive oil and sprinkled with za'atar or paprika. Cover and refrigerate for up to 1 week.
---
Burrata, Peach, and Basil
Ingredients
1 fresh, ripe yellow or white peach, washed
¼ cup extra virgin olive oil
6 to 8 basil leaves, torn if large
6 ounces burrata
sea salt and freshly cracked black pepper
Directions
Slice open the peach, remove the stone, and tear or cut it into large pieces. Place the peach in a bowl, drizzle with oil, and season with sea salt and freshly cracked black pepper. Stir in the basil.
Tear the burrata into large pieces, arrange on a serving plate, and spoon the peach mixture on top. Let stand for 10 minutes, then serve.
---
Vegan Chocolate Soft Serve Ice Cream
Ingredients
One frozen banana

sliced into 1/2″ pieces

2

–

3

Tb.

Cocoa Powder

1

heaping Tb. Peanut Butter

1

Pitted Date or 1 Tb. of Maple Syrup

2

Tb.

Almond Milk

Optional Garnish: Mini chocolate chips or chopped peanuts
Directions
Simply blend the first 5 ingredients until they just come together. Garnish (if you wanna!) and then enjoy this amazingly, chocolatey treat!