REVERB's Quarantine Kitchen – Episode 25: moe.'s Al Schnier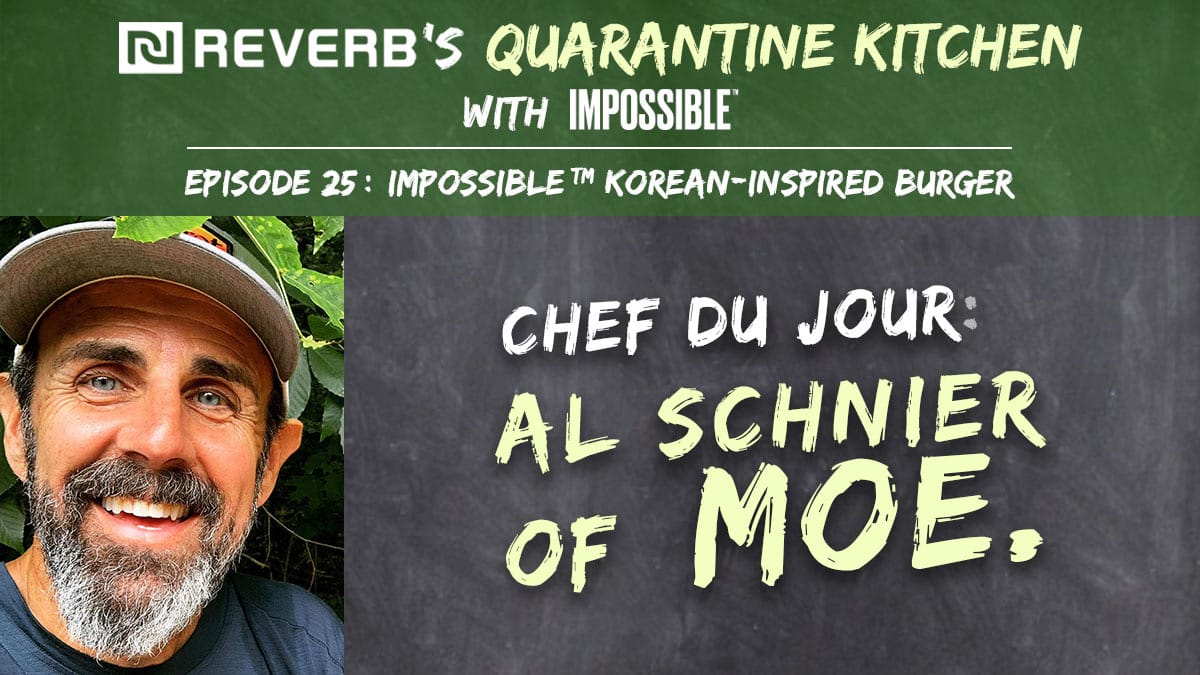 Al Schnier has been recording and touring with his band moe. for over 30 years building a huge following and becoming one of the world's preeminent jam bands. You may have seen Al serve up some tasty licks on stage at one of moe.'s legendary shows, but this week he's trading his guitar for an apron and cooking up some sustainably tasty treats.
Al joins host / REVERB Co-Director / Guster frontman Adam Gardner to make IMPOSSIBLE™ Korean Burgers.
Check out the recipe below so you can cook along! AND WATCH PAST EPISODES HERE!
Special thanks to our partners Impossible™ Foods for their support of Quarantine Kitchen


---
IMPOSSIBLE™ Korean Burgers w/ Lettuce, Tomato, Fried Egg, Kimchi + Seasoned Mayo
Makes 3 Double-Burgers
INGREDIENTS
2 teaspoons rice vinegar (or white vinegar)
Kosher salt and black pepper
2 tablespoons (plus 1 teaspoon) turbinado sugar
4 seedless mini cucumbers, sliced 1/8-inch-thick
¼ cup coconut aminos
2 tablespoons chopped scallions
2 teaspoons minced garlic
½ cup mayonnaise
2 ½ teaspoons toasted sesame oil
1 pound IMPOSSIBLE™ Burger
3 slices cheese
3 hamburger buns
Butter lettuce and sliced tomatoes, for serving
Kimchi* (see Kimchi recipe below
RECIPE
Heat broiler to high and set oven rack set 6 inches from heat
Prep Sesame Pickles:  In a bowl, combine vinegar, 1/2 teaspoon salt and 1 teaspoon sugar, stirring to dissolve the sugar. Add cucumbers and toss to coat, then let stand at room temperature.
Prep Marinade:  In a small bowl, combine soy sauce, scallions, garlic, 1/2 teaspoon pepper and remaining 2 tablespoons sugar. Mix well, stirring until the sugar is dissolved.
Prep Burgers: Add 1 tablespoon of the marinade to a small bowl and stir in mayonnaise and ½ teaspoon sesame oil. Set aside.In a medium bowl, combine beef and 2 tablespoons of the marinade. Gently mix to incorporate. Form into 6 thin patties (each about 4 ½ inches wide) and arrange in a single layer on a rimmed baking sheet. Brush tops with half of the remaining marinade. Flip (*use spatula) and brush with the marinade.
Prep Buns: Smear the cut side of the buns with some of the seasoned mayonnaise. Arrange bottom buns on plates. Layer with lettuce, tomato & set aside.
Broil burgers: until golden and caramelized on top, (~ 4 minutes).
Fry (3) eggs:  While burgers are broiling in oven, fry (3) eggs in large pan (over medium)
Add cheese to 3 patties, top with the remaining patties and let stand until cheese melts, (~ 1 minute).
Pour off all the liquid from the cucumbers and stir in the remaining 2 teaspoons sesame oil.
Plate burgers:  arrange on bottom buns, add cukes, egg, kimchi, & top buns.  Serve w/ extra pickles on the side.
---
*If you don't have kimchi, or are feeling industrious, here's a recipe for a Quick "Emergency" Kimchi
Ingredients:
Cabbage (pref Napa)
Kosher salt
Hot pepper flakes
Aminos
Sugar
Garlic
Green onions
Carrot
Cut 1 head of cabbage into thin strips about 2-3 inches in length and ¼ inch wide. Place into a large bowl. Add 1 cup cold water and ¼ cup kosher salt. Mix it well with your hands to properly salt the cabbage.
Set aside for 10 minutes.
Make kimchi paste by mixing these ingredients in a bowl:
⅓ cup hot pepper flakes,
1 tbs sugar,
¼ cup coconut aminos,
2 cloves minced garlic,
3-4 stalks of chopped green onion (1/4 cup)
¼ cup julienned carrot
Wash and rinse the salted cabbage in cold water a couple of times. Drain the water.
Combine Kimchi paste into the cabbage thoroughly