THE LUMINEERS
BRIGHTSIDE WORLD TOUR
---
Building on the success of the world's first CLIMATE POSITIVE tour in 2020, The Lumineers and REVERB are partnering to create even more positive impacts for people and planet on the Brightside World Tour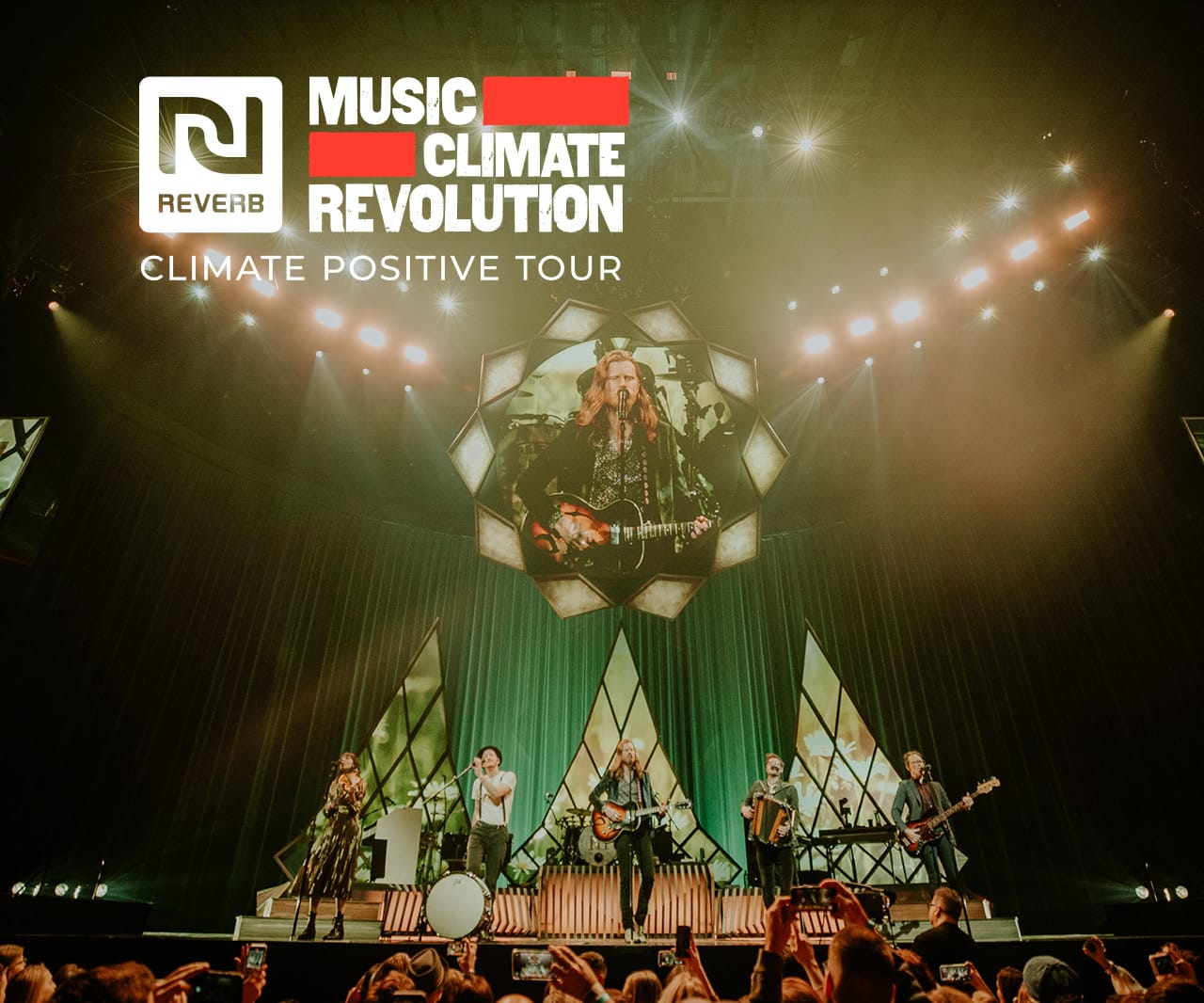 Europe
On the European leg of the Brightside World Tour, The Lumineers and REVERB supported local organizations dedicated to combating homelessness and confronting addiction at each show in the Action Village.
In addition to fan-facing efforts, REVERB helped the band achieve their sustainability goals internationally.
North America
The Lumineers, Activist Artists Management, and REVERB are partnering on the North America leg of the Brightside World Tour to reduce the environmental footprint of touring, empower fans to act on important issues, and fight the climate crisis.
The Lumineers REVERB Action Village



At every stop on The Lumineers tour in North America, fans will have an opportunity to learn about and take action on important causes championed by the band and much more in the Action Village including:
Music Climate Revolution – take the Climate Quiz to test your knowledge and learn how you can take meaningful climate action
Free Water Refill Stations – ditch disposables and refill at the free water stations
Custom #RockNRefill Reusable Tour Bottles – available for a donation supporting REVERB and other nonprofits
Local Nonprofits – meet local nonprofits that are working to make your community stronger
Tour Sustainability
Working directly with the band, their management team at Activist Artists Management, and the touring crew, REVERB is helping to meet the tour's sustainability goals.
Waste Reduction
Reusable water bottles and insulated mugs for artists and crew
Reusable or compostable service ware in catering and on buses
Water refill stations throughout backstage area, catering, and on tour buses
Waste Diversion
Recycling: Backstage, in offices and catering, and on tour buses
Battery Reclamation and Recycling: Collecting dead batteries for recycling and donating batteries with remaining power to people in need
Food Donations: Excess food from catering donated to local food security organizations with partners Musically Fed *in select markets
Toiletry Donations: Collecting unused toiletries from hotel stays that would otherwise be thrown away and donating to local shelters
Carbon Reduction, Measurement, and Elimination
In addition to the above efforts to reduce the tour's environmental footprint, we measure and eliminate remaining greenhouse gas emissions by:
Calculating emissions from key tour components including tour buses and trucks, hotel stays, venue energy use, and ALL FAN TRAVEL!
Drawing down greenhouse gas pollution by funding diverse global projects that avoid or eliminate an amount of carbon significantly greater than what's created by the tour, making it CLIMATE POSITIVE!
Additional Steps
Green Cleaning Products for backstage, offices, catering, and tour buses
At Every Show

Action Village

Music Climate Revolution

Nonprofits