The Lumineers 2020
A Tour Dedicated to Helping People and the Planet
---
Leg 1 Impact Report & Highlights
Climate Positive – 150% of the tour's CO2 emissions were neutralized
$280,000+ Raised to fight climate change, combat homelessness, support people facing addiction, and COVID-19 Relief
18,000+ Actions taken by fans at shows
10,000+ Single-use plastic water bottles eliminated at shows
Scroll through the full report below or CLICK HERE

---
REVERB is joining The Lumineers on their 2020 North American Tour to create real, measurable change for people and the planet.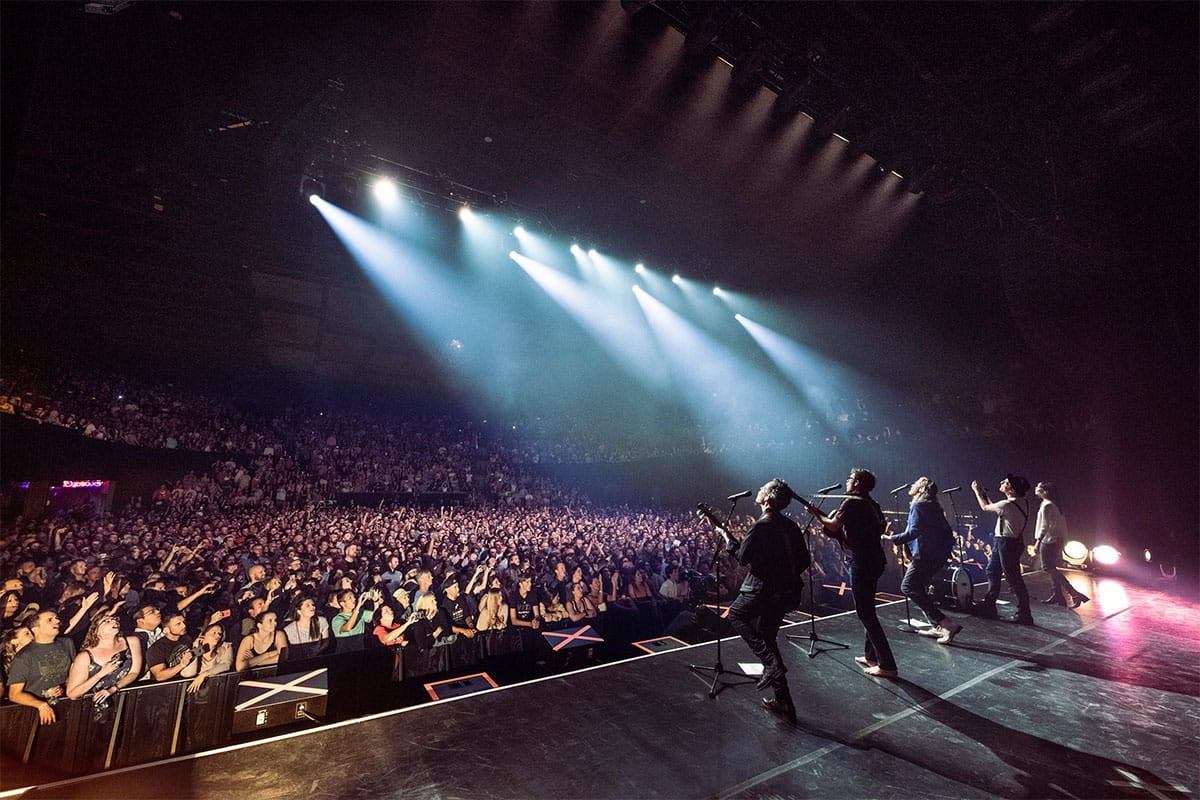 Action Village
The REVERB Action Village will be at every show with opportunities for fans to join the band in taking action on climate change, addiction, and homelessness.
Take Action on Climate Change with REVERB's Climate Campaign unCHANGEit
Pledge to Reduce Your Carbon Footprint with NRDC
Connect with Shatterproof and Learn How They're Working to Reverse the Addiction Crisis in the US
Support Local Nonprofits Addressing Homelessness
Donate for a #RockNRefill Bottle
Ditch Disposables by Filling Up at the Free Water Station
Fans that take action at a show will be entered to win a Martin Guitar signed by the band!
Raising Money for People and the Planet
The Lumineers are taking a portion of every ticket sold across the tour and donating it to important causes. Each ticket sold across the tour will support:
Climate Change: Funding greenhouse gas fighting projects around the world, neutralizing 150% of tour emissions, including all fan travel
Addiction: Supporting Shatterproof's efforts to reverse the addiction crisis in the US
Homelessness: Funds for local nonprofit organizations working to address homelessness in communities around the United States
Check out the list of all the local nonprofit groups The Lumineers will be supporting on their 2020 tour.
Tour Sustainability
REVERB is working with The Lumineers and their touring crew to reduce the environmental footprint of the tour. Efforts include:
Reusable water bottles and mugs to band and crew
Recycling in offices, catering, and on buses
Composting* (*at most shows)
Donation of unused food from catering to local shelters
Battery recycling for all
Green cleaning products and bio-products for catering and buses
Be sure to follow REVERB on Twitter, Instagram, and Facebook for updates on our efforts with The Lumineers and other artist partners!
At Every Show

#RockNRefill

Action Village

Backstage Greening

Community Support

Music Climate Revolution

Nonprofits

Volunteers

Water Station