A More Impactful Tour, A Better Future
REVERB and P!nk teamed up to create a custom program that supports her work with nonprofit partners while reducing the environmental impact of her tour.
In 2018, P!nk and REVERB partnered together on the Beautiful Trauma Tour to accomplish three things: support her work with UNICEF and No Kid Hungry, reduce the environmental footprint of the tour, and empower her fans to take action for both.
P!nk was introduced to REVERB after collaborating with our longtime artist partner Nate Ruess on the hit song, "Just Give Me a Reason."  Nate, having been a REVERB partner both as a solo artist and as a member of FUN., was very familiar with our work and suggested we connect to create a tour program for P!nk's upcoming tour.
After working closely with P!nk and her management team, REVERB created the Beautiful Trauma Action Village – an interactive space set up on the main concourse at every show by REVERB's on-site tour coordinator and brought to life by REVERB volunteers.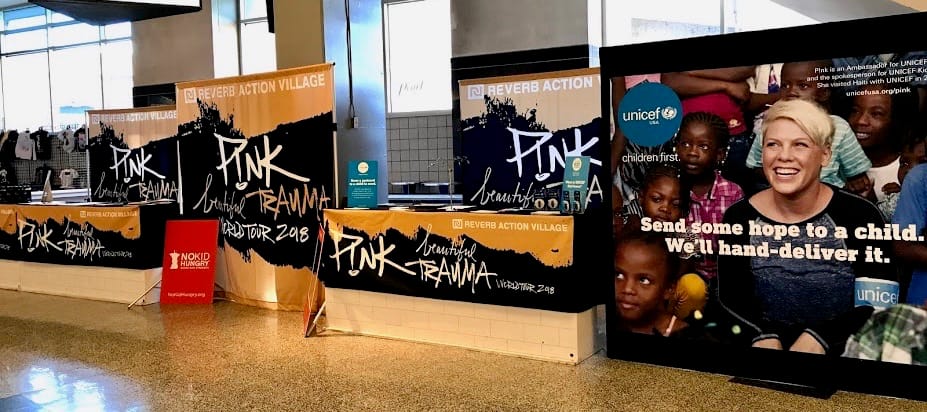 The Action Village empowers fans to learn more about P!nk's work with UNICEF and No Kid Hungry and also take direct action for both organizations in a fun, positive space. Fans were also invited to reduce their environmental footprint by using REVERB's free water refill stations and donate for a custom P!nk Nalgene bottle through the #RockNRefill program.
REVERB also created a comprehensive greening program that allowed P!nk and her crew to reduce the need for single-use plastic water bottles backstage, eat fresh produce from local farms each night, and incorporated eco-friendly products backstage and on tour buses.