Leader Bank Pavilion
---
REVERB and Leader Bank Pavilion are partnering to reduce single-use waste and take action on the climate crisis
Leader Bank Pavilion and REVERB are partnering throughout the 2023 season to reduce single-use waste and engage fans to help fight the climate crisis.
Fans can visit Pavilion Provisions to donate for a one-of-a-kind reusable #RockNRefill Nalgene bottle or bring an EMPTY reusable bottle (up to 32 oz.) from home and fill up at the FREE water refill stations located in the venue.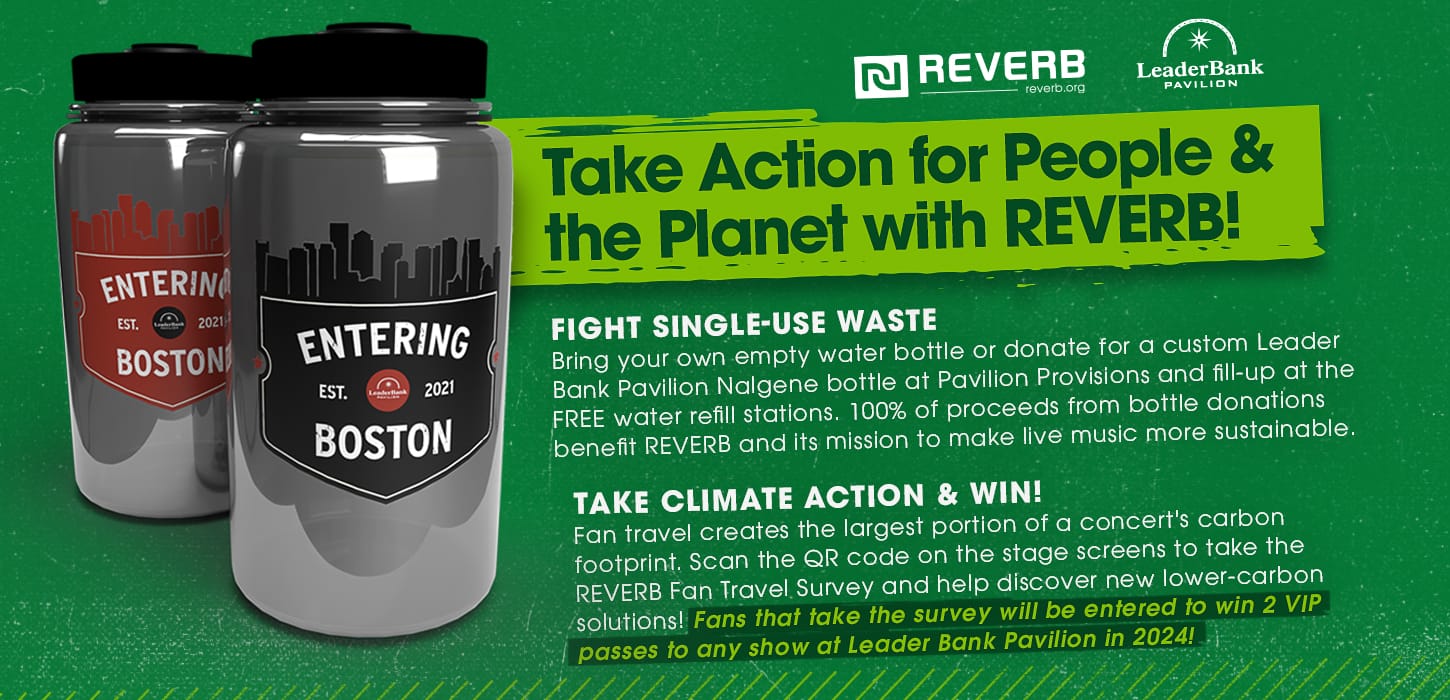 100% of the donations for the #RockNRefill Nalgene bottles at Leader Bank Pavilion support REVERB's efforts to make music more sustainable.
Fans are also encouraged to take part in the Fan Travel Survey. The survey is being conducted across REVERB's 2023 programs in an effort to better understand the environmental footprint of fan travel to concerts and discover ways to limit associated climate impacts.
Look for the Fan Travel Survey on stage screens before shows and between sets! Fans that participate in the survey can enter to win 2 VIP Passes to a show of their choice at Leader Bank Pavilion in 2024!
About the #RockNRefill Program
The #RockNRefill program is a partnership between REVERB and Nalgene that aims to reduce single-use waste at concerts and raise money to support nonprofit organizations and environmental causes. Since the partnership began, the #RockNRefill program has avoided the use of more than 4 million single-use plastic water bottles at concerts and raised over $2.3 Million in support.
At Every Show

#RockNRefill

Music Climate Revolution

Prizes

Water Station