DEAD & COMPANY TOUR 2021
It has indeed been a long, strange trip… This one is going to be CLIMATE POSITIVE!
---
Building on years of partnership, Dead & Company and REVERB are taking our sustainability efforts to the next level on the band's 2021 tour!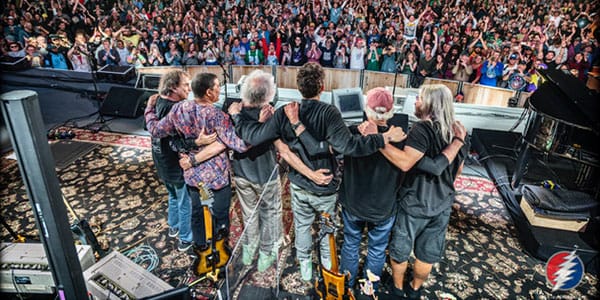 Just like all of Dead & Company's past tours, we'll be working together to reduce the environmental footprint of touring. NEW FOR THIS YEAR: With a focus on taking even more action on the climate crisis, the 2021 tour will be CLIMATE POSITIVE – eliminating vastly more greenhouse gas pollution than it creates!
MUSIC CLIMATE REVOLUTION

As a partner of Music Climate Revolution, Dead & Company has committed to take immediate, ongoing, and increasing action on the climate emergency. This year, the band and REVERB will be eliminating at least 5X the greenhouse gas pollution the 2021 tour creates.
The eliminations are achieved through funding global projects that directly eliminate greenhouse gases. These efforts are in addition and secondary to all efforts undertaken to reduce as many emissions as possible.
PARTICIPATION ROW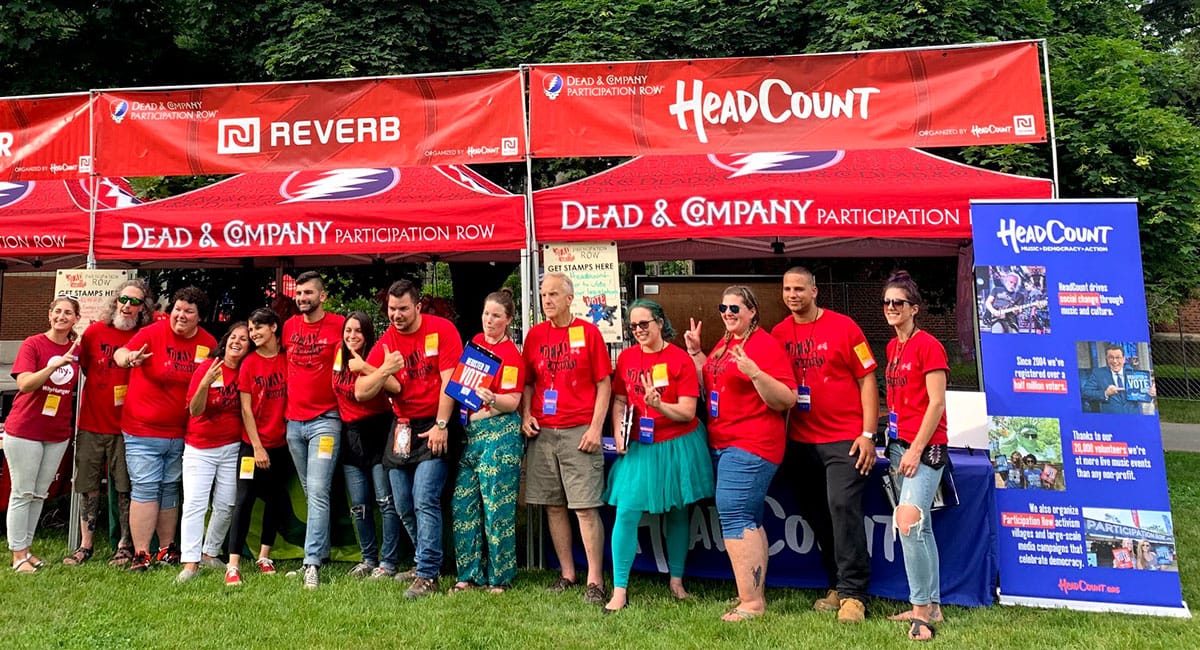 REVERB and our partners at HeadCount are back with Participation Row on this year's tour! Fans can find Participation Row at every Dead & Company show with opportunities to take meaningful action for people and the planet. Fans will be able to:
#RockNRefill – Ditch disposables by donating for a custom
Register to Vote – Use your voice and your vote! Visit HeadCount to get registered or check your registration
Music Climate Revolution – Join Dead & Company, dozens of other bands, thousands of music fans and more by taking climate action and joining Music Climate Revolution
Connect with Dead & Company Family Nonprofits
TOUR SUSTAINABILITY
Like every Dead & Company tour, REVERB is working with the band, crew, and management to make the 2021 Tour more sustainable. Efforts include:
Comprehensive Waste Management implement and supplement recycling and composting to limit landfill waste on buses and backstage
#RockNRefill Reusable Water Bottles, water refill stations, and hot-drink reusable mugs
Reusable or compostable service ware in catering and on buses
Environmentally-friendly cleaning products backstage and on buses
Landfill Diversion: Reclamation, Donation, and Recycling avoid creating waste of items with remaining useful life

Toiletries: Collect hotel toiletries that would otherwise go to the landfill and deliver them to people in need
Batteries: Ensure that batteries are used for their full life cycle before being recycled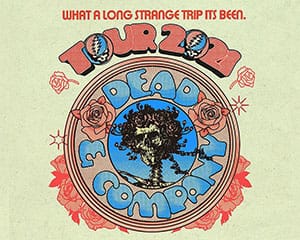 Dead & Company Tour 2021
Volunteer with REVERB on Dead & Company's Tour 2021.
Volunteer
At Every Show

#RockNRefill

Backstage Greening

Music Climate Revolution

Nonprofits

Volunteers