Reverb
Dead & Company Impact Report: 2021 Tour
IMPACT HIGHLIGHTS
45,500+ ACTIONS TAKEN BY FANS AT SHOWS
SUPPORTING IMPORTANT SOCIAL AND ENVIRONMENTAL ISSUES
$1.5 MILLION+ RAISED
SUPPORTING DEAD FAMILY ORGANIZATIONS
CLIMATE POSITIVE TOUR
THIS TOUR ELIMINATED MORE THAN 5 TIMES THE EMISSIONS THAT IT CREATED INCLUDING FAN TRAVEL TO AND FROM SHOWS
$577,000+ TO SUPPORT GREENHOUSE GAS ELIMINATION
FUNDING GLOBAL PROJECTS
19,000+ SINGLE-USE PLASTIC BOTTLES ELIMINATED
AT SHOWS ON THE 2021 TOUR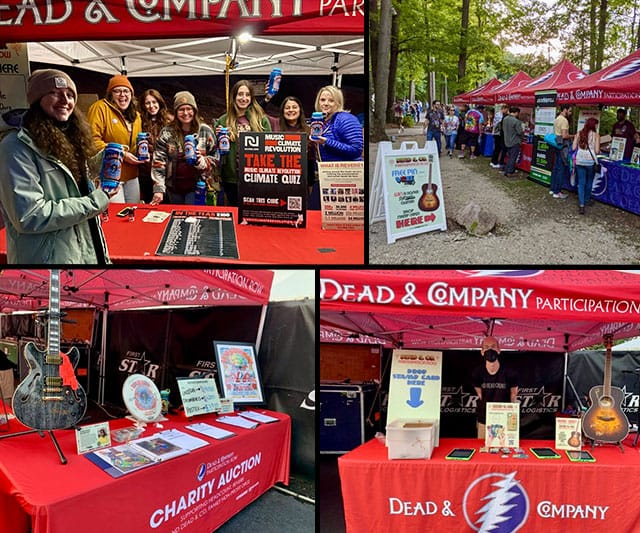 FAN ACTION
More than 45,500 fans took action for people and the planet in Participation Row
$1 MILLION+ Raised to support Dead & Company Family Orgs
4,891 Voter Engagements with HeadCount
3,829 Fans took the Music Climate Revolution Climate Quiz
6,167 Donated for a #RockNRefill custom Nalgene
14,000+ Filled up at the free water refill station
30 Nonprofit organizations hosted
169 Volunteers gave 760+ hours at Dead & Company shows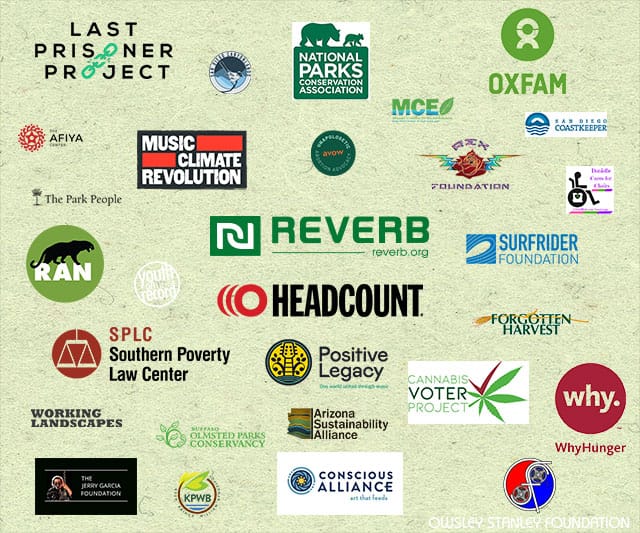 Partner Organizations
REVERB & HeadCount hosted 30 nonprofit organizations in Participation Row on the Dead & Company tour in 2021. Through a $1 per ticket commitment from the band, custom artwork D'Angelico Guitar auctions, #RockNRefill Nalgene bottle donations, and other on-site and off-site efforts, Dead & Company fans raised more than $1 MILLION to support organizations that are working to create a better world.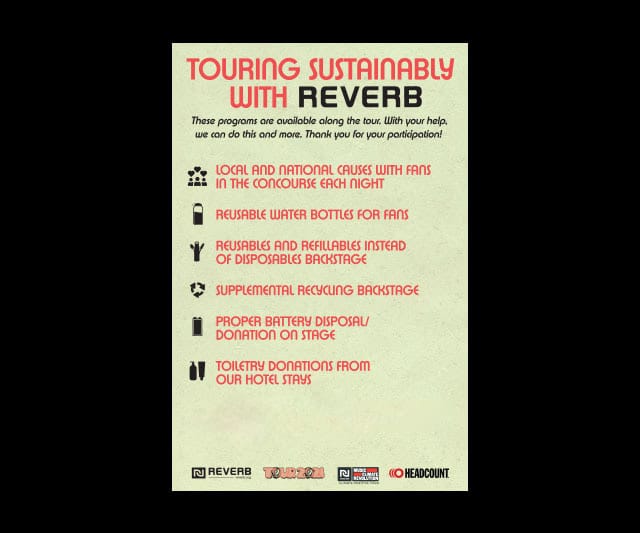 Sustainability Measures
19,000+ Single-use bottles eliminated at shows
Water refill stations backstage and front of house
Supplemental recycling backstage and on buses
Reusables backstage, Compostables when reusables were not an option
Eco-friendlier products backstage and on tour buses
Reusable batteries used on stage
100% Proper battery donation / disposal for non-renewables
Toiletry donations from hotel stays
Tour Emission calculation & CO2e elimination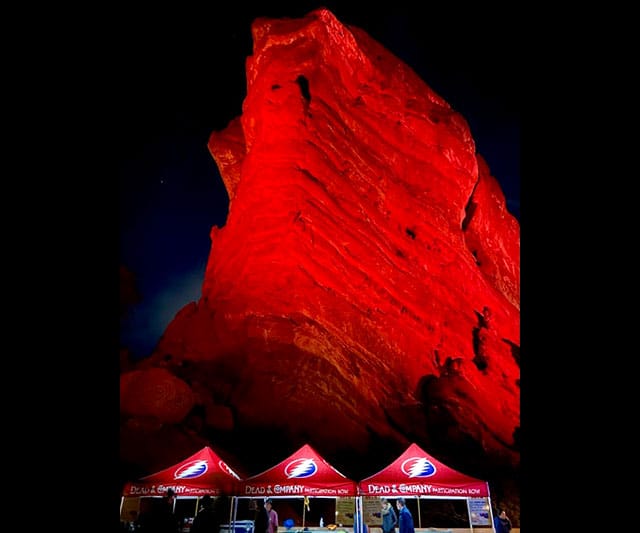 GREENHOUSE GAS ELIMINATION
The Dead & Company 2021 tour eliminated over 500% of the Greenhouse gas emissions that it created. REVERB calculated emissions including:
• Band + Crew Travel
• Venue Energy Use
• Hotel Stays
• Fan Travel
With $1 per ticket committed to climate projects, Dead & Company was able to support diverse initiatives that directly and measurably eliminate greenhouse gas pollution.
Scroll down to see the projects that were supported!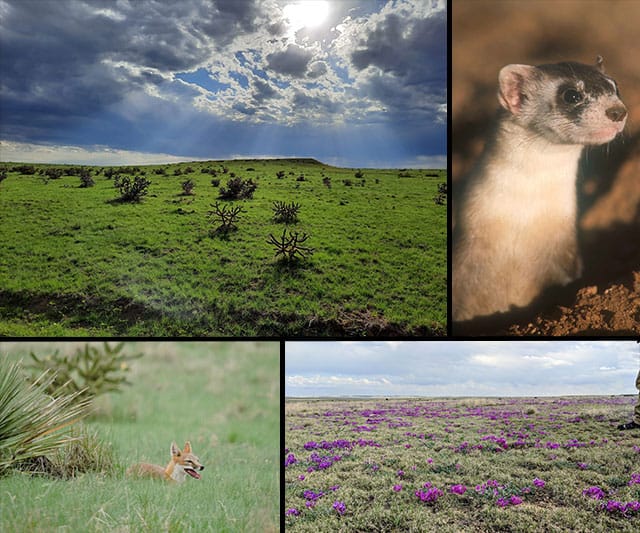 Nature-Based Solution
Medford Spring Grassland Conservation
Medford Spring Grassland Conservation is a greenhouse gas elimination project  located in Bent County, Colorado managed by Native Energy. These short grass prairie lands are imminently threatened by development and farming due to their location and fertile soil.
By providing funding for this project, Dead & Company has protected the land from impending development keeping tens of thousands of tons of CO2 safely sequestered in the ground. These lands also support local biodiversity by protecting fragile habitat for native animal and plant species.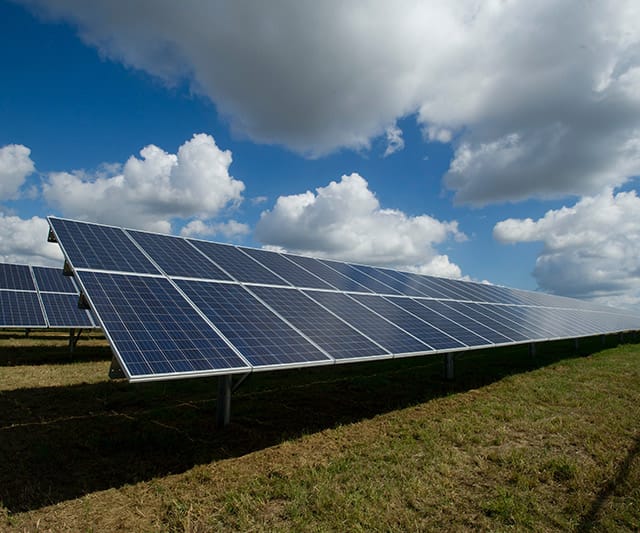 Clean Energy
Mississippi Delta Community Solar Project
Partnering with Clearloop, a portion of the funds from the Dead & Company 2021 Tour committed to fighting the climate crisis will go to help build a community solar grid in the Mississippi Delta. This project is designed to provide clean energy to communities that would not otherwise have access.
The Mississippi Delta project will produce 5 Megawatts of clean energy, enough to power 1,ooo homes for 40 years that would otherwise be using electricity powered by fossil fuels. This will result in the elimination of 184,000 tons of CO2!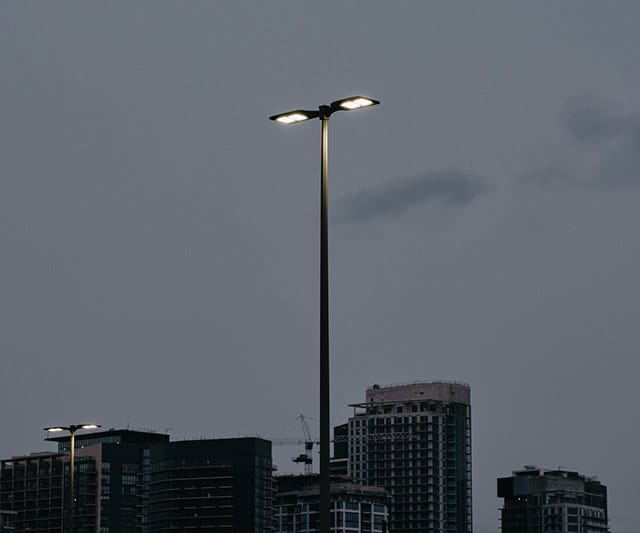 Climate Justice
SOLAR POWERED STREETLIGHTS
Climate funds from the 2021 Dead & Company Tour are helping to provide solar-powered, WiFi-enabled street lamps in Michigan. In partnership with The Solutions Project and Soulardarity, this project not only reduces carbon emissions, it also helps a community in need outside of Detroit.
In 2011 DTE Energy repossessed over 1,000 of Highland Park's streetlights, leaving residents to live in the dark for almost a decade. The band's support will:
Help purchase, install and maintain solar-powered smart streetlights
Establish a free, public WiFi mesh network to children, residents, and visitors
Enhance community safety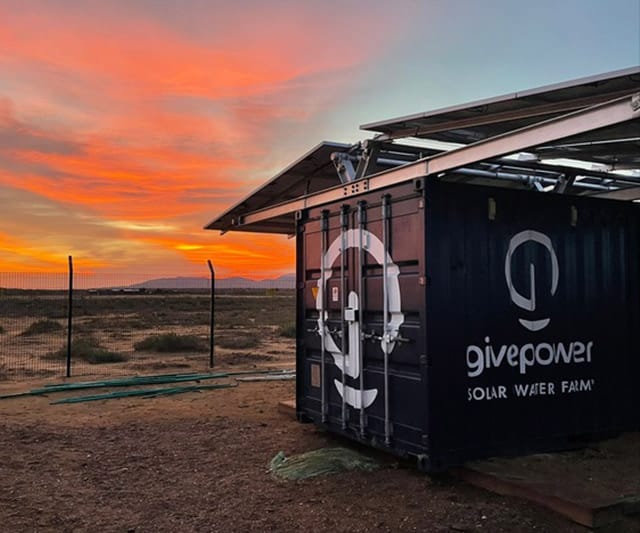 Carbon-Free Water Purification
GivePower
Funds from Dead & Company's 2021 Tour will support deploying a GivePower MOBI unit in Africa! These mobile water purification units are delivered to water-scarce regions around the world, allowing water sources to be purified using clean solar energy, avoiding the need to boil water using carbon-intensive sources like wood, coal, or oil.
These units serve up to 3,000 people PER DAY (depending on the unit and where it's deployed) and are designed to be operational for 20+ years. Each unit helps avoid about 5,000 tons of CO2 per year!

#RockNRefill SINGLE-USE PLASTIC WASTE REDUCTION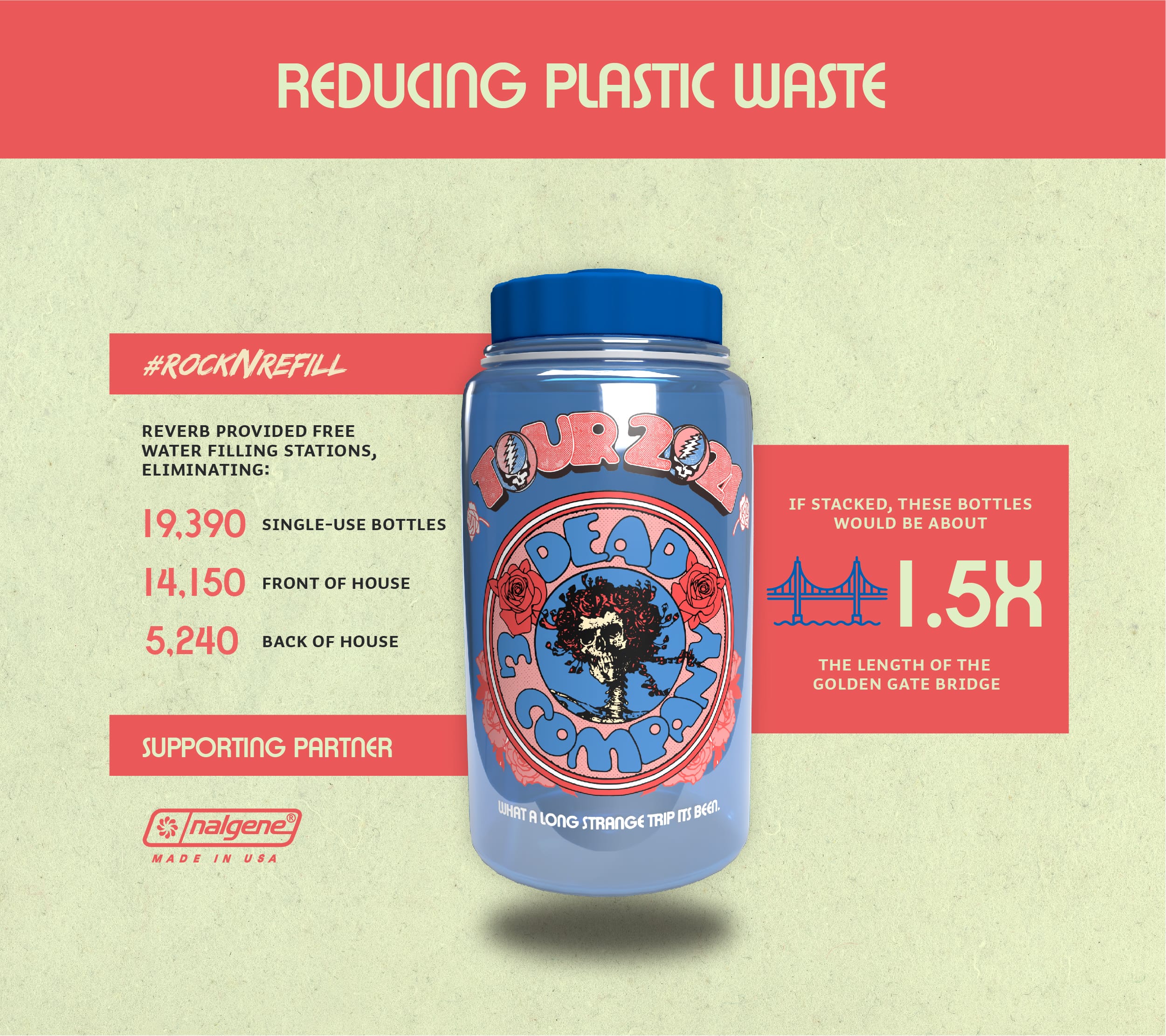 #RockNRefill
AT SHOWS
As part of the #RockNRefill partnership with Nalgene, REVERB provided custom-designed reusable water bottles for the 2021 tour. Bottles were given to Band & Crew and also available for donation to fans in Participation Row.
REVERB also provided free water refill stations for fans and ensured water refill stations were available backstage.
Together, these efforts resulted in the elimination of 19,390 bottles at shows on the tour.
5,240 Backstage

14,150 Front of House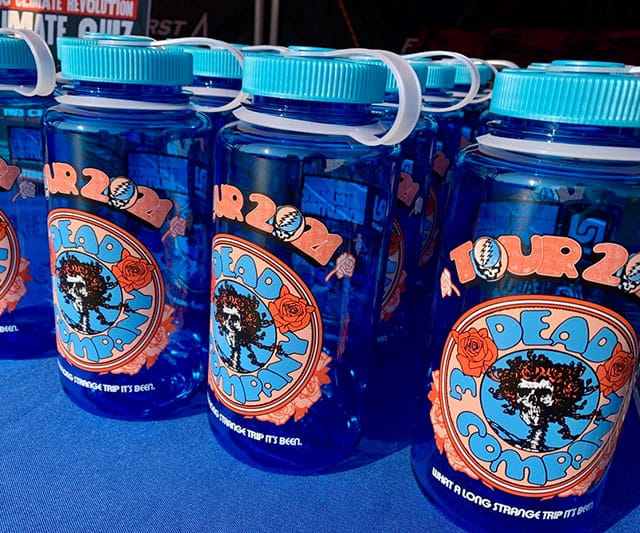 #RockNRefill
LASTING IMPACT
More than 6,167 fans donated for a #RockNRefill reusable Nalgene bottle on Dead & Company's 2021 Tour.
If every fan used their bottle just twice a week for one year instead of using single-use plastic bottles:
Each fan would eliminate 208 bottles
Together, that would eliminate 1.2+ MILLION BOTTLES
Lined up top-to-bottom, 1.2 Million Bottles would be over 160 miles long! That's about the length of New Jersey!
Grateful
Our most sincere and heartfelt thanks:
Dead & Company
Activist Artists Management
Full Stop Management
Emilio Roberts, REVERB On-Site Coordinator
HeadCount
2021 Touring Crew
All the Fans that took action