BRINGING SOLAR POWER TO THE MAIN STAGE
REVERB partnered with Willie Nelson's Luck Reunion festival to power the main stage with 100% solar energy at the all-day event. The main stage featured performances by Willie Nelson, Spoon, Margo Price, The War and Treaty, and provided a real-life case study proving zero-emission systems are a viable solution to decarbonize large-scale music events
HIGHLIGHTS
100% SOLAR-POWERED MAIN STAGE
AMONG THE LARGEST IN NORTH AMERICA
NEXT GENERATION CLEAN ENERGY
PROOF POSITIVE THAT ZERO-EMISSION TECHNOLOGY CAN POWER LARGE-SCALE LIVE MUSIC EVENTS
DRASTICALLY REDUCED EMISSIONS
OVER 90% REDUCTION OF DIESEL FUEL AND ASSOCIATED GREENHOUSE GAS POLLUTION RELATED TO OVERALL MOBILE POWER NEEDS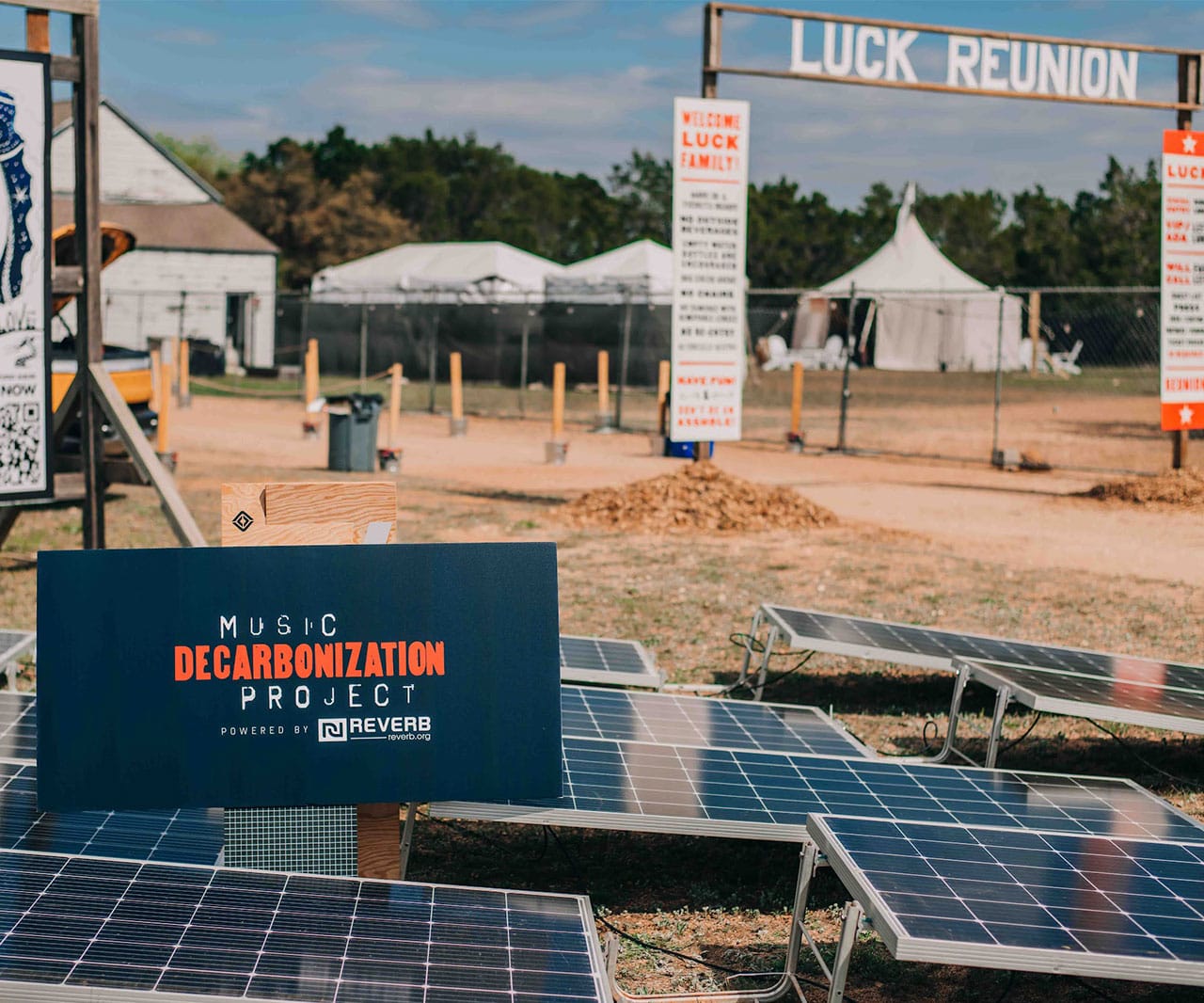 The Plan
Decarbonizing Luck Reunion
Luck Reunion, like many festivals, historically relied on mobile diesel generators to power stages and areas that lacked access to grid power. REVERB's Music Decarbonization Project proposed replacing those diesel generators with Overdrive Energy Solutions solar-powered intelligent battery systems to reduce or eliminate the need for fossil fuel power.
The Music Decarbonization Project, an industry-supported campaign to reduce or eliminate greenhouse gas pollution in music, funded a majority of the budget in an effort to slash emissions and prove the abilities of low-carbon power.
DECARBONIZED AREAS: World Headquarters (main) Stage • Revival Stage • Beer Hall Stage • Wine Garden • Artist Lounge & Catering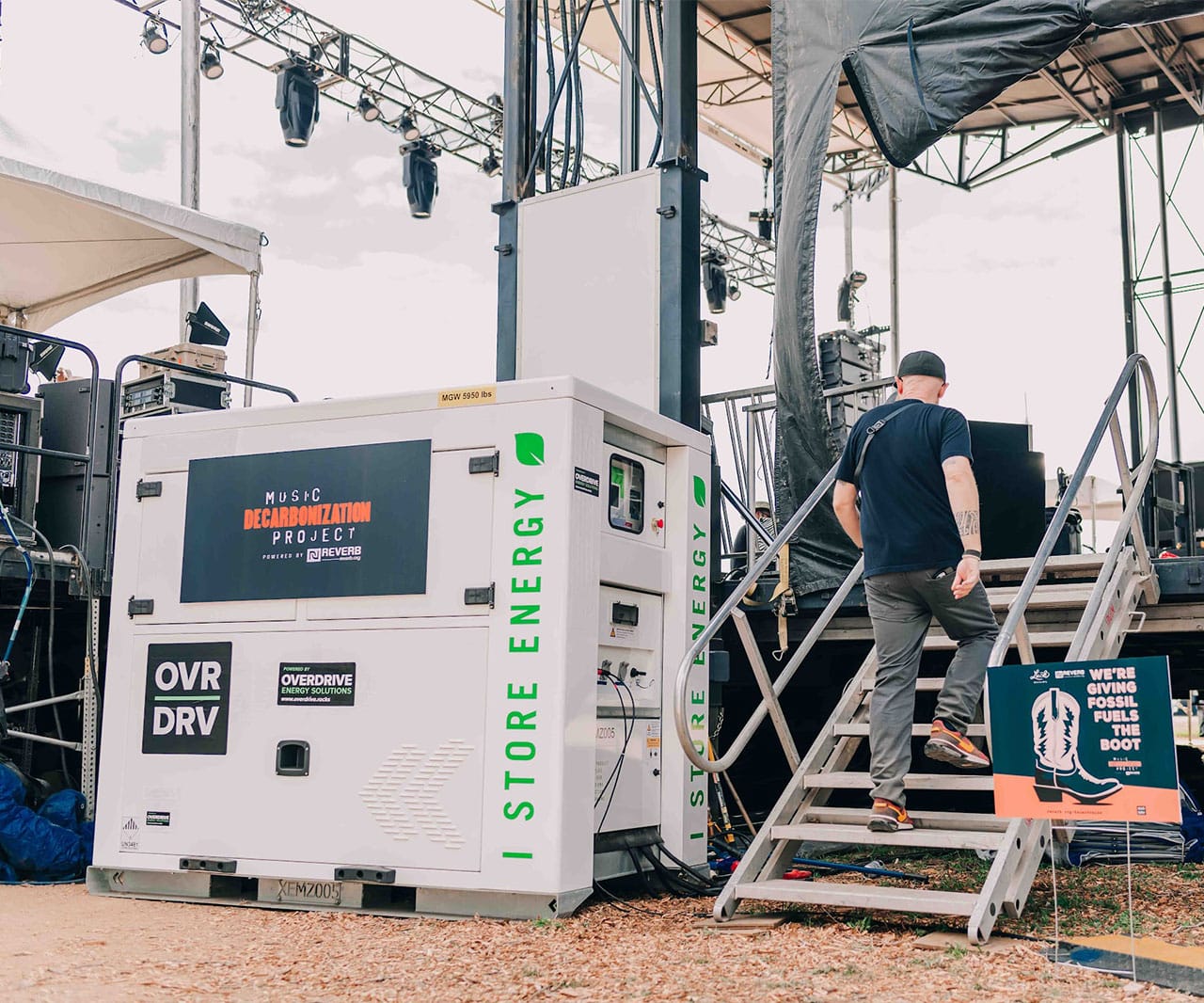 Climate Solutions
Solar. Powered.
Overdrive Energy Solutions worked with the on-site team at Luck to design a solar and battery solution to power areas that historically required diesel generators. Mobile solar farms were strategically placed to maximize energy capture, which fed intelligent battery systems that provided power to stages, vendors, and more.
Since the battery systems were nearly silent and did not emit any fumes, they were able to be placed near stages and other areas that were not accessible to generators. This limited the distance power lines had to be run, reduced emissions, and greatly improved air quality for everyone.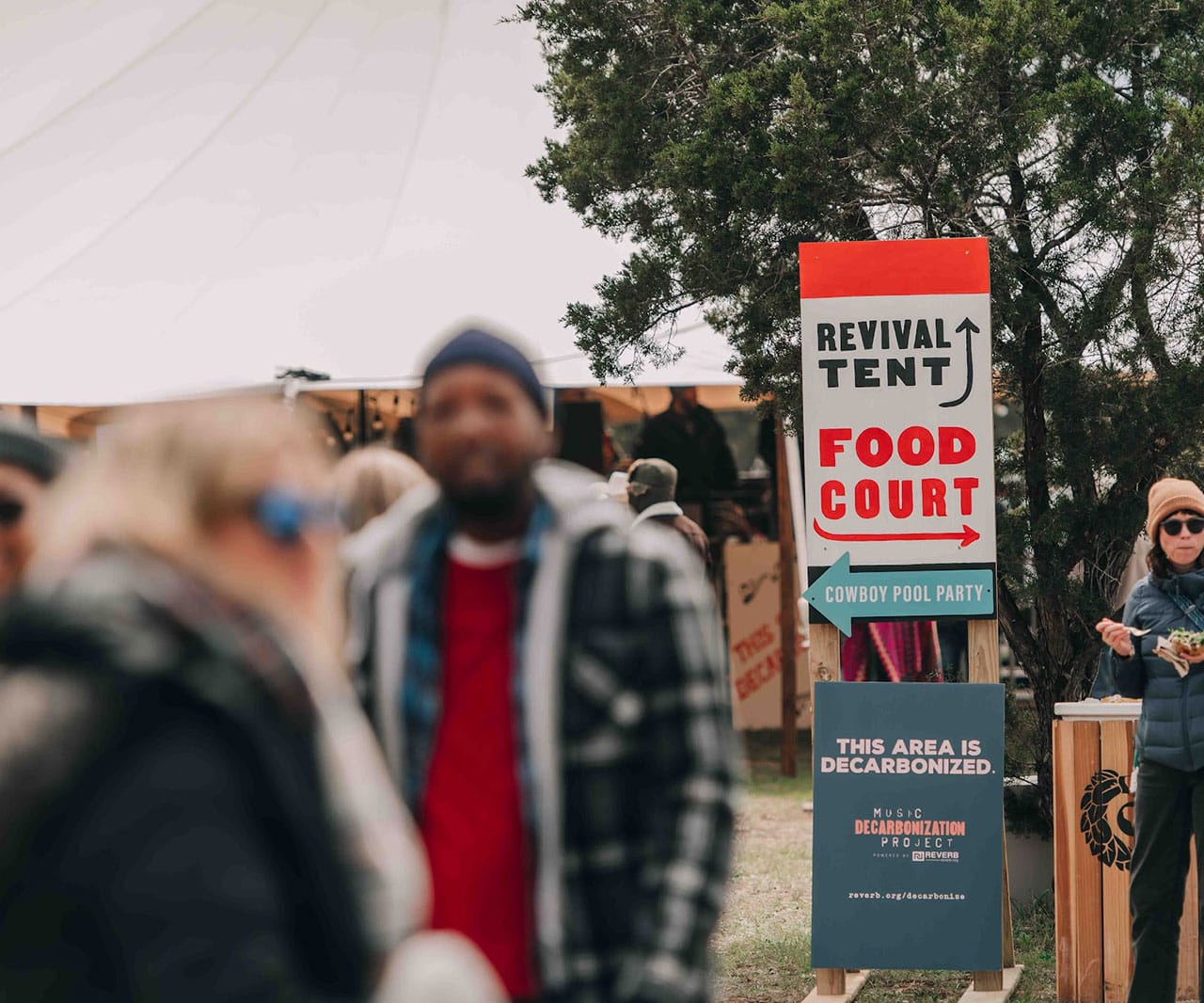 Changing Music
The Future of Live Music
"This is an effort that Luck's team not only takes seriously but we believe it is a necessary path forward for events in this changing world. We were grateful to work beside the team to eliminate 90+% of our fuel consumption. Outside of knowing we are making steps to lower our carbon footprint, hearing the silence between sets and not having wafts of diesel exhaust blowing onto stage was a welcomed change on its own. We are proud to have been a leader in testing these new technologies in a live and practical setting and look forward to furthering our mission to decarbonize Luck.  We hope to work with REVERB to assist other festivals in the transition away from Carbon energy." 
-Matt Bizer
CEO & Co-Founder, Luck Presents
Impact Analysis
Impact analysis partner, Sound Future, conducted a comprehensive study of the decarbonization effort at Luck Reunion.