Forest Hills Stadium 2022
---
Forest Hills Stadium and REVERB are partnering for the 2022 season to reduce the environmental impact of shows at the venue and take climate action.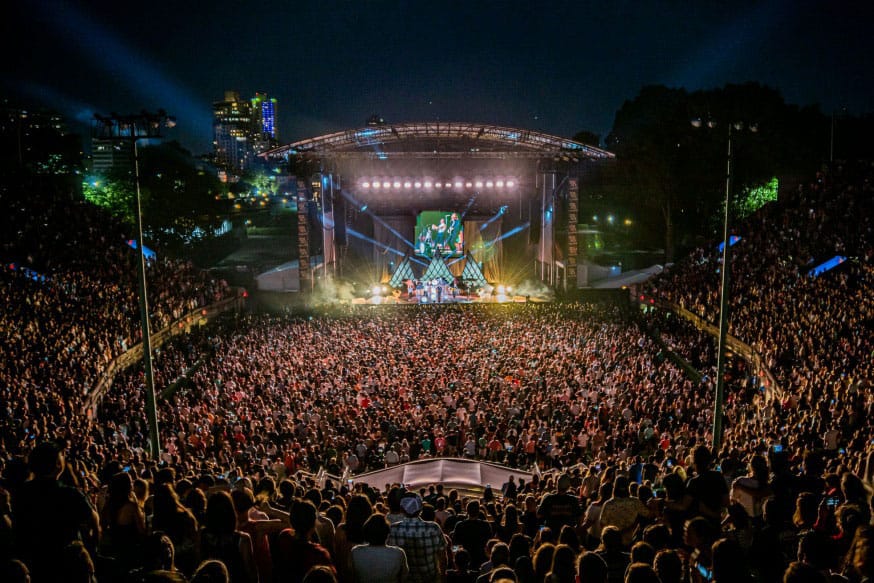 Sustainability at Forest Hills Stadium
Forest Hills Stadium and REVERB have teamed up since 2017 to make the historic venue one of the greenest in the country. Looking at all aspects of live music's environmental impacts, Forest Hills Stadium has enacted important measures to minimize the environmental footprint of shows and take action on the climate crisis.
Front-of-House & Backstage
Front-of-House
Water Stations – FREE filtered water refill stations are located throughout the venue, offering fans an opportunity to stay hydrated and ditch disposables. (Don't forget to bring your EMPTY reusable water bottle
Reusable Cups and Water Bottles – find reusable cup and bottle options in merch. A portion of the proceeds benefit REVERB and local nonprofit organizations!
Solar-Powered Phone Charging Station – increase your phone's battery, not your carbon footprint!
Landfill Diversion – single-stream recycling with off-site sorting
Extensive Public Transportation and Bike Options – with no on-site parking
Concessions
rPET & Aluminum Packaging to reduce single-use plastic
Compost of food scraps by vendors
Grow Your Own – a backstage garden grows mint, basil, and serrano and jalapeño peppers as garnish for cocktails
Backstage
Water refill stations for bands and crew
Complimentary reusable water bottles – to use at the stadium and on tour
Reusable and Compostable Serviceware – in catering
Shore Power – available to tour buses to limit the use of generators
Upcycled Shipping Containers – over 30 shipping container structures used for venue infrastructure including offices, bars and dressing rooms. These containers reduce building materials and the transport of office trailers at the venue.
Music Climate Revolution

Forest Hills Stadium is a founding partner of REVERB's Music Climate Revolution campaign uniting the entire music community to fight the climate crisis. In addition to the actions taken to limit the environmental impact of concerts, Forest Hills Stadium  neutralized 100% of venue emissions by helping fund diverse global projects that measurably draw down or eliminate greenhouse gas pollution while strengthening communities. See some project examples here!
At Every Show

#RockNRefill

Backstage Greening

Community Support

Music Climate Revolution

Nonprofits

Water Station