DAVE MATTHEWS BAND
SUMMER TOUR 2023
---
DMB and REVERB are partnering on the Summer Tour 2023 to increase action on the climate crisis, reduce the environmental footprint of touring, and plant 1,000,000 trees

Since 2005, Dave Matthews Band and REVERB have partnered to make the band's tours more sustainable and empower fans to take action for people and the planet at shows! Together as a community, we've created massive positive impacts:
$2.8+ Million Raised by fans to support environmental and social causes
816,000+ Fan Actions in the BamaGreen Eco-Village
569,000+ Single-Use Water Bottles eliminated at shows
63,000+ Tons of Greenhouse Gas Pollution Neutralized
DMB is also continuing its commitment to plant 1 MILLION more trees in addition to the 3 million trees the band has helped plant in partnership with The Nature Conservancy.
Join us in BamaGreen Eco-Village to build on this incredible legacy of positive impact!

Take action for people and the planet at shows! Fans that participate in the BamaGreen REVERB Eco-Village can enter to win a Martin Guitar with custom artwork from Dave!
Traditional Medicinals

Connect with Traditional Medicinals. Each time a fan connects, Traditional Medicinals will donate $1 to Appalachian Sustainable Development
Get a sample of Traditional Medicinals Throat Coat tea
Single-Use Plastic Waste Reduction
Donate for a reusable DMB Summer Tour 2023 #RockNRefill Nalgene bottle and support REVERB and The Nature Conservancy
Fill up at the FREE Water Refill stations
Music Climate Revolution
Take the Fan Travel Survey and help us better understand the climate impacts of fan travel and shape the future of concert transportation
Go Electric
Connect with Generation180 and take the National Going Electric Pledge to inspire all Americans to make their next car electric
Enter to win an electric Ford F-150
Make Your Voice Heard
 Register to vote or check your voter registration with HeadCount
The Nature Conservancy
Learn more about DMB's commitment to plant 1 MILLION MORE Trees on top of the 3 MILLION already planted
TOUR GREENING AND SUSTAINABILITY
Waste Reduction
No single-use plastic water bottles or cups backstage!
Reusable water bottles and insulated mugs for artists and crew
Reusable or compostable service ware in catering and on buses
Water refill stations throughout backstage area, catering, and on tour buses
Waste Diversion
Recycling: Backstage, in offices and catering, and on tour buses
Battery Reclamation and Recycling: Collecting dead batteries for recycling and donating batteries with remaining power to people in need
Toiletry Donations: Collecting unused toiletries from hotel stays and donating to local food security organizations
Additional Steps
Farm-to-Stage: Local farm resources and food for catering
Green Cleaning Products for backstage, offices, catering, and tour buses
Addressing Carbon Emissions
In addition to the above efforts to reduce the tour's environmental footprint, remaining greenhouse gas emissions are measured and neutralized through vetted climate projects

Calculate tour carbon emissions from travel and transportation, hotel stays, venue energy usage, fan travel, and more
REVERB Climate Portfolio: Dave Matthews Band is committed to addressing tour emissions through support of REVERB's Climate Portfolio. The portfolio funds verified greenhouse gas pollution reduction projects and climate justice efforts to neutralize carbon emissions and strengthen historically marginalized communities facing the worst impacts of the climate crisis.

MUSIC CLIMATE REVOLUTION
DMB is taking climate action on tour as a partner of Music Climate Revolution. In addition to taking steps with REVERB to reduce the environmental footprint of touring, the band has committed to calculating and addressing tour emissions not mitigated through other means.
Major sources of tour emissions including band and crew travel, hotel stays, gear transport, venue energy use, fan travel, and more, are calculated at the conclusion of the tour. In acknowledgement of those emissions, the band supports innovative third-party verified climate projects that measurably prevent, sequester, or reduce greenhouse gas emissions.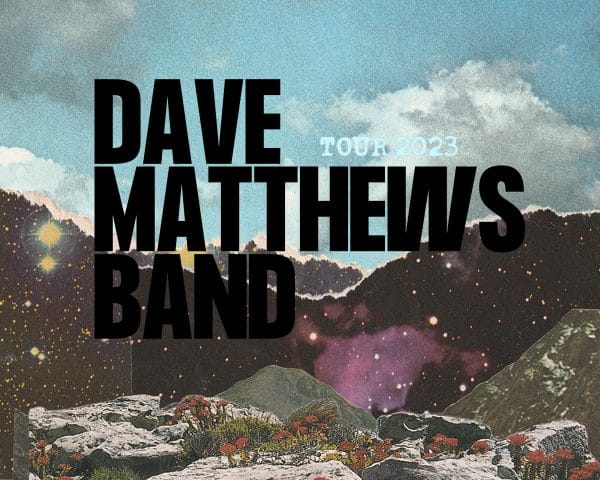 Dave Matthews Band 2023
Volunteer
At Every Show

#RockNRefill

Backstage Greening

Eco-Village

Farm-to-Stage

Music Climate Revolution

Nonprofits

Volunteers

Water Station