The Music Climate Revolution Has Begun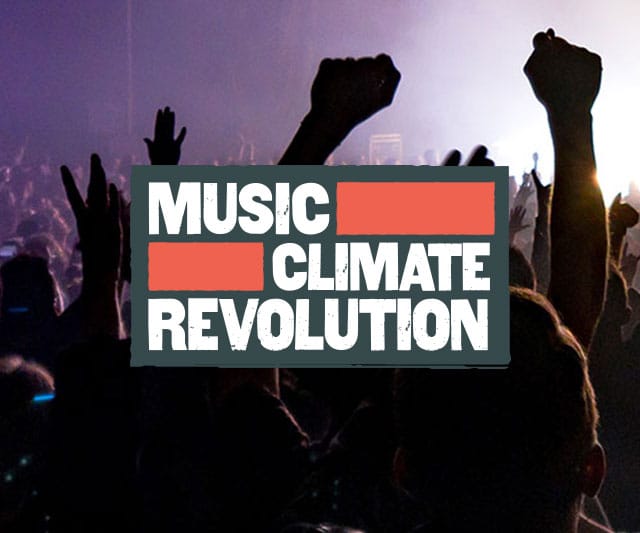 The Music Climate Revolution Is Coming
Billie Eilish, Brittany Howard, Dave Matthews Band, Dead & Company, Jack Johnson, Jason Isbell, Maroon 5, Michael Franti, The 1975, The Lumineers, Shawn Mendes and others join music industry leaders to transform their business and unleash music's cultural power against the climate emergency.
---
Portland, ME June 3, 2021 – As musicians return to live performing, REVERB, the music-led environmental non-profit launches the "Music Climate Revolution" today to galvanize musicians, fans and music industry leaders to fight the climate crisis.  The campaign will help bands shrink the environmental footprint of their tours; encourage fans to take climate action as consumers, voters, and supporters of climate-friendly community projects; and partner with music businesses to minimize climate impacts.  The campaign aims to make the entire music industry "climate positive," where performing, recording and enjoying music eliminates more greenhouse gas pollution than they create.
"I'm thrilled to work with REVERB to make climate action part of my tour and everything I do," says Billie Eilish.  "We face a climate emergency, and we all have a responsibility to spread that call to action."
Eilish, The Lumineers, Dave Matthews Band, Shawn Mendes, Guster, Dead & Company and other artists are working with REVERB to reduce their upcoming tours' climate footprints and engage their fans in meaningful activism at their shows and online.  Efforts include plant-based food options at concessions; eliminating single-use plastic; sourcing local and sustainable farm food for catering; a "Climate Action Village" at each show where concertgoers connect with environmental groups to make an impact in their local communities, and more.  To make their tours fully climate positive, the artists will also fund solar and other climate-friendly projects that dramatically reduce emissions in communities around the world.
"I'm so happy to be part of Music Climate Revolution." says Shawn Mendes.  "The time to act for Earth is now, and as artists we can start by ensuring our tour practices are climate positive."
In addition to the efforts above, Music Climate Revolution's initial commitments include:
Billie Eilish will make her 2022 world tour climate positive.
Dead & Company will eliminate 500% of its 2021 tour carbon footprint.
Dave Matthews Band has integrated sustainability into every aspect of touring since its earliest days. In follow up to the million trees they planted with The Nature Conservancy in 2020, this year the band will plant one million more trees, which is one of several components making their 2021 tour climate positive.
Shawn Mendes commits to making future tours carbon negative.
AJR's 2022 tour will focus on climate advocacy and action, including shows powered by renewable energy.
Guster and the Colorado Symphony will bring the first climate positive concert to the iconic Red Rocks Amphitheater including a fan Climate Action Village and service project.
Forest Hills Stadium will make their 2021 concert season climate positive.
CID Presents will fund regional clean energy and carbon mitigation projects for its 2022 events in Riviera Cancún, Mexico.
Activist Artists Management will, year after year, continue to reduce and neutralize their offices' carbon footprint.
Warner Music Nashville, upon their return to the office post-pandemic, will once again focus on achieving carbon neutrality in its operations in 2022.
"Music can inspire large numbers of people to take actions that add up to real change," says Jeremiah Fraites, a co-founder of The Lumineers, whose 2020 tour was the world's first climate positive tour, eliminating 150% of its carbon footprint, a level they will surpass with their 2022 European tour.
The campaign is organized by REVERB which has been leading the green music movement since 2004, working on over 350 tours and 6,000 concerts.  Its programs have eliminated over 180,000 tonnes of CO2 and 4 million single-use water bottles, supported over 4,000 environmental groups and 2,000 family farmers, and funded over 120 carbon-fighting projects.  The group is the UN Environment Program's official Music and Public Engagement Partner.
"The Music Climate Revolution is our call to action to the music industry and the start of a larger effort to push world leaders to take stronger climate action," said Adam Gardner, REVERB's co-founder and a guitarist in the band Guster. "It's time to be thinking bigger and bolder. We aim for a future where every concert grows a forest, every record release supports clean drinking water, and every tour builds rooftop solar on low-income housing."
REVERB artists and industry partners are directing fans and peers to MusicClimateRevolution.org, where concrete climate actions and industry resources are updated regularly. The campaign and its partners urge all music lovers and music makers to commit to three areas of action: reducing their carbon footprints, supporting carbon-fighting projects, and using their voice to demand equitable change for all.
"Itʻs exciting to see more artists and music businesses commit to climate action," says Jack Johnson. "Iʻm proud of the environmental efforts that our band, crew and fans have made over the years, and this momentum in the music industry is growing quickly." Johnson joins other long-time REVERB artists such as Dave Matthews Band, Maroon 5, and Guster, who have been making climate change a priority for decades, in helping launch Music Climate Revolution.
Oxfam, Sierra Club, Greenpeace, Natural Resources Defense Council, World Wildlife Fund, Black Music Action Coalition, The Solutions Project and EarthShare are among the organizations partnering with REVERB to ensure that Music Climate Revolution advances real solutions to the climate emergency, including uplifting the voices of front-line communities and BIPOC and women leaders.
"The business side of the music industry must share best practices, create new standards and support each other's efforts," says John Esposito, chairman and CEO of Warner Music Nashville and an environmental leader within Warner Music Group for over a decade.  Other industry partners include UTA, Outside Lands, California Roots Festival and Brushfire Records.
For a full list of Music Climate Revolution campaign partners, further information and climate action resources for music fans and industry, visit MusicClimateRevolution.org.
Press Contact: Chris Spinato
###
About REVERB
REVERB is a musician-led environmental nonprofit empowering musicians and their millions of music fans to create a better future for people and the planet through taking action at concerts and beyond. We partner with artists, festivals, and venues to reduce the environmental impact of live music tours and events while engaging the music community – music-makers and music-lovers – to create real, positive change.  Learn more at REVERB.org