My Last Twenty: Carson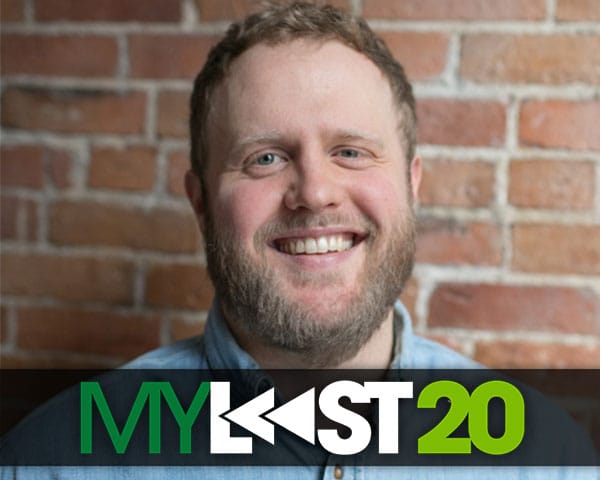 Welcome to the latest edition of My Last Twenty! For this installment we're featuring REVERB's Lead Project Coordinator, Carson.
In addition to having an incredible knack for keeping all of our projects running smoothly, Carson may also have one of the most eclectic musical tastes of anyone at REVERB – and that's saying something.
Make sure you check out the song descriptions below… Welcome to Carson's wildly wonderful mind.
So, without further ado, we present Carson's My Last 20.
---
Discreet Music – Brian Eno
There is this amazing locals only taco stand on the east side of Tulum that I've never been to but this song is great for getting work done at the office.
Dry the Rain – Beta Band
Most people only know about this song because it was on the High Fidelity Soundtrack and are sadly missing out on all of Beta Band's earlier/rawer stuff (at least that's true for me)
TB Sheets – Van Morrison
This is a great song for a Dinner Party Playlist because it's long enough that there is a good amount of time where you don't have to worry about your guests' reaction to the next song
Today Was a Good Day – Ice Cube
Supposedly the day Ice Cube is rapping about in this song is Nov 30th, 1988 but because I was only 4 and my mom (unfortunately) can't remember the specifics of that day, I'll never know how mine compared
Green Arrow – Yo La Tengo
This song is great to listen to at home when Bon Appetite names the city that you live in "Food City of the Year" and everyone from the the surrounding cities clog up the streets and make it impossible to leave your house
Dark Star – Grateful Dead
I used to want to time travel so I could see the Dead in their prime but then I remember that I'd have to use a map to get to the venue and I couldn't use Snapchat so I decided I'd pass on it anyway
De Camino a la Vereda – Buena Vista Social Club
This song is great to play for people so you can casually bring up the fact that you've been to Cuba (and that you've seen at least one documentary)
Baby – Donnie & Joe Emerson
Perfect for the beach when you're waiting for that family to get out of frame so you can finally take your sunset Instagram
Everybody Knows This is Nowhere – Neil Young
Because wearing headphones isn't enough, I wish somebody would invent a specifically colored dog leash that would signal "I will not stop so our dogs can Say Hi and I have no interest in talking to you"
How to Disappear Completely (And Never Be Found Again) – Radiohead
Perfect song to listen to on the couch after throwing the game losing pick 6 at your co-ed two-hand touch league championship game (I'm still so sorry Fumble-Bee Tunas)
Carry the Zero – Built to Spill
When I successfully get an equation to work in excel, I feel like I'm shredding these guitar parts to thousands of screaming fans from the comfort of my own desk!
L.A. Freeway – Guy Clark
One day, when I can plug into the Matrix, I'm going to ask for the "Southern California in the 70's package with iPhone compatibility"
Scarlet Begonias – Lullaby Renditions of Grateful Dead by Lullaby Baby Trio
Great for babysitting or being hungover (IMO this is better than the Twinkle Twinkle Little Rock Star or Rockabye Baby versions)
Heaven's On Fire – The Radio Department
Swedish Fish (in Sweden) are called pastellfiskar which literally translates into "pastel fish". Unlike Boston Chicken which is still called Boston Chicken in Boston
ONE – Yeasayer
This is a great song to play to remind people that you've lived in NYC
OhnonoKiwembo – Andrew Bird
Send a postcard to yourself from this 6 minute mental vacation!
Gummi Bears Theme – The Disney Afternoon Studio Chorus
WISH that you had this guys enthusiasm for the Gummi Bears. For ANYTHING.
EDITOR'S NOTE: This isn't available on Spotify, but if you were born in the 80s it's totally worth finding this somewhere on the interwebs and listening. Yes, it's as good as you remember it.
The Outdoor Type – The Lemonheads
"Honesty is the first chapter in the book of wisdom" – Thomas Jefferson
Says – Nils Frahm
Turn your boring walk into an intense 3D German Drama
Oogum Boogum Song – Brenton Wood
This is a cheerful song that you can put on a public facing work playlist that shows people that you're normal and enjoy things like socializing with strangers while walking your dog