Amplifying Youth Voices: Youth V Oil's Concert Experience with REVERB
In the realm of environmental activism, the power of collective action and youth voices cannot be underestimated. One shining example of this is Youth V Oil, a passionate and dedicated youth-led organization based in San Diego. Since its inception in 2020, they've been at the forefront of the battle against oil drilling in California, recognizing legislative action as a pivotal step toward safeguarding the future of Californians. Their three-pronged petition calls for an immediate halt on issuing new oil and gas permits, the revocation of existing permits, and the establishment of 3,200 ft buffer zones around excavation sites, a trifecta aimed at ensuring a livable future and a just transition away from fossil fuels.
REVERB, an organization committed to uniting music and environmental activism, has provided a powerful platform for Youth V Oil to engage with a wider audience. Through participating in REVERB's Action Village in San Diego with ODESZA, Young the Giant, The 1975, My Morning Jacket, and Paramore, Youth V Oil has found an invaluable space to share their message and affect change.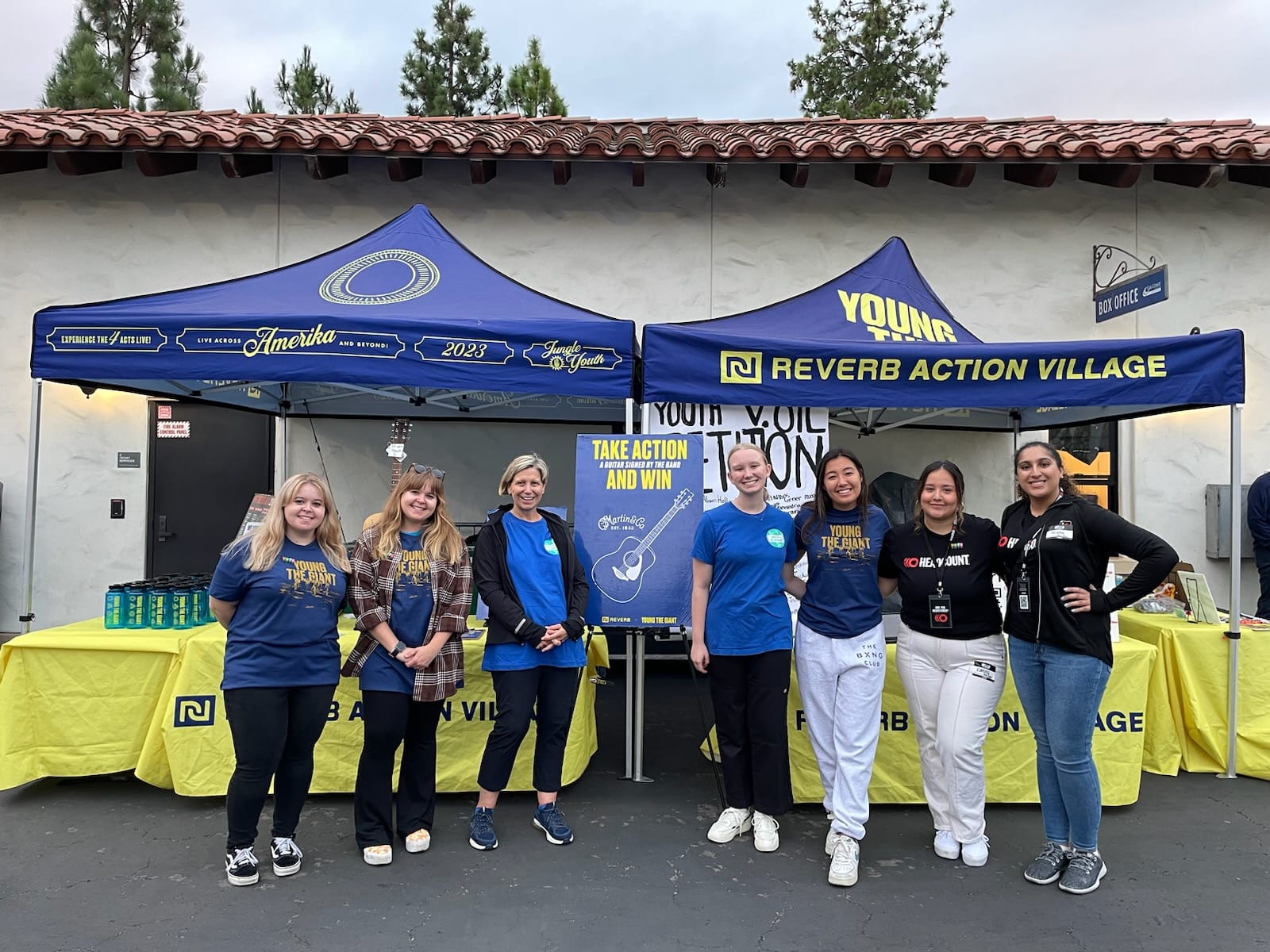 Paige Roth, our Manager of Volunteers and Community Programs explains the heart behind REVERB's community program best: "Shining a light on local nonprofits is central to REVERB's mission from Maine to California to Australia to the UK and all across our earth, and we're grateful to our artist partners for this platform! We make activism accessible by providing space for organizations and fans to connect in real life at concerts, and to show fans they can be activists in their hometowns. Youth v. Oil is an inspiring example of the next generations using their voices for people and our planet. REVERB is honored to support their important work."
The impact of Youth V Oil's presence at these events has been nothing short of extraordinary. Ryan Berberet, Media Team Lead Youth V Oil, remarked "Conversing genuinely with people invested in a better future was terrific. I talked to people who didn't know oil drilling was still legal in California and thought there was no way we would allow schools so close to oil drills." These interactions were pivotal in dispelling misconceptions and nurturing a commitment to a fossil fuel-free future within their local community.
​​REVERB first connected with Youth v. Oil when Ryan Berberet, then just 16 years old, was featured in Billie Eilish's Vogue article highlighting young climate activists. Since then, Youth v. Oil has participated in Action Villages on tour with ODESZA, Young the Giant, My Morning Jacket, The 1975, and Paramore, finding invaluable space to share their message and affect change.
Keala Minna-Choe, San Diego 350 Board Member, expressed astonishment at the number of engaged individuals. "The opportunity to connect with concert-goers," she noted, "was a testament to REVERB's commitment to amplifying youth voices and galvanizing climate action. The collaboration proved to be a dynamic and enjoyable experience for all involved."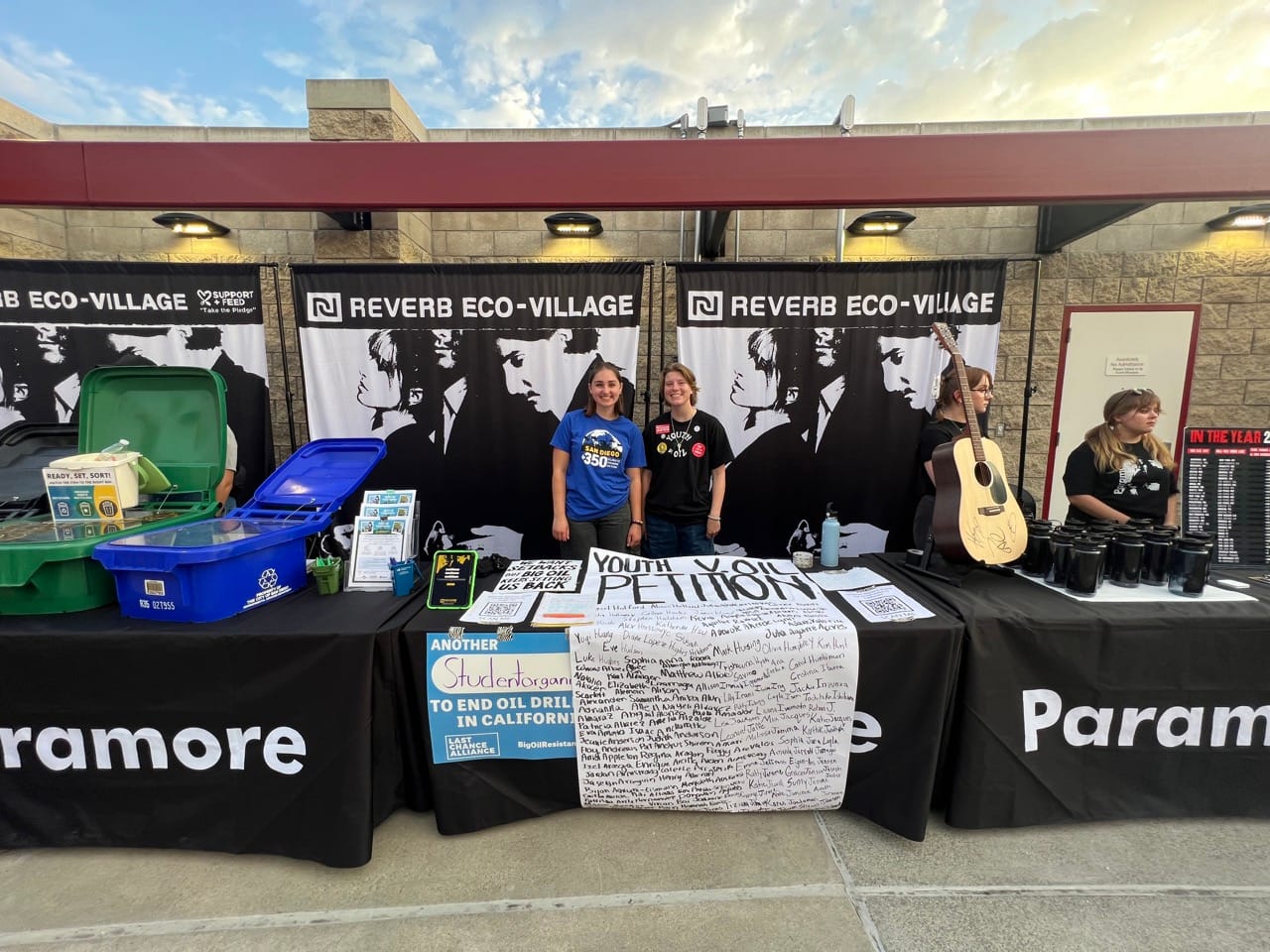 Perhaps the most telling evidence of the partnership's success lies in the numbers. Over the course of 5 concerts, Youth V Oil secured more than 500 new signatures for their petition. These signatures are a resounding call to action, urging Governor Newsom to not only halt new oil permits but also develop a comprehensive plan for phasing out oil extraction in California. Furthermore, concert-goers were educated about the crucial need for 3,200 ft safety zones, a vital step towards protecting the health and future of Californians.
The collaboration between Youth V Oil and REVERB stands as a powerful testament to the potential for positive change when passionate individuals and organizations come together. Through their tireless efforts and the platform provided by REVERB, Youth V Oil has made substantial strides in raising awareness about the perils of oil drilling in California. 
Bringing local groups to shows is one of the most important parts of our Action and Eco villages.  REVERB embarks on tours all around the world; highlighting local actions fans can take helps connect communities to the organizations taking care of them. Fans may be passionate about a cause and not know where or how to support it; connecting fans to local nonprofits at shows allows people to create change in their local communities.