BILLIE. LOLLAPALOOZA. SOLAR.
One of the biggest stars in the world, on one of the world's largest festival stages, ushered in a new decarbonized future for music.
A BIG F*CKING DEAL
SOLAR POWERED FESTIVAL STAGE
BILLIE'S HEADLINE SET AT LOLLAPALOOZA WAS PARTIALLY POWERED BY SOLAR-CHARGED INTELLIGENT BATTERY SYSTEMS
DECARBONIZED POWER
REPLACED HIGHLY POLLUTING DIESEL GENERATORS WITH CLEAN ENERGY
A REAL-WORLD EXAMPLE
A POWERFUL DEMONSTRATION OF ZERO-EMISSIONS TECHNOLOGY THAT IMMEDIATELY REDUCES LIVE MUSIC'S CARBON POLLUTION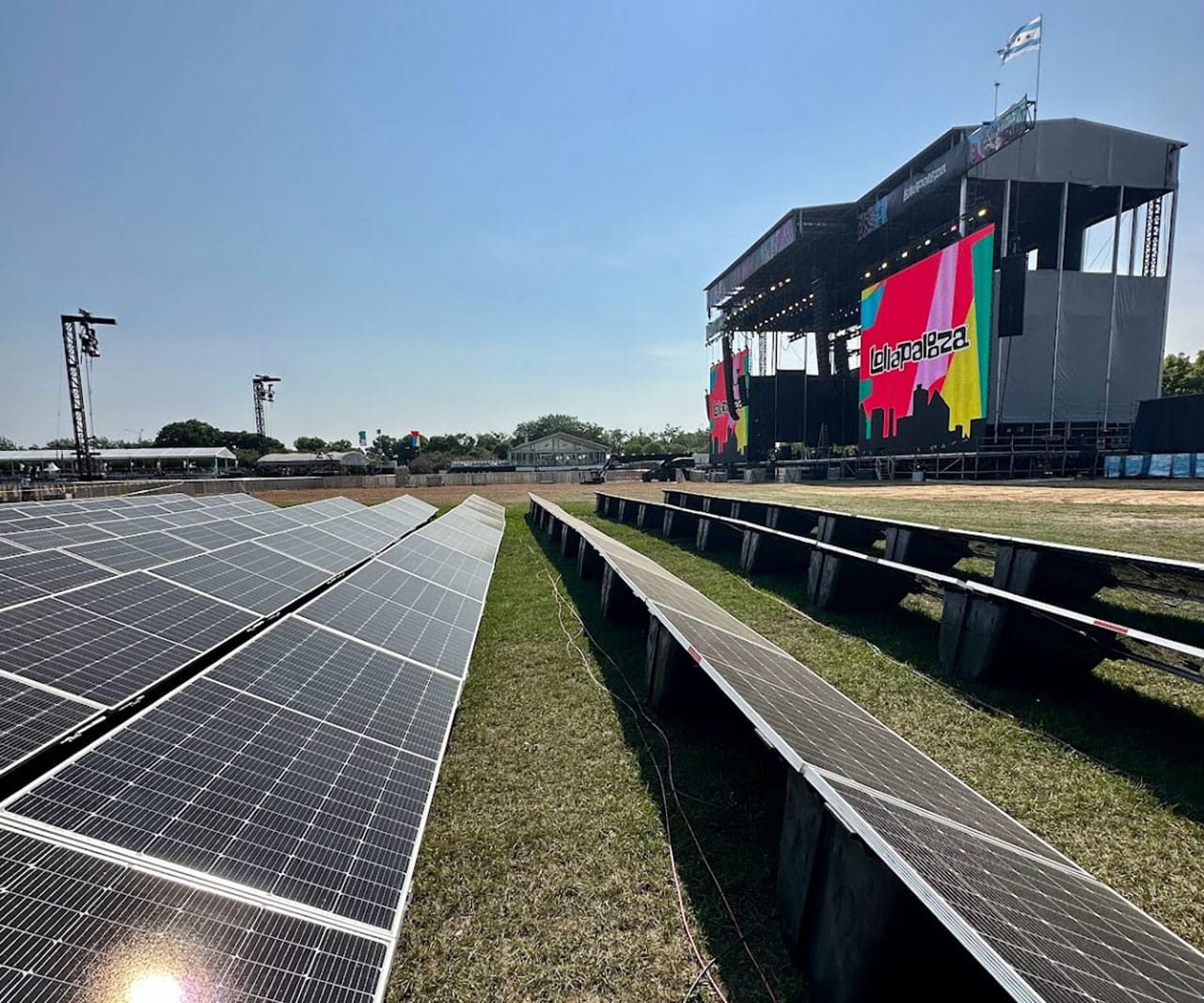 Overview
Decarbonizing Music
AS PART OF THE MUSIC DECARBONIZATION PROJECT, BILLIE EILISH AND REVERB PARTNERED TO BRING CLEAN ENERGY TO THE MAIN STAGE AT LOLLAPALOOZA
Intelligent battery systems charged via a temporary on-site solar array powered key components of Billie's 80-minute headline set. This zero-emission technology – supplied and managed by Overdrive Energy Solutions – reduced the use of highly-polluting diesel generators.
PROJECT GOALS:
Prove clean energy can power even the largest stages
Provide real-world example for music industry leaders
Accelerate music's shift away from fossil fuels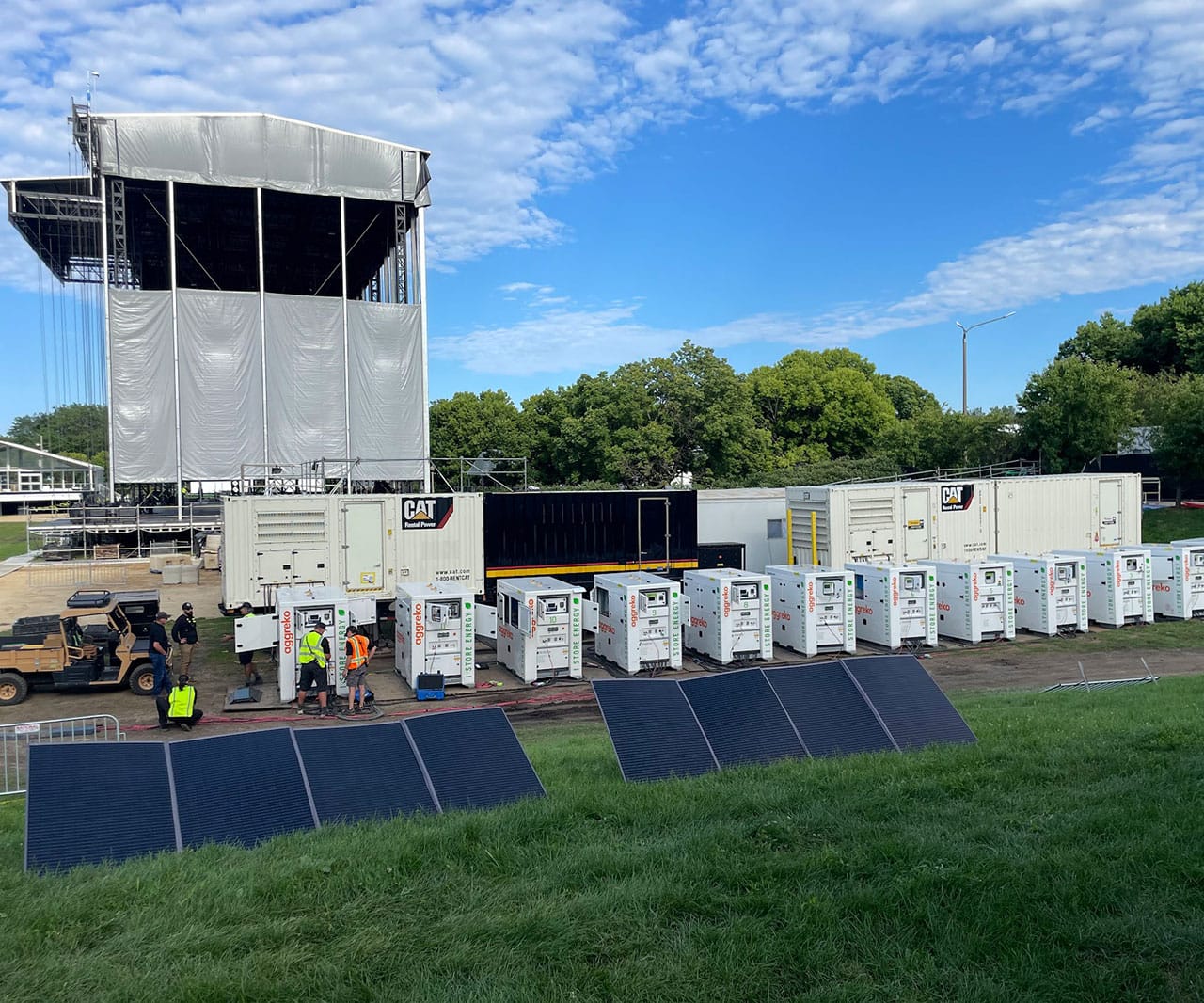 RELYING ON DIRTY ENERGY
THE PROBLEM
Diesel generators have been used for decades to provide mobile power to live music events that lack access to the electric grid or to supplement existing site power. While the diesel generators provide a short-term solution, they are also among the highest emitting energy sources.
Generators require thousands of gallons

*

of diesel for large multi-day festivals
They emit planet-warming air pollution, and can produce more greenhouse gases than than coal-fired power plants for equivalent power generation

Their exhaust creates unhealthy air quality for artists, crews, and fans
Noisy operation requires generators to be placed far from stages leading to costly cable runs
*Estimate of .13 gallons per person at large festivals; A Greener Festival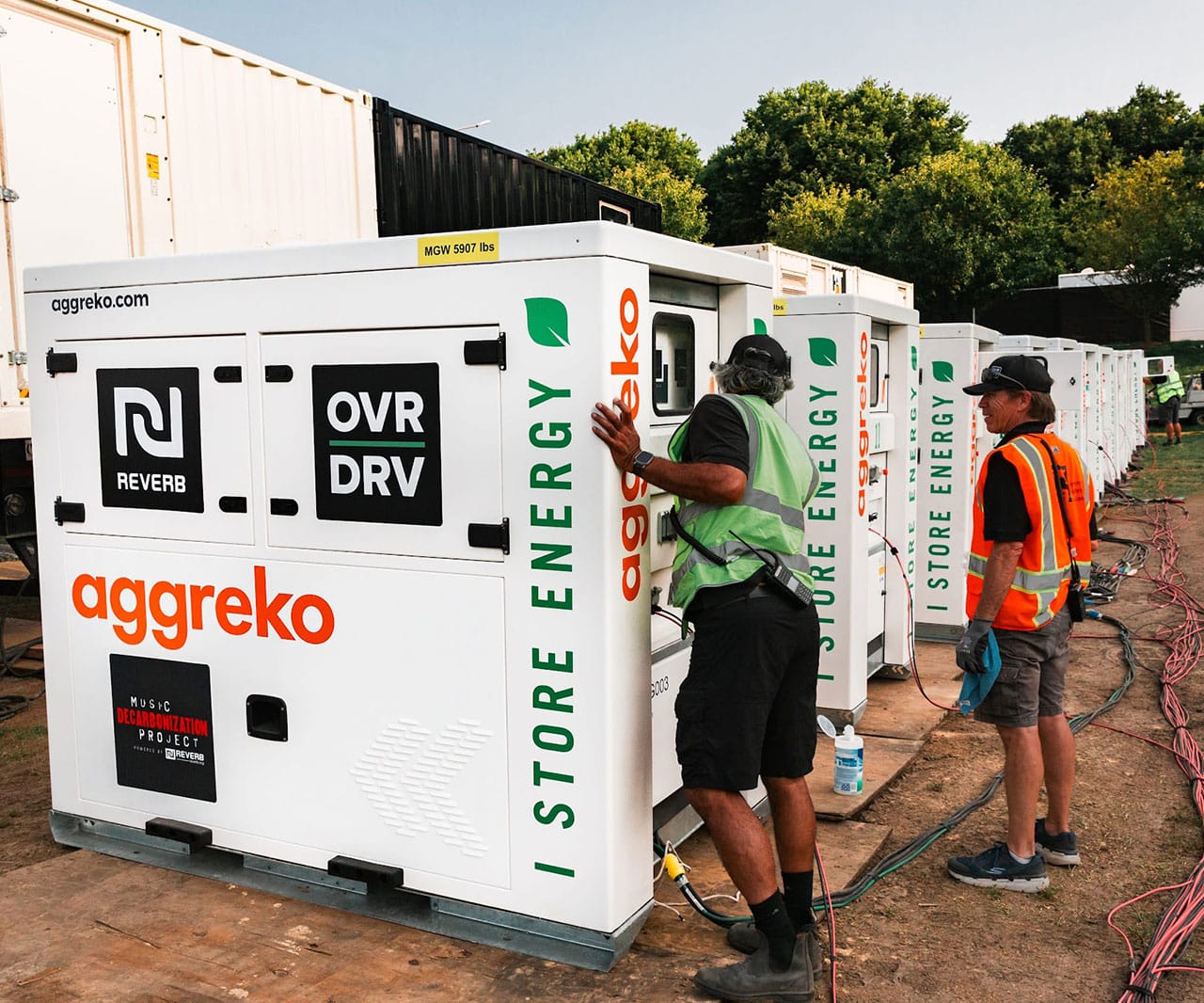 Clean Energy
The Plan
Working with Billie Eilish's management and production teams and Lollapalooza's operations and sustainability teams, REVERB and Overdrive Energy Solutions designed the rollout of a temporary solar farm and intelligent battery system to partially power the festival main stage.
The batteries were designed to match and exceed power needs from the diesel generators, providing 100, 200, and 400-amp power services; five in all.
Solar-Powered Stage Elements:
LIGHTING • VIDEO • AUDIO • SPECIAL EFFECTS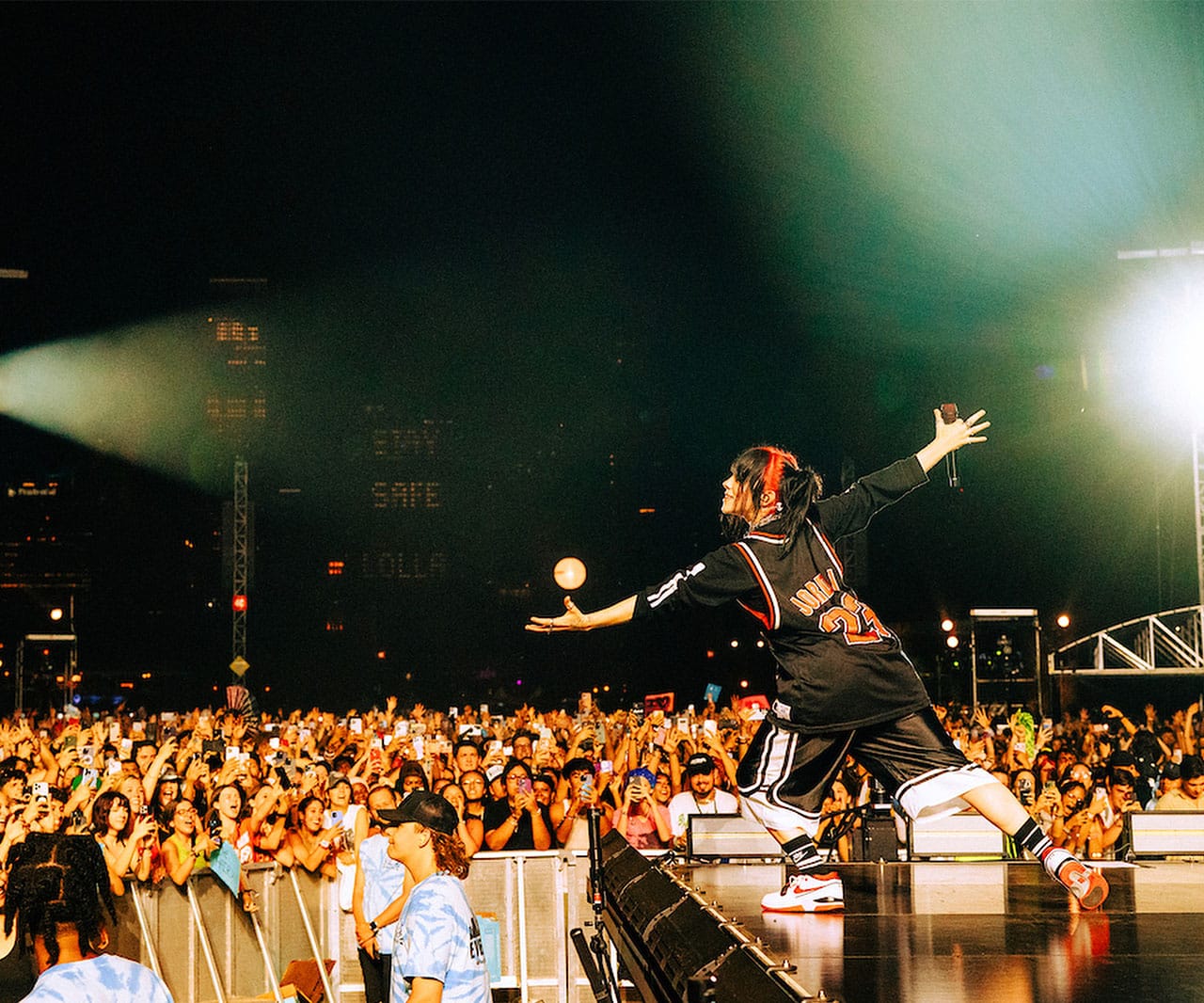 Clean Energy
The Solution
The 12 zero-emissions, environmentally safe & 100% recyclable LFP battery banks fully powered all designated stage elements and provided continuous power and covered peak draws for Billie Eilish's headline performance
The battery systems were fully charged by the on-site solar farm set up several days in advance of Billie's set
The 136 panel, 10,000 sq. ft. solar array was built in just 4 hours and removed the day prior to the opening of Lollapalooza
The system was capable of providing 750 kW of power and 1.4 megawatt hours of energy storage, enough to power multiple headline sets
In all, the battery system used less than 7% of its stored capacity and one-third of its power capacity. It could have powered 10 more sets with similar power needs without recharging!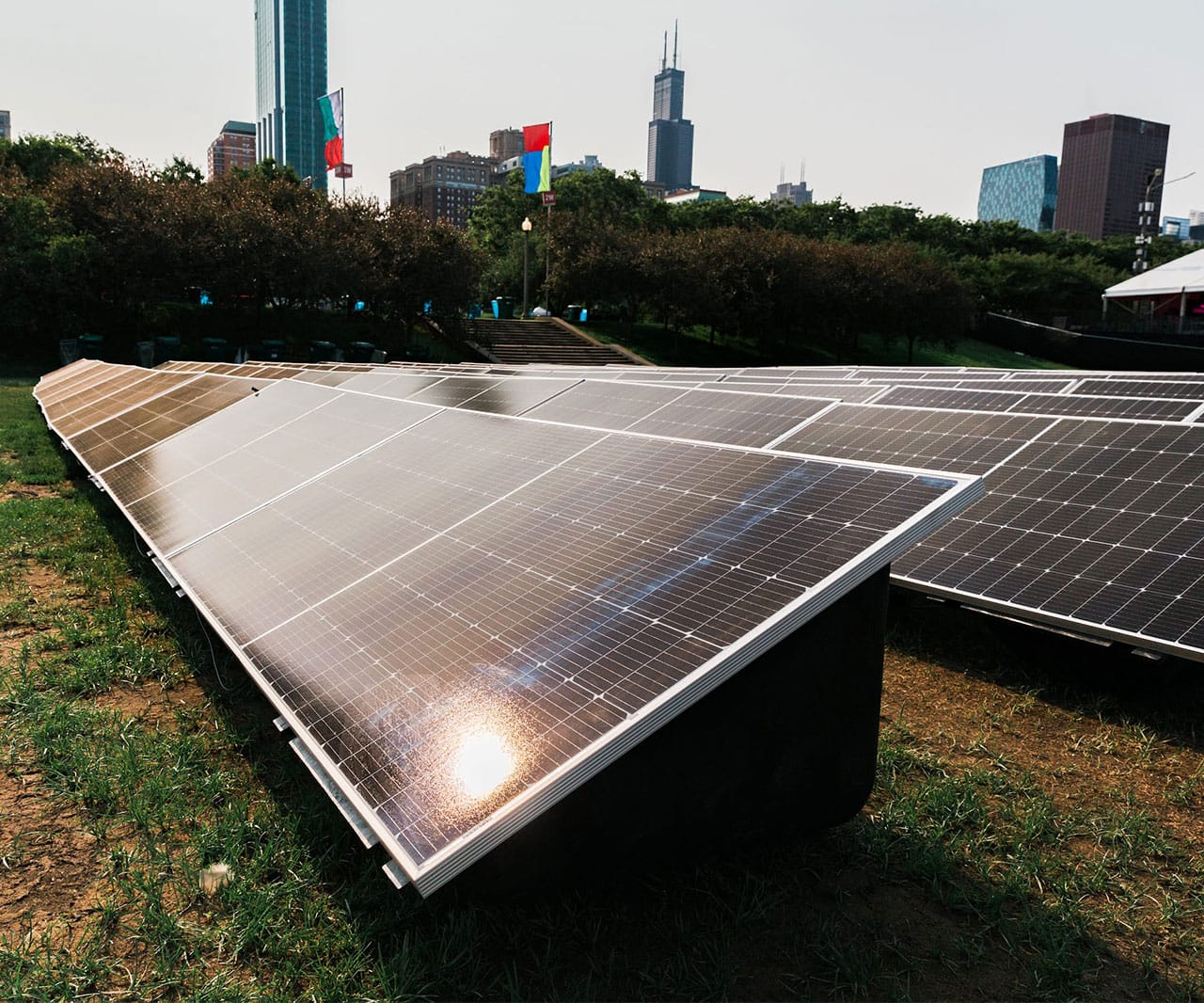 Future Focused
The Path Forward
There is clear scientific consensus that we must more rapidly and drastically cut carbon emissions in order to avoid the worst effects of the climate crisis. The battery systems used at Lollapalooza to power Billie Eilish's set provide a clear path forward for the music industry to take immediate and impactful climate action.
Replace Diesel Generators
Careful planning can completely eliminate the need for diesel generators at many concerts and festivals

Hybrid Power Option
Much like a hybrid or plug-in electric vehicles, battery systems can be integrated with fossil-fuel powered generators to drastically reduce CO2 pollution
Flexible Battery Placement
With no noise or exhaust fumes, modular batteries can be placed directly next to or underneath a stage eliminating lengthy, costly, and potential power issues
Better Experience
Artists, crews, and fans benefit from lower emissions and quiet operation
Thanks!
Billie Eilish, Maggie Baird, Danny Rukasin, Finneas O'Connell, Andrew Marshall, Nicole Massey, Dick Massey, Alex Baker, Leslie Olenick, Brittany Harper and all of Billie's touring team
Brandon Sossamon, Jake Perry, Tyler Crain, Britt Pearce L'Heuruex and all at C3 Presents
Neel Vasavada, Jahn Boxer Hardison, Sean Jacobs, Richard Cadena, Veronica Murtagh and all at Overdrive Energy Solutions
Photo Credit
Billie performance photos: Pooneh Ghana, courtesy of Lollaplooza
Battery/Solar photos: John Khuu

Learn More About Music Decarbonization Project