Reverb
Happier Than Ever World Tour Impact Report
HIGHLIGHTS
133,500+ FAN ACTIONS TAKEN AT SHOWS
SUPPORTING SOCIAL AND ENVIRONMENTAL CAUSES
117,000+ SINGLE-USE PLASTIC BOTTLES ELIMINATED
AT SHOWS ON THE HAPPIER THAN EVER WORLD TOUR
$990,000+ RAISED
SUPPORTING NONPROFIT ORGANIZATIONS, ENVIRONMENTAL JUSTICE, AND CLIMATE PROJECTS
8.8 MILLION GALLONS OF WATER SAVED
BY SERVING PLANT-BASED MEALS FOR ARTISTS & CREW ON TOUR
15,000+ TONNES OF CO2e NEUTRALIZED
VIA CERTIFIED CLIMATE PROJECTS

OVERVIEW
Since 2019, Billie Eilish and REVERB have partnered to reduce her tours' environmental footprint, engage fans in climate action, and support nonprofit organizations & climate projects.
On the Happier Than Ever Tour, REVERB worked from conception through execution with Billie and her team along with partners like Support + Feed, Live Nation, and Wasserman, to create lasting, meaningful impact for people and the planet on tour and beyond.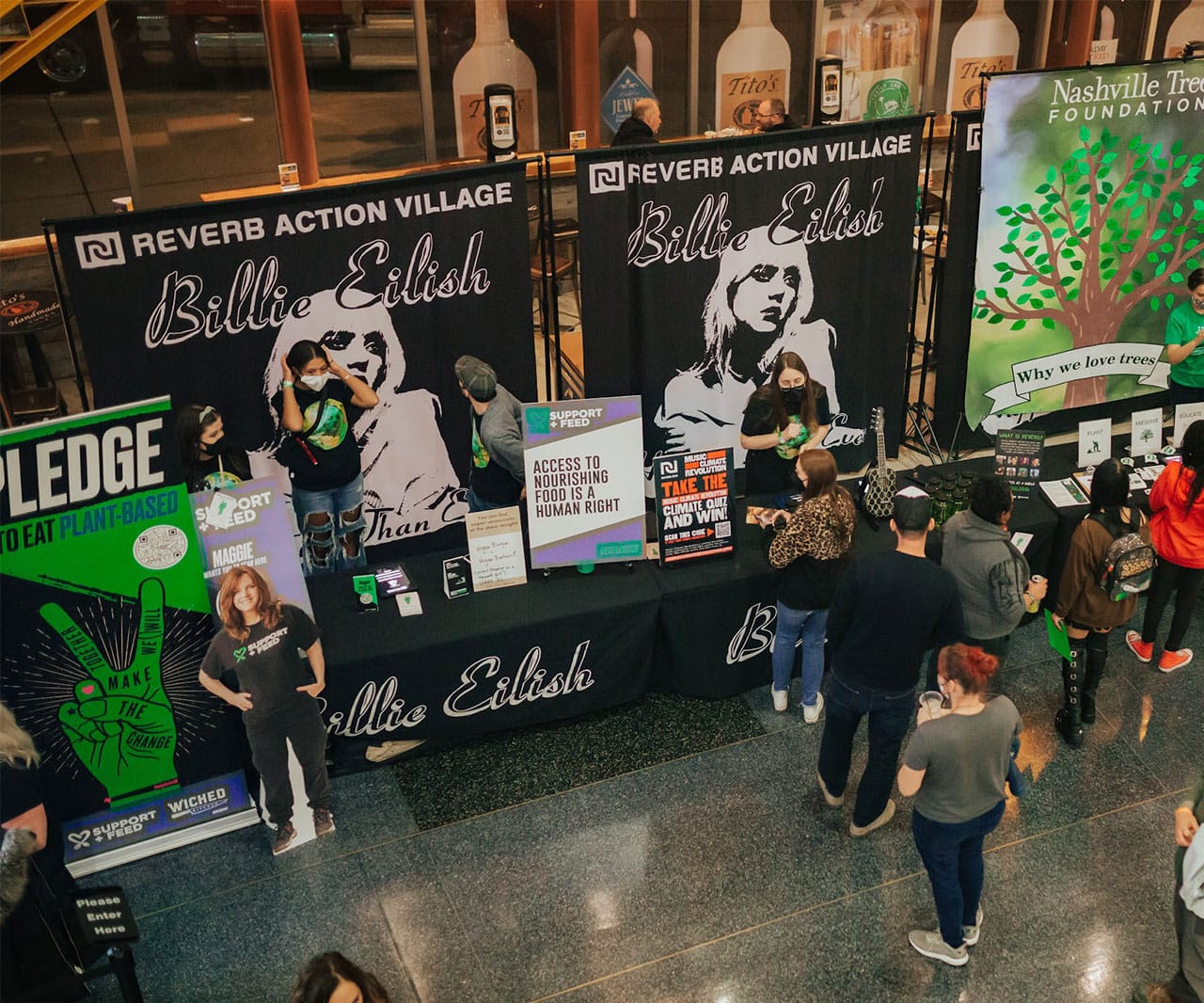 Eco-Village
Fan Engagement
At every show on Billie's Happier Than Ever tour in North America, Europe, and Australia, REVERB's touring staff and dedicated fan volunteers brought the Eco-Village to life. The Eco-Villages featured opportunities for fans to take meaningful action for people and the planet. In all, fans took over 133,500 ACTIONS!
$116,000 Raised by fans to fight the climate crisis and support nonprofits
11,308 Music Climate Revolution Climate Quiz participants

3,622 Pledges to eat one plant-based meal per day for 30 days with Support + Feed

88,000+ Single-use water bottles avoided by fans using reusables and filling up at FREE hydration stations at shows
6,116 Donations for custom reusable Billie Eilish #RockNRefill Nalgene bottles*
4,106 Voter registrations, registration checks, or election info signups with HeadCount*
692 Volunteers gave over 2,300 hours to help fans take action for people and the planet
*North America Only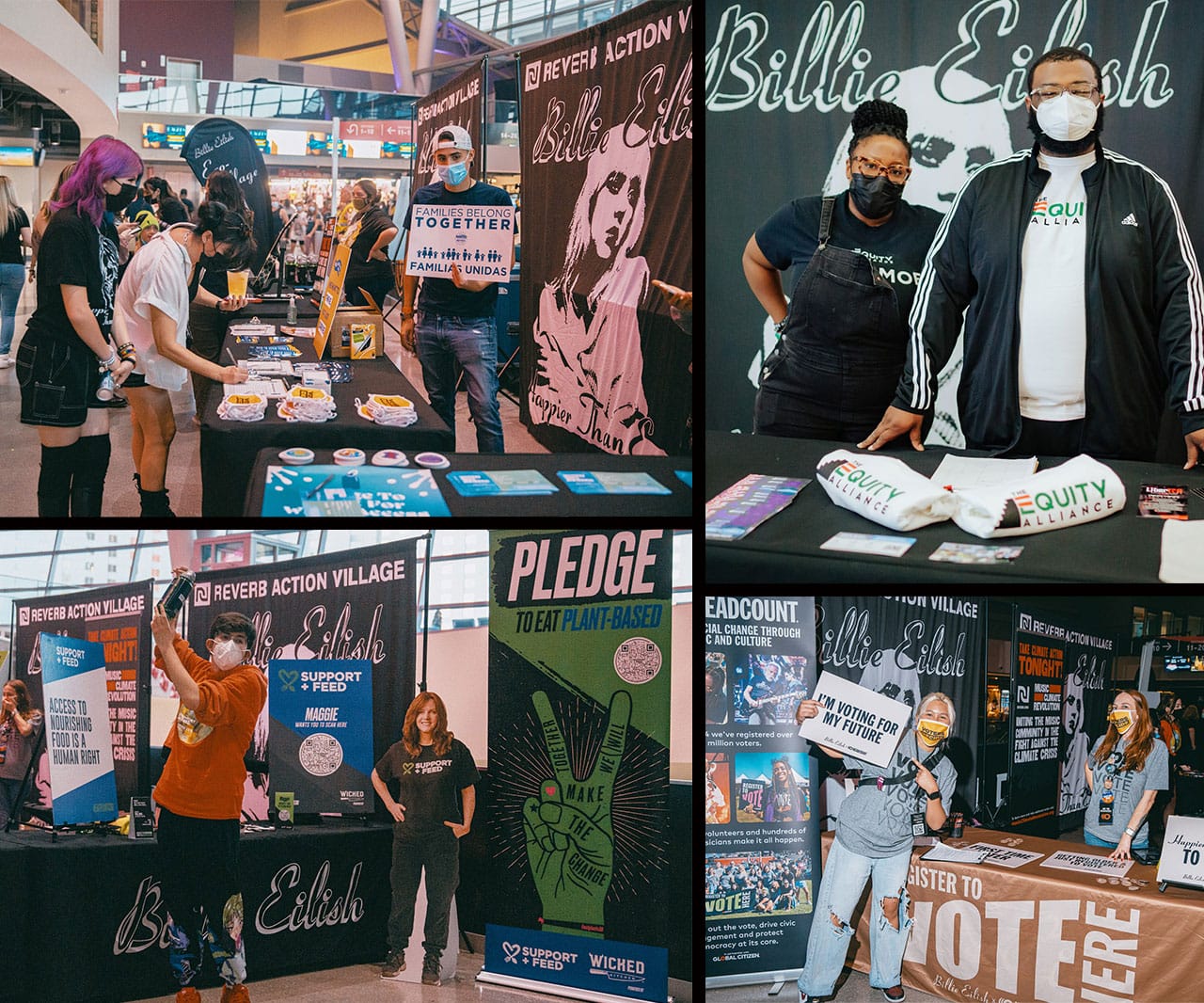 Eco-Village
Nonprofit Organizations
Local and national nonprofits that are creating a better future for people and the planet were hosted every night in the Eco-Village and were given a small grant for their time. These organizations encouraged fans to learn more about their work and join them in their mission
56 nonprofit organizations hosted at shows
228 total nonprofit fan activations across the world tour
15,593 fan actions with organizations hosted at shows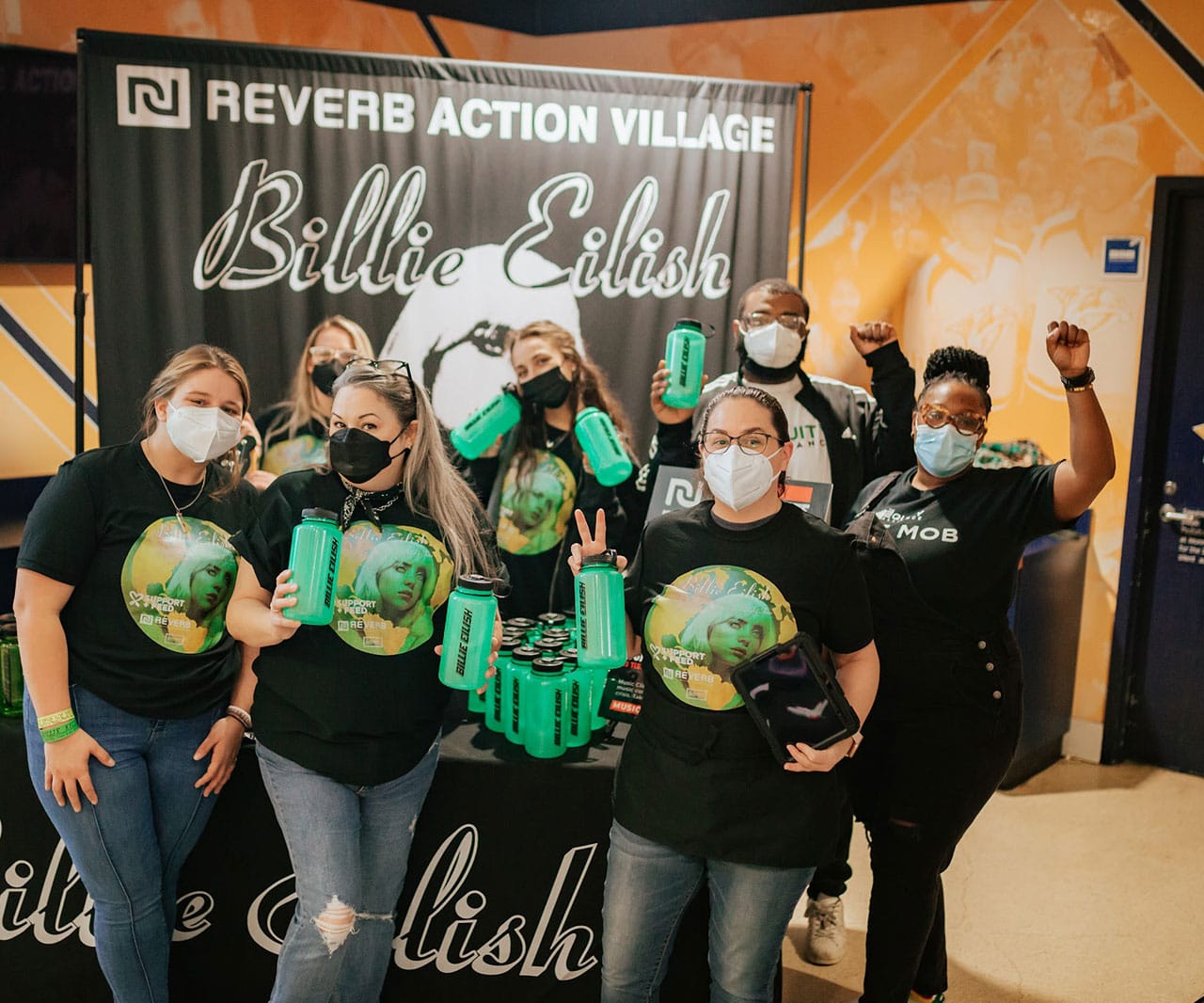 Tour Sustainability
SINGLE-USE PLASTIC REDUCTION & ELIMINATION
117,000+ Single-use plastic bottles avoided throughout the tour
28,000+ AVOIDED BACKSTAGE • 89,000+ AVOIDED BY FANS
No 'extra pours' – venues were asked to serve beverages in their original containers vs. the common practice of pouring canned and bottled beverages into plastic cups, eliminating tens of thousands of single-use cups
Single-Use Plastic Eliminated backstage, in catering, and on tour buses
Reusable Water Bottles and Mugs for artists and crew
Water Refill Stations backstage, on all tour buses, and in the concourse for fans
Reusable and Compostable Service Ware in catering and on tour buses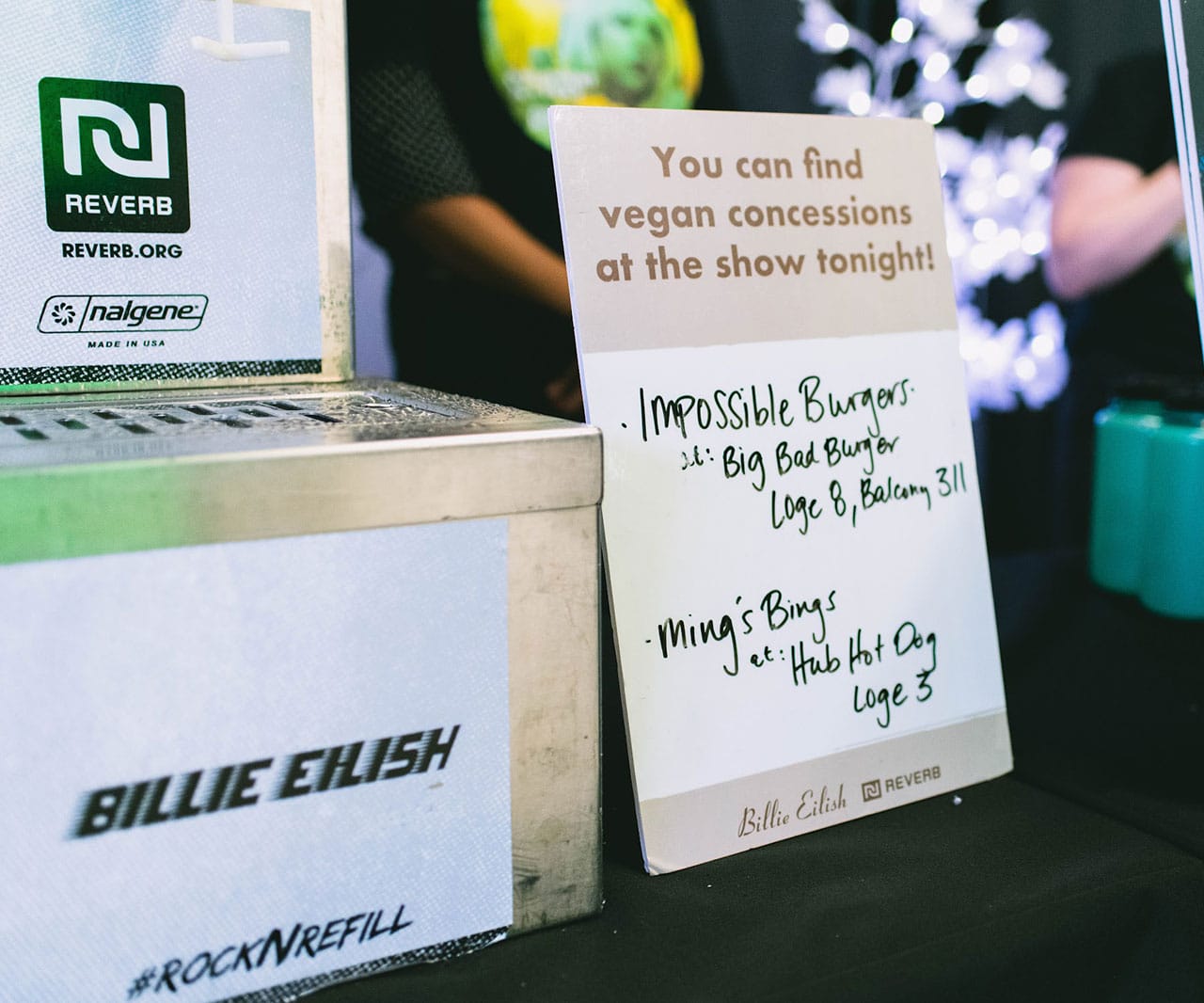 Tour Sustainability
Sustainable Food
The Happier Than Ever tour featured exclusively plant-based food for artist and crew catering and worked with venues to ensure plant-based entree options were available to fans at every show
24,075 Plant-based meals served to artists and crew
Plant-based tour catering saved*:
8,827,500 Gallons of water • 321,000 pounds of grain • 240,750 Sq. Feet of Forested Land • 123+ Tonnes of CO2 • 8,025 Animals
100% of venues offered plant-based entree options with price parity to non-vegan options
Over 300 plant-based entree options were available at concessions throughout the tour
3,322 fans pledged to eat one plant-based meal per day for 30 days with Support + Feed
*Savings based on estimates from Vegan Calculator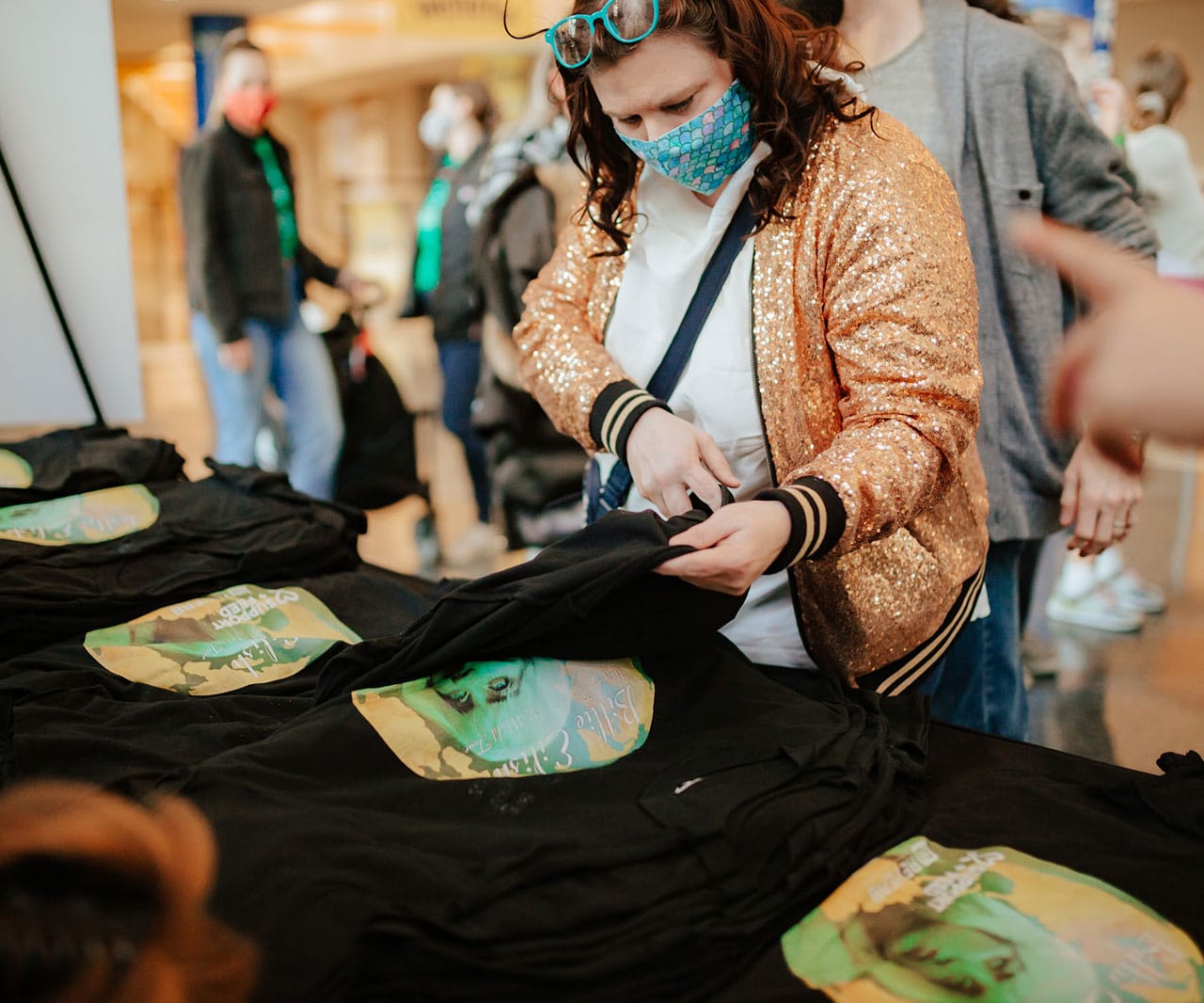 Tour Sustainability
SUSTAINABLE MERCH
Upcycled Hoodies w/ Citizen T – limited quantity stock using "Pre-loved" blanks in order to avoid the manufacture of new product
Billie partnered with American Express and Coachella Music And Arts Festival to sell on site and online
100% Organic Cotton Blanks with Water-Based Inks and Dyes for all merchandise to lessen the impact of manufacturing and materials on the environment
100% of REVERB Volunteer Shirts were Upcycled
New t-shirts use roughly 120 liters of water & create an average of 7kg of carbon emissions to manufacture
More Sustainable Vinyl: Billie and Interscope Records, in consultation with REVERB, made the Happier Than Ever album more eco-friendly:
100% Recycled Black Vinyl • 100% Recycled jacket and sleeve • FSC-Certified paper • Vegetable-based inks • Bio-Wrap package wrapping (made from sugar cane!) • Waste-free exclusive swirl variant made from recycled vinyl scraps from the first pressing of the record, resulting in a limited quantity unique collector's edition

No Plastic Bags for items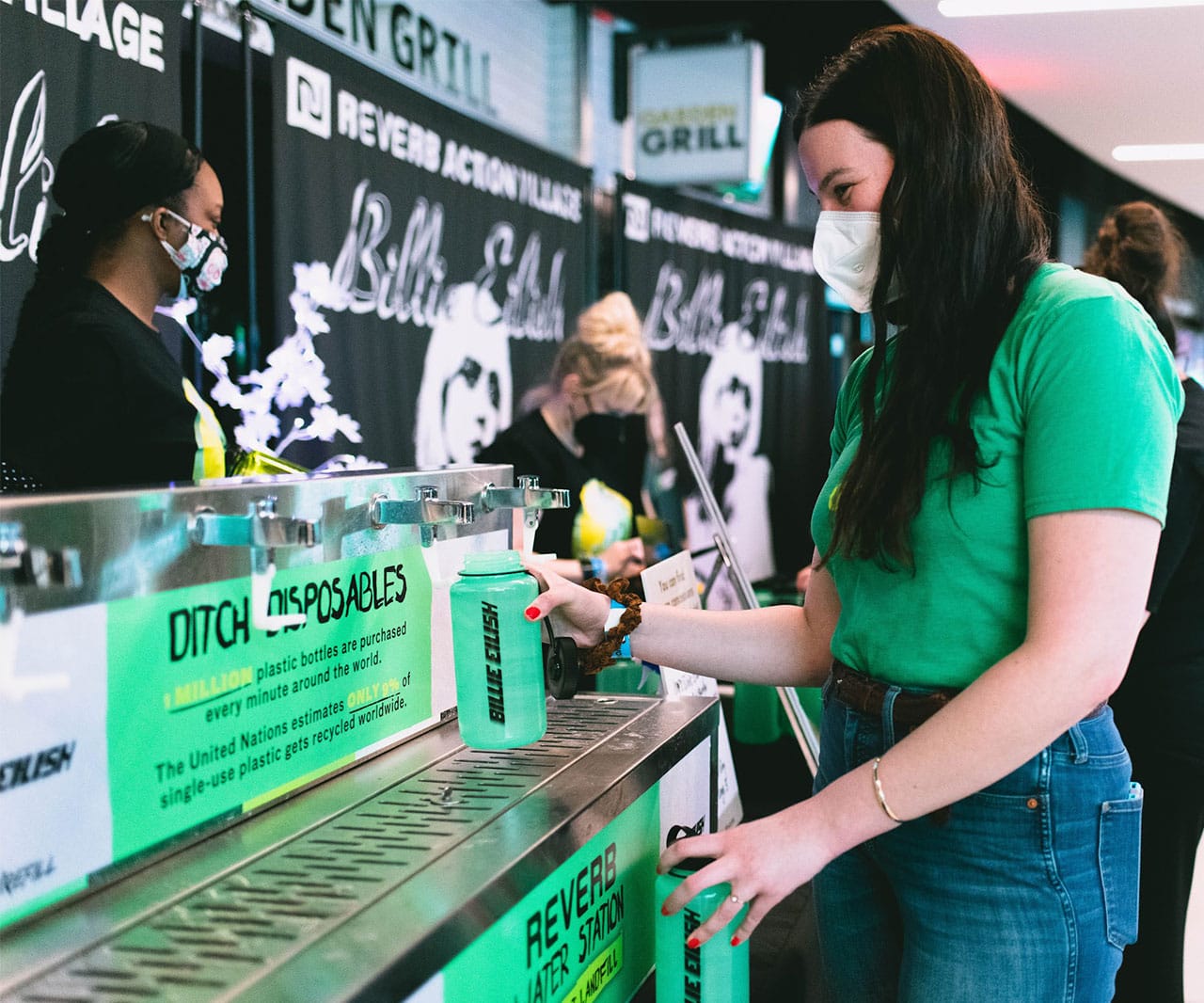 Tour Sustainability
Venues
REVERB connected with each venue prior to the tour to enhance, encourage and support deeper sustainability efforts.
Significantly Reduce or Eliminate Single-Use Plastic throughout venues:
Eliminate Extra Pours serving beverages in their original container vs. pouring into a single-use cup
Replace plastic cutlery and serviceware opting instead for compostable or biodegradable options
Limit the Use of Plastic Straws

Plant-Based entree options at EVERY venue with price parity to non-vegan items
Fan Water Access
Access for REVERB's Water Refill Stations or supply an alternative water source for fans in concourses & GA pits
Fan Messaging ensuring awareness of water options
Allow Reusable Water Bottles helping fans avoid single-use plastic
Promote Public Transportation Options to fans prior to shows
Collect and donate items left from early queues at shows (blankets, chairs, umbrellas, etc.)
Institute No-Idling Policy for buses and trucks
Reduce Hospitality Purchases and Signage Creation
Optimize Waste Management to increase landfill diversion based on local services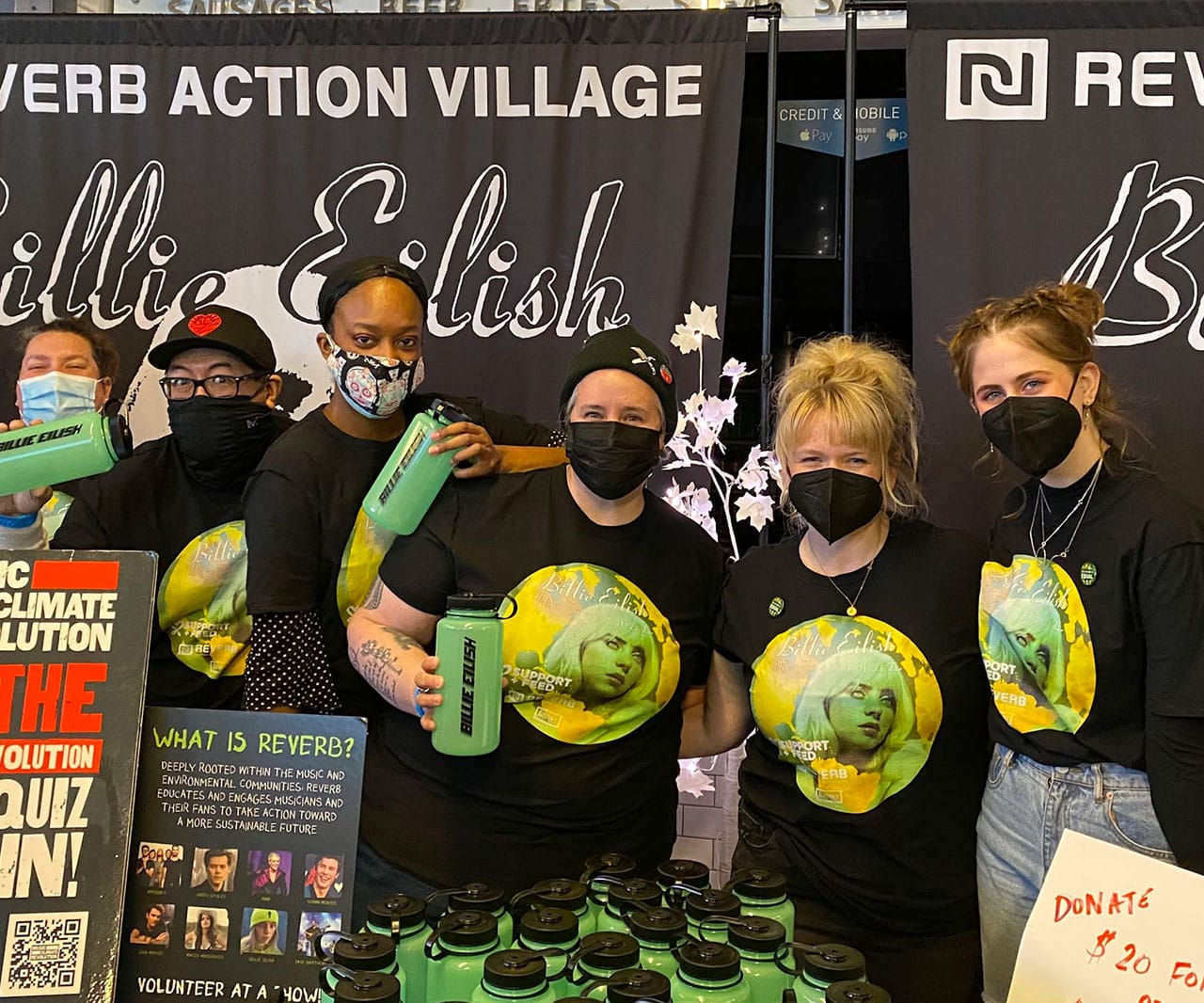 Impact Results
Venue Highlights
100% of venues offered plant-based food options in concessions with price parity to non-vegan options
100% of venues in North America eliminated extra pours in concessions, serving drinks in their original containers and avoiding the use of tens of thousands of single-use cups
100% of concessions food at Billie's 6 shows at London's O2 Arena was plant-based
Zero-Waste Show Billie's show at State Farm Arena in Atlanta, GA was "zero waste" – a first for the venue!
11 shows with no single-use plastic water bottles in concessions; 9 shows had ZERO single-use plastic bottles of any kind
25% of fans at the Chase Center in San Francisco walked, biked, or took public transportation to the show
Madison Square Garden offered fans free water refill stations for the first time due to the Billie Eilish/REVERB program
State Farm Arena, Climate Pledge Arena, and the Chase Center had landfill diversion rates of 85% or higher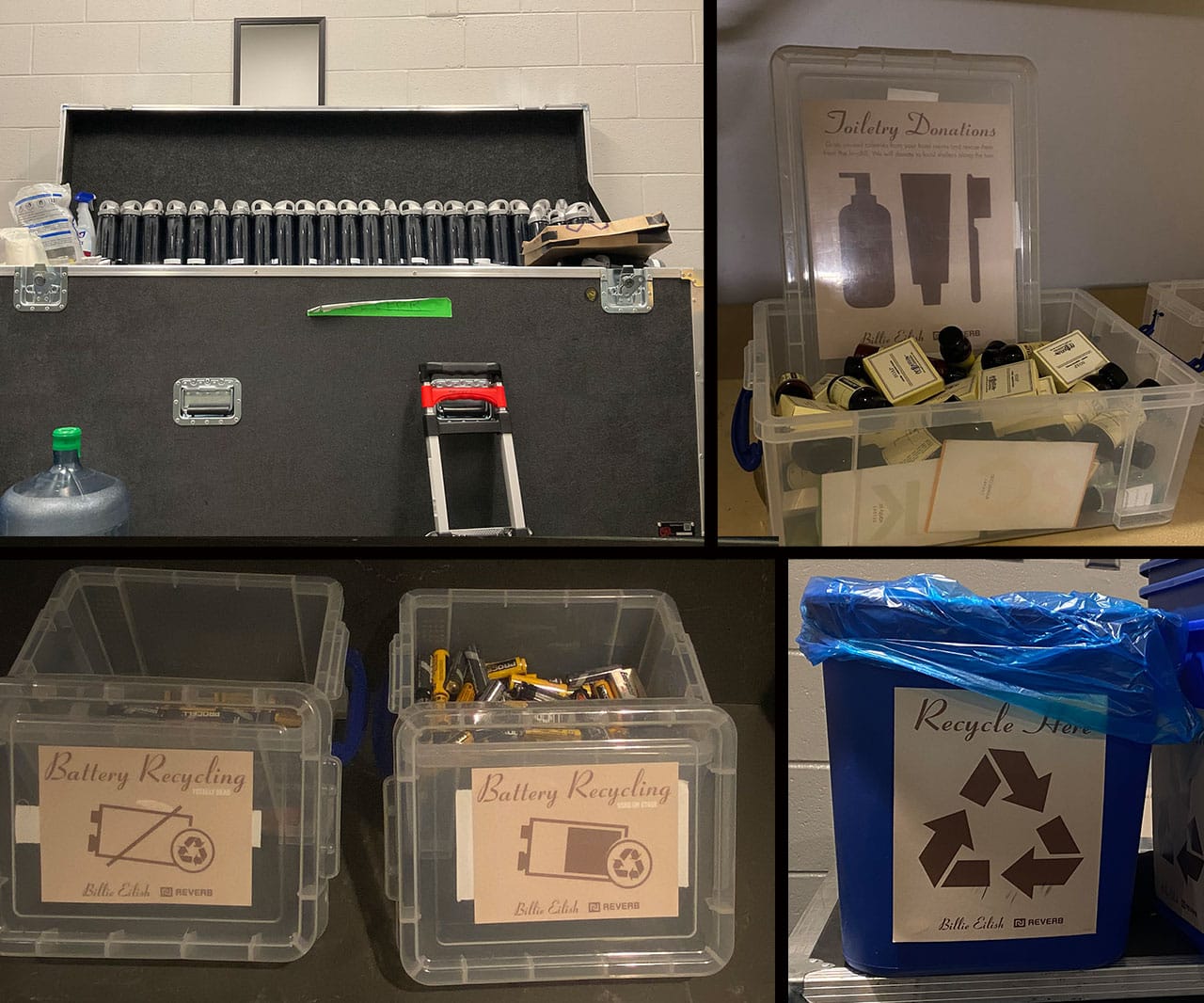 Tour Sustainability
BACKSTAGE - ADDITIONAL EFFORTS
Rechargeable Batteries used on stage
Battery Collection for any non-rechargeables
• Batteries with remaining power were donated to shelters
• Completely used batteries were properly recycled
Enhanced Recycling throughout backstage area, offices, catering, and buses
Collection and Donation of unused hotel toiletries, which would otherwise end up in landfill
Green Cleaning Products for use backstage, in catering, and on buses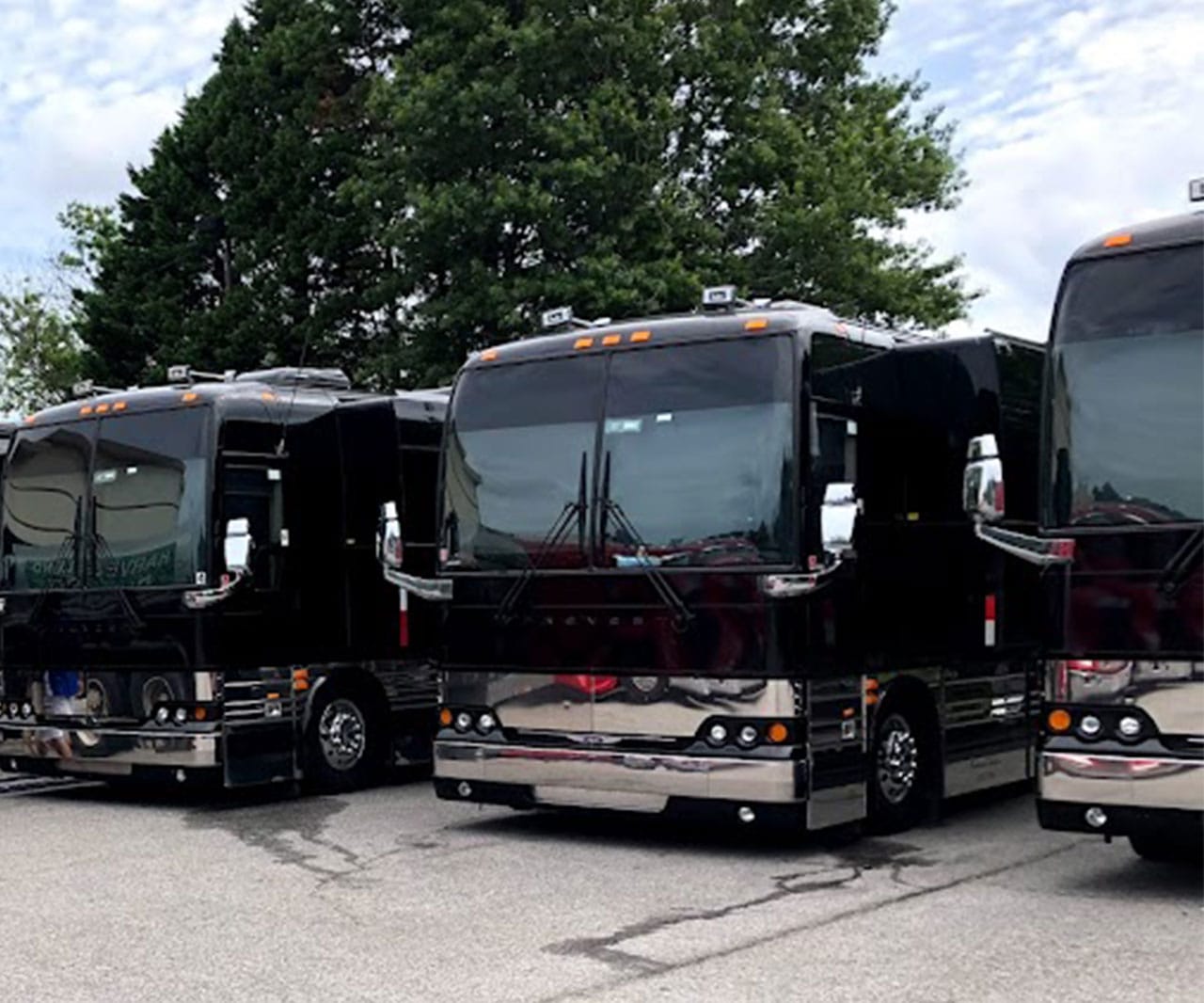 Greenhouse Gas Reductions & Measurement
After all the above efforts were made to reduce the environmental footprint of the tour, remaining carbon emissions from major sources were calculated including:
Band + Crew Travel
Equipment Transport and Shipping
Venue Energy Use
Hotel Stays
Fan Travel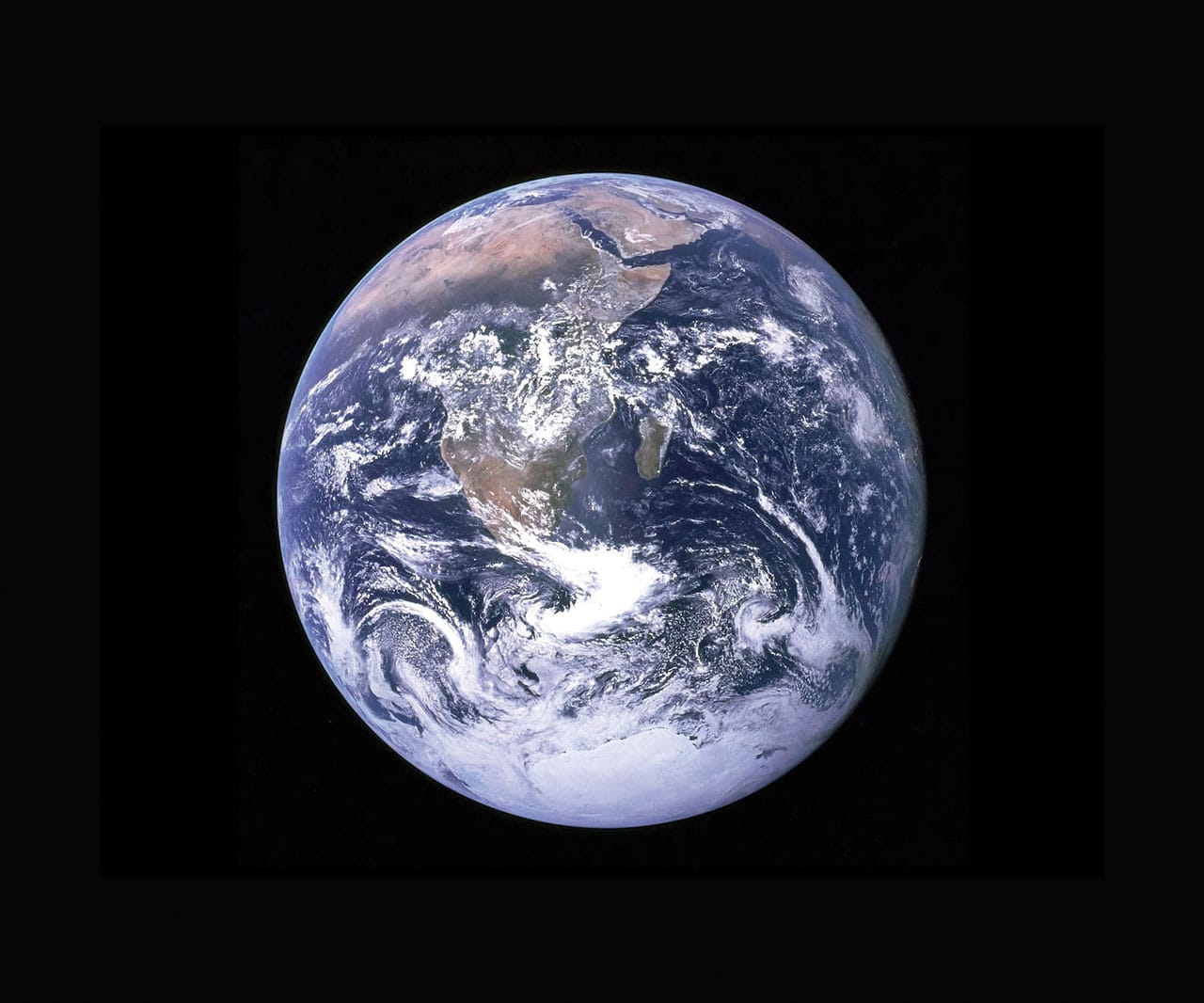 Addressing the Climate Crisis
15,000+ Tonnes of CO2e Neutralized
VIA CERTIFIED CLIMATE PROJECTS
$575,000+ To Climate Organizations & Projects
CLIMATE JUSTICE, CARBON REDUCTION, OCEAN RESILIENCE, and DECARBONIZING THE MUSIC INDUSTRY
As part of her climate commitment as a Music Climate Revolution partner, Billie Eilish dedicated a portion of ticket sales to help fund diverse initiatives that measurably reduce greenhouse gases and support projects that address climate justice, enhance ocean resilience, and accelerate the decarbonization of the music industry.
The total amount of neutralized greenhouse gases (measured as CO2e) significantly exceeds the total estimated emissions of the Happier Than Ever Tour as outlined above. This is equivalent to taking 3,000 homes off the grid for a year. (source: EPA)

CLIMATE PROJECTS
This tour's climate project portfolio is designed to support measurable, lasting greenhouse gas reductions and generate positive climate results across diverse communities and areas of impact with the goal of addressing the complex challenges of the climate crisis.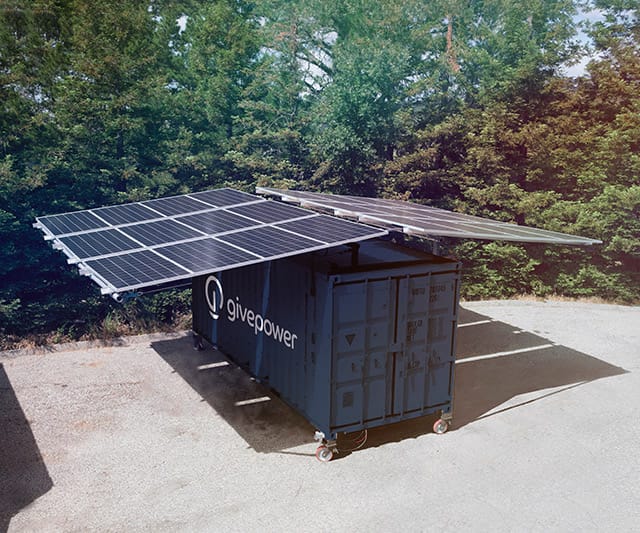 Greenhouse Gas Reductions & Climate Justice
Kenya Solar Water Farms
GivePower's Solar-powered water desalination plants provide clean drinking water to communities that rely on boiling water to make it potable. Providing clean drinking water reduces the burning of wood and coal for water purification and enables young women in the community to attend school or work rather than spending hours carrying drinking water to their homes.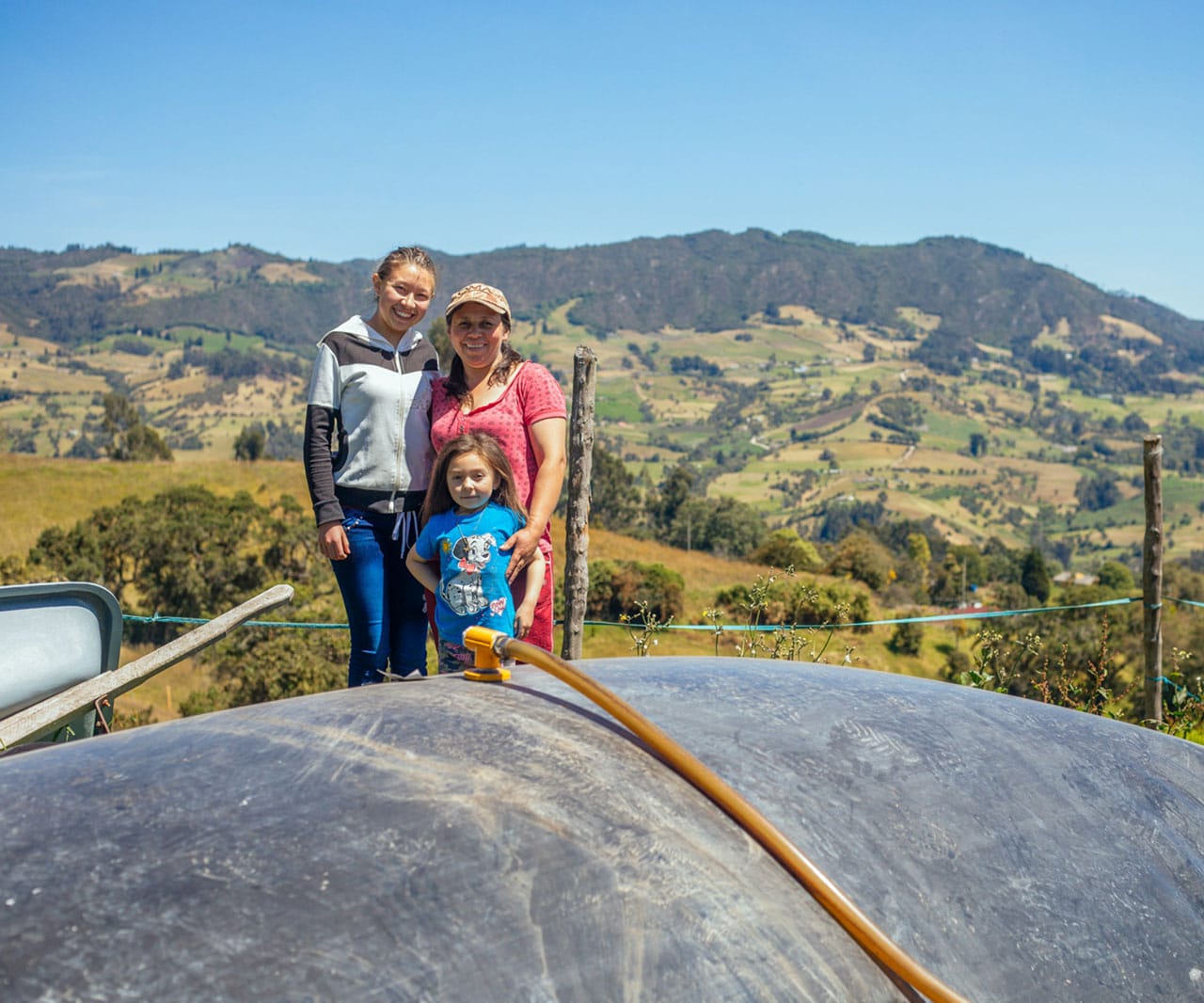 Methane Emissions Avoidance
Biodigesters in Mexico
In partnership with Native Energy, this project helps build and install simple biodigester units for subsistence farmers in Mexico. These units break down animal waste yielding gas that powers biogas cookstoves and water heaters as well as farm-generated fertilizer. This helps avoid methane emissions, improves air quality, and provides an alternative to expensive and harmful chemical fertilizers.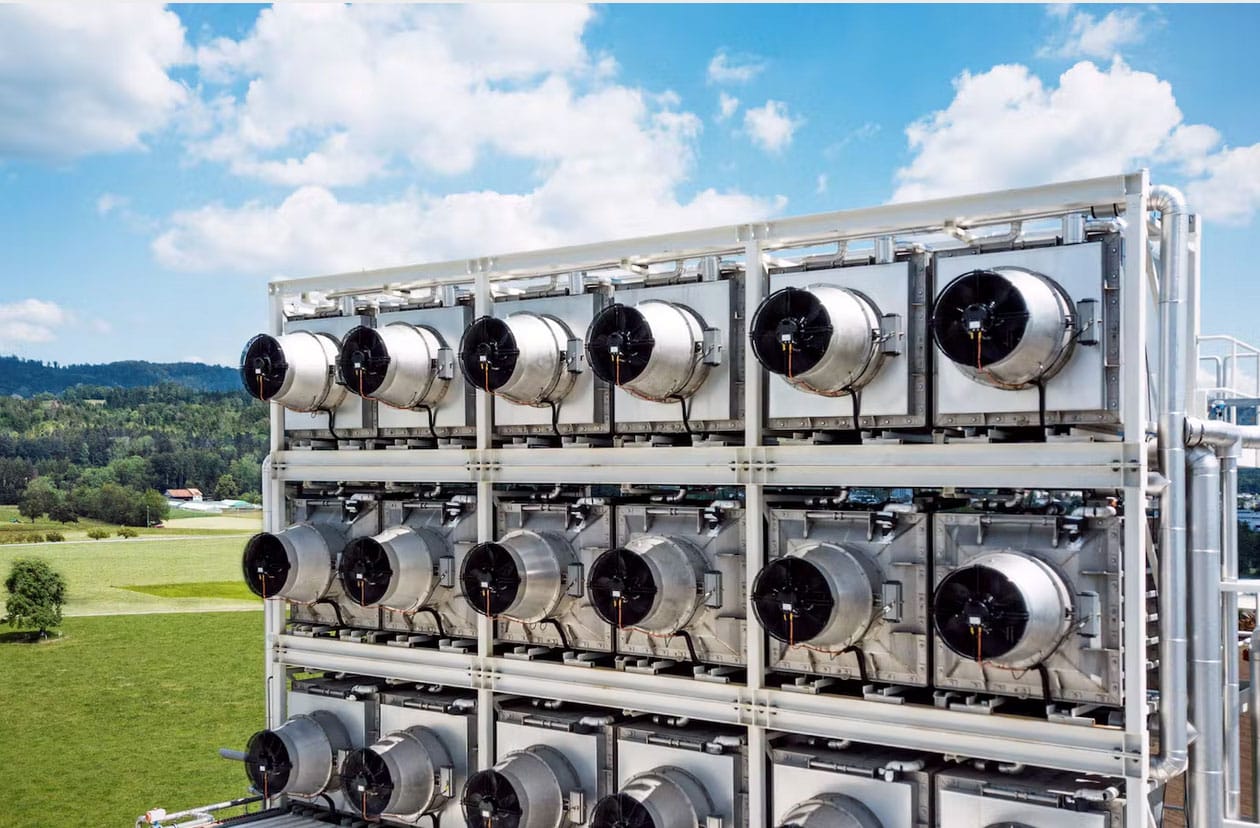 Carbon Dioxide Removal
Direct Air Capture
ClimeWorks Direct Air Capture technology captures CO2 directly from the air using only renewable energy, energy-from-waste, or other waste heat as energy sources.  When the removed CO₂ is combined with underground storage, it permanently removes excess and legacy CO₂ emissions, which can no longer contribute to climate change.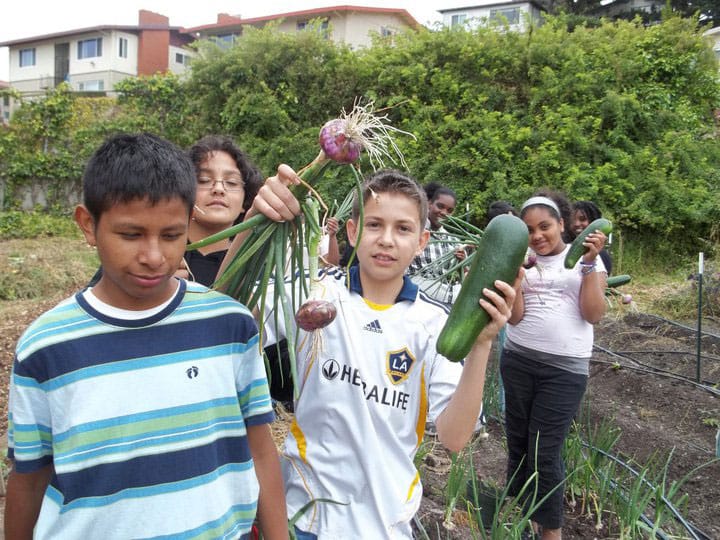 Climate Justice
Urban Tilth
Urban Tilth inspires, hires, and trains local residents to cultivate agriculture, feed their community, and restore relationships to land to build a more sustainable food system, within a just and healthier community. Support benefits the North Richmond Farm – providing fresh produce 7 days a week to North Richmond residents while doubling Urban Tilth's growing and food distribution capacity. This project was selected in partnership with The Solutions Project.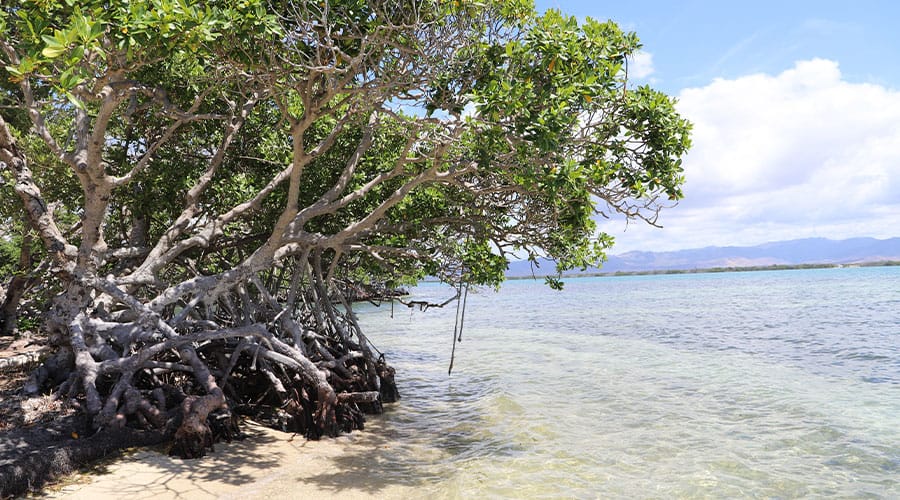 Nature-Based Climate Solution
Blue Resilience Initiative
The Ocean Foundation's Blue Resilience Initiative is dedicated to restoring, conserving, and financing natural coastal infrastructure by equipping key stakeholders with the tools, technical expertise, and policy frameworks to achieve large scale climate risk reduction.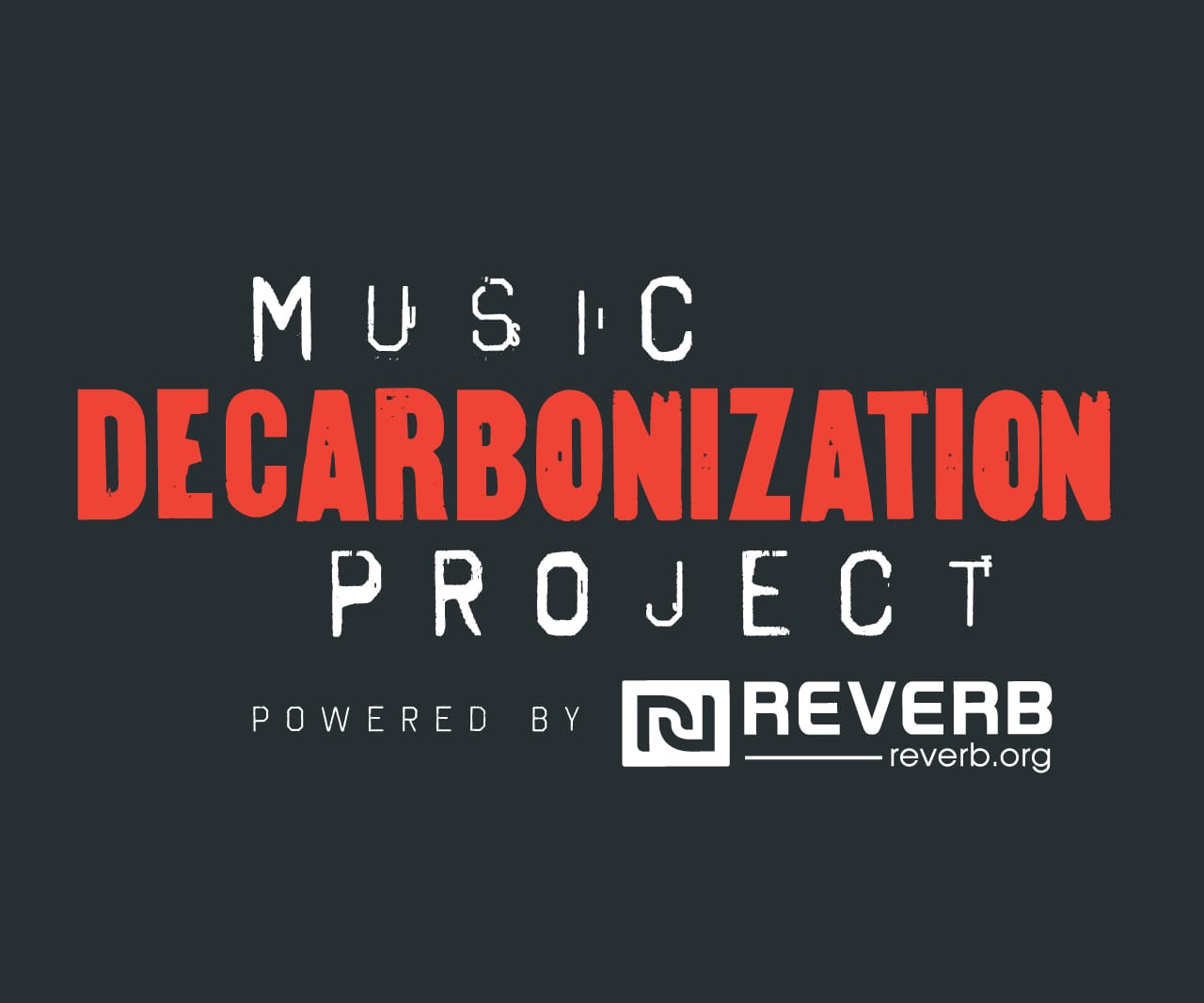 Research & Development
Decarbonizing Music
REVERB's Music Decarbonization Project advances innovative climate solutions that directly eliminate carbon emissions created by the music industry. Funding from this project helps develop emerging technologies and promotes the adoption of existing innovations that increase efficiency, expand clean energy options, and reduce greenhouse gas pollution with a focus on the unique climate challenges of music.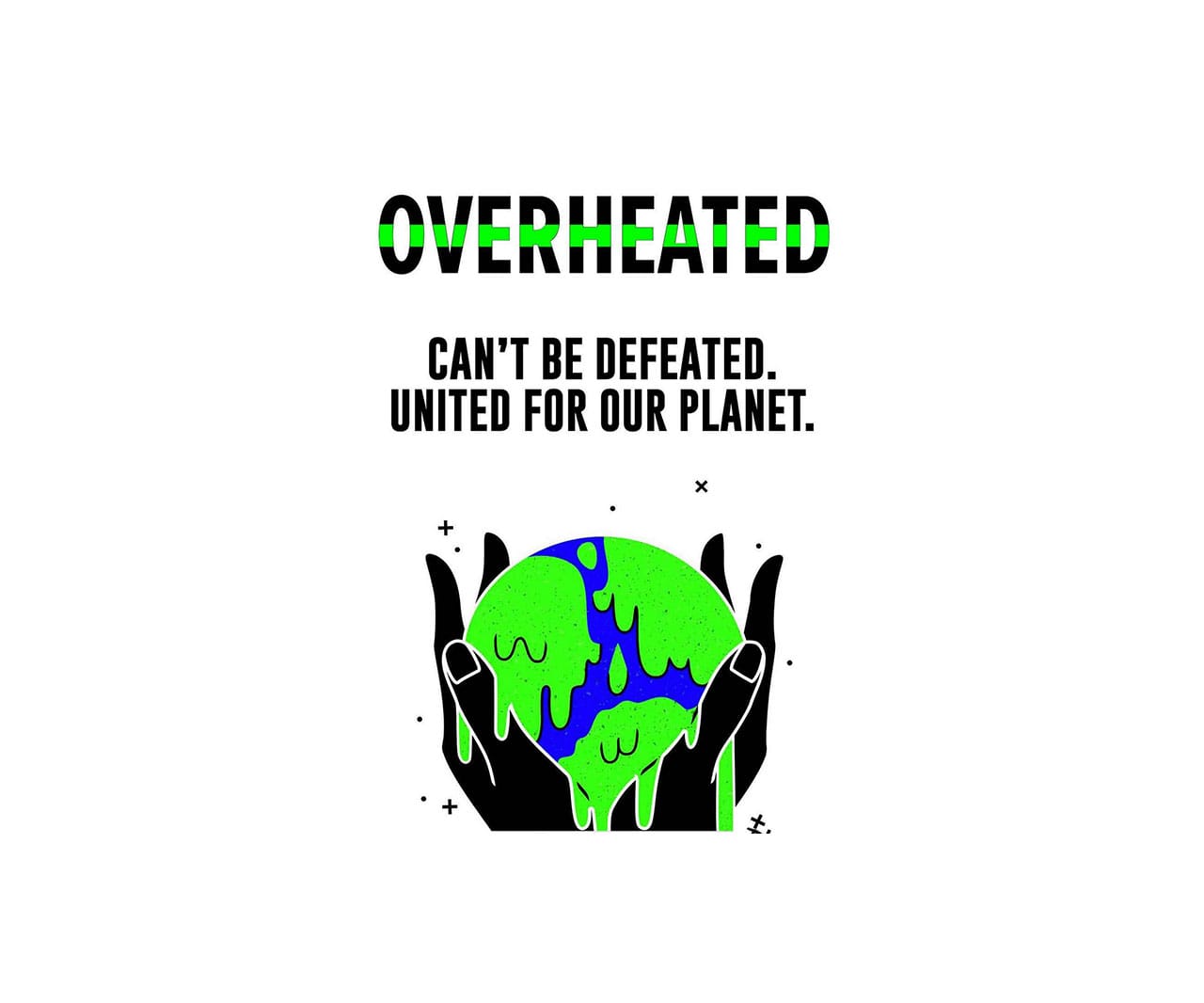 In June 2022, Billie Eilish, REVERB, Support + Feed and the O2 teamed up to host Overheated – a multi-day event that brought together climate activists, fashion designers, music industry leaders, and the general public to discuss climate action and empower positive change. Events included:
Expanded Eco-Village at Billie's 6 sold-out O2 Arena shows
Two Music Climate Summits:

For Music Industry: attended by Billie and Finneas and 100 music industry professionals with expert panels discussing best practices, challenges and future solutions. Also special musical performances by Love Ssega, Sigrid, Nick Mulvey, and Laura Misch.
For Fans: featuring panel discussions of climate activists, sustainable fashion designers and plant-based food advocates as well as the premier of the OVERHEATED documentary, collaborative art installation and Youth Actvist Zone.
Thank You!
We'd like to sincerely thank everyone that helped make this tour such a success and create positive impact for people and the planet, especially
Billie Eilish • Maggie Baird • Danny Rukasin • Emilio Roberts & Rachel McClure, REVERB On-site Coordinators • Nicole Massey, Brian Marquis and the entire touring crew • Support + Feed • Lesley Olenik, Lucy August-Perna and all at Live Nation • Wasserman • Nalgene • Citizen-T • REVERB Volunteers • All the fans that took action with us!
See REVERB's Work On Other Tours