Supporting Veterans & Connecting to Communities
---
Founded by John Mayer in 2012, The Heart and Armor Foundation has worked to assist and support veterans and to connect them to the communities they have courageously served.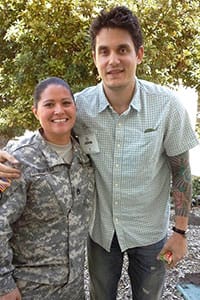 With the aim of protecting the health of veterans, and connecting civilians to the experience of military service members, the Heart and Armor Foundation has four main areas of focus:
Healing mental health wounds with scientific discovery
Supporting women veterans with specialized research
Reducing isolation with peer-driven community programming
Increasing cultural connections between veterans and civilians
On Tour With REVERB
REVERB and John Mayer have worked together on John's tours to support the foundation through action at shows. Fans have written thousands of messages of support to veterans.
They've also committed to serve in their communities by signing up to volunteer with local nonprofits in the Action Village at shows. As part of the 'They Served, Now We Serve' initiative, fans are encouraged to volunteer in their communities to foster a greater understanding of the service veterans have provided to their country. Fans have committed hundreds of hours of volunteering around the country.
You can find The Heart and Armor Foundation on John's tours like his 2019 World Tour. To learn more about the foundation and find out how you can get involved, please visit: HeartandArmor.org