What a Long Green Trip It's Been…
REVERB and our partner HeadCount are hitting the road this summer with Dead & Company working with fans in Participation Row to support dozens of great causes.
Ever since Dead & Company started touring back in 2015, REVERB and HeadCount have partnered to bring Participation Row to life at their shows. We work directly with the band to identify causes they care about, host those groups at shows all across the country, and raise money to support their work.
This year's Participation Row is one of our best yet!
REVERB has the Summer Tour 2018 official #RockNRefill bottles and the opportunity to support the indigenous people working to protect old growth forests from illegal logging
HeadCount is registering fans to vote and running the Charity Auction featuring custom D'angelico Guitars signed by the band
Dead Family Nonprofits are every show offering fans a chance to get involved directly with causes that are important to the band
New for 2018, March For Our Lives will be working with Dead fans to help end the epidemic of gun violence
REVERB will also be working behind the scenes, helping the tour reduce their environmental footprint.
We can't wait to see you at a show this summer!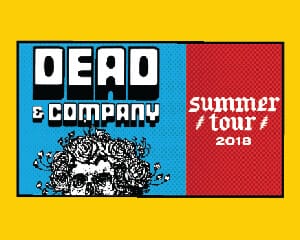 Dead & Company 2018
Volunteer
At Every Show

#RockNRefill

Backstage Greening

Water Station