REVERB's Picks of the Week: May 26 – June 1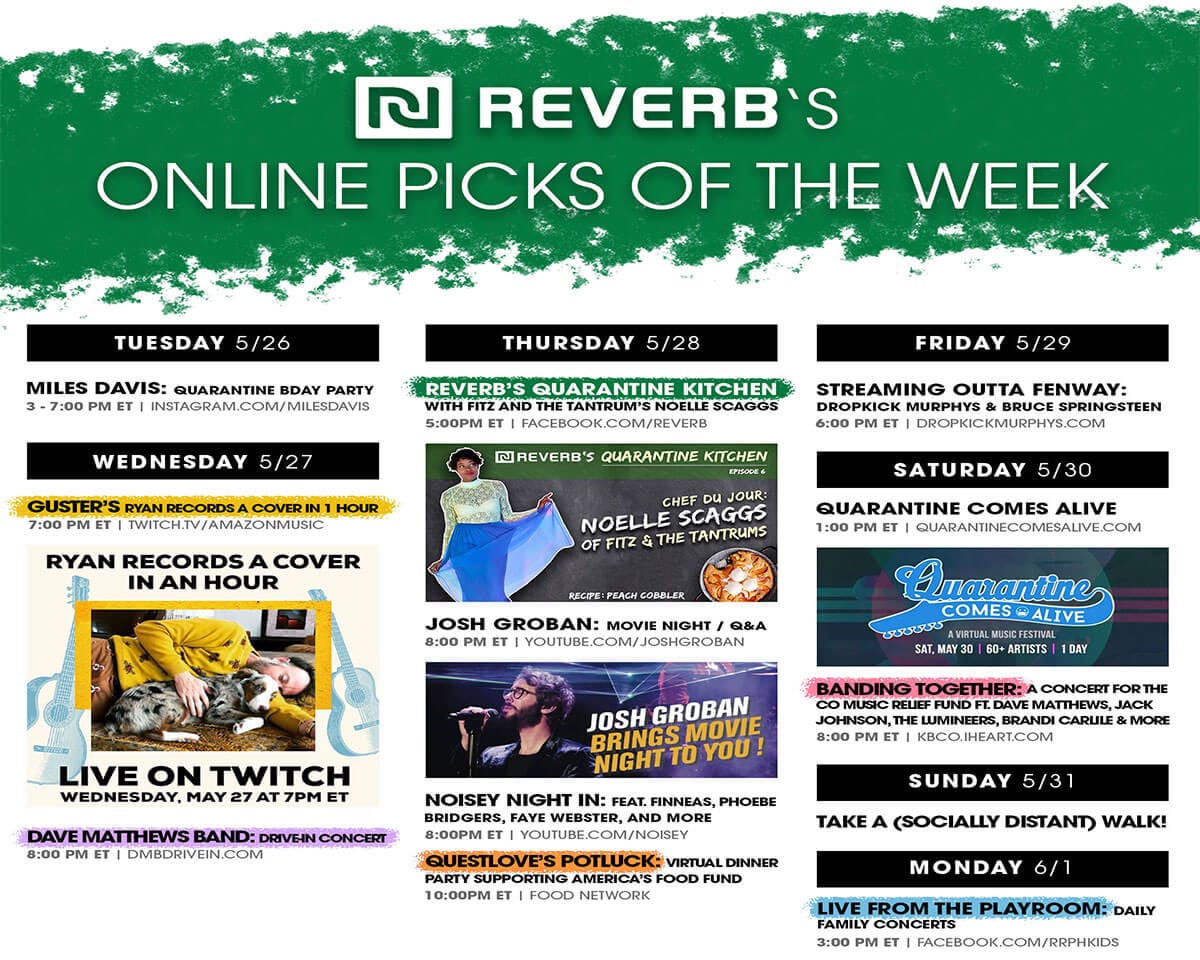 It can be hard to stay on top of all the amazing online events happening these days, so here's a guide of REVERB events/friends-of-REVERB-events to help you decide what to tune into this week!
---
Tuesday 5/26
Miles Davis: Quarantine Birthday Party
3 – 7:00 PM ET | INSTAGRAM.COM/MILESDAVIS
Wednesday 5/27
Guster: Ryan Records a Cover in 1 Hour
7:00 PM ET|  TWITCH.TV/AMAZONMUSIC
Thursday 5/28
REVERB'S Quarantine Kitchen w/ Fitz and The Tantrums' Noelle Scaggs
5:00 PM ET | FACEBOOK.COM/REVERB
Josh Groban: Movie Night Q & A
8:00 PM ET | YOUTUBE.COM/JOSHGROBAN
Noisey Night In: Feat. FINNEAS, Phoebe Bridgers, Faye Webster & More
8:00 PM ET | YOUTUBE.COM/NOISEY
Questlove's Potluck: Virtual Dinner Party Supporting America's Food Fund
10:00 PM ET | FOOD NETWORK

Friday 5/29
Streaming Out of Fenway: Dropkick Murphy's & Bruce Springsteen
6:00 PM ET | DROPKICKMURPHYS.COM
Saturday 5/30
Quarantine Comes Alive: Virtual Music Festival
1:00 PM ET | QUARANTINECOMESALIVE.COM
Banding Together: A Concert for the CO Music Relief Fund Feat. Jack Johnson, Dave Matthews, The Lumineers, Brandi Carlile & More
8:00 PM ET | KBCO.IHEART.COM
Sunday 5/31
TAKE A (SOCIALLY DISTANT) WALK!

Monday 6/1
Live from the Playroom: Daily Family Concerts
3:00 PM ET | FACEBOOK.COM/RRPHKIDS