REVERB is Hiring!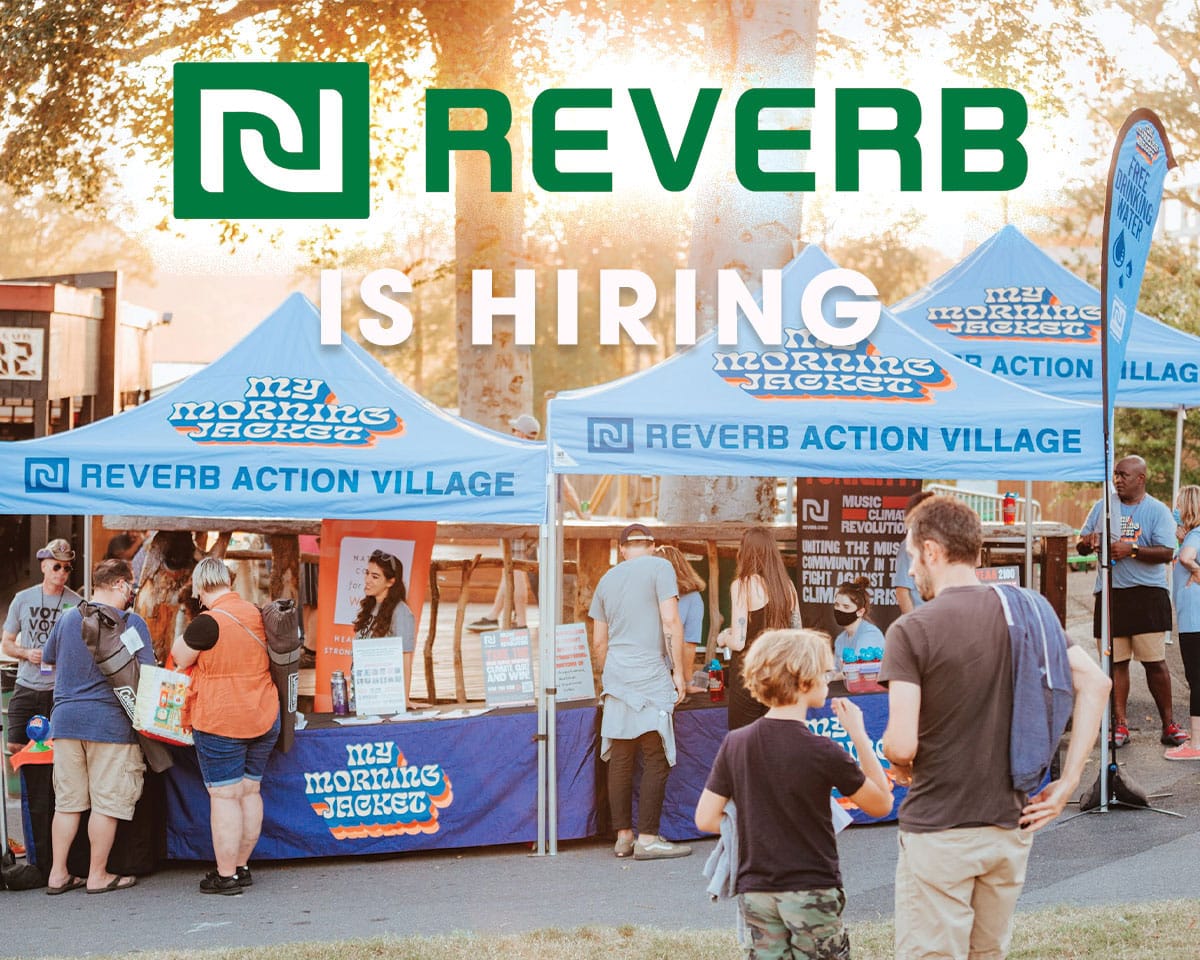 Join The Team That's Leading the Green Music Movement
REVERB is currently hiring a qualified candidate for a full-time (40 hours+/week) LOGISTICS & OPERATIONS COORDINATOR position based in Portland, Maine.
There is work-from-home flexibility with this position, but the candidate must live in the Portland, Maine area and be available to work from the office and storage space as required.
REVERB is a 501(c)(3) non-profit organization that was founded in 2004 by environmentalist Lauren Sullivan and her musician husband, Adam Gardner of Guster. REVERB creates and executes comprehensive, custom greening programs on music tours, while engaging concertgoers to take action for the environment.
Logistics & Operations Coordinator essential job functions:
Assist REVERB Project Management team with all logistics and operations that allow our tour, festival, venue programming and events to run smoothly. This role will interface with the Project Team, and will report to the Operations Director.
Ordering & Sourcing 
Work closely with various vendors to source the most sustainable and economical items for use at events:

Volunteer T-shirts
Bioproducts
Road Cases
Promotional materials (Tent Tops, table covers, banners, etc.)
Educational materials
Road pack materials
Water Stations
Reusable Drinkware
Reusable Cutlery
Maintain positive relationships with current vendors and ensure REVERB is providing current/up to date sustainable options
Provide tracking details and updates for all shipments on tracking documents ● Source local vendors when possible
Order office supplies
Keep information and to-do's updated on Basecamp (project management software)
Booking & Shipping 
Manage shipments of all items to/from the office and storage space
Book and communicate tracking for all road case pickups and drops ● Actively track all shipments to keep stakeholders informed
Handle all non-tour organizational shipping needs (shipping out prizes, auction assets, etc)
Arrange staff flights, hotel and rental car reservations
Operational Support 
Create and maintain meticulous statistics and tracking documents (Excel, GoogleDocs, Basecamp)
Update and maintain all organizational tracking docs: inventories, allotments, shipping, events calendars and more
Liaise with graphic designer on creation of all tour collateral/supplies on a project to project basis
Coordinate and track charity auctions, item fair market value, and charity raffle income
Coordinate shipments for auction and giveaway winners
Track office and storage space assets and inventory
Kick off each project by inputting data into templated tour tracking docs ● Format tour data to assist with carbon emission calculations
Coordinate carbon offset estimations with REVERB's offset partner
Manage mifi/Verizon accounts
Ship packages from office
Storage Space Management 
Improve and maintain the inventory of the REVERB storage space
Direct (and assist as needed) start-of-project storage space logistics including:

creating project-specific packing and shipping lists
packing road cases
prepping gear

Coordinate and execute shipping of road cases from storage space at beginning of tour/projec
Work with Project Managers for organized return of road cases at end of tour/project ● Keep assets and inventory in working order
Re-evaluate inventory by way of purging, recycling and donating necessary items
Maintain meticulous personal systems/spreadsheet/protocols so that detailed info regarding storage space Asset Allocation is available to REVERB staff when needed ● Provide general support to REVERB staf
Gain full understanding of REVERB's onsite water stations to help troubleshoot (remotely) and to handle quarterly equipment maintenance
Requirements: 
Phenomenal attention to detail and ability to manage and bring many projects and tasks to completion simultaneously
Be able to troubleshoot with ease, grace and persistence knowing that things often do not go as planned in the touring world. Be able to navigate through those challenges while being diplomatic and resourceful
Be "on call" periodically when troubleshooting needs arise on nights and weekends when shows are happening, in order to support On Site Tour Coordinators and Project Managers
Event planning and/or touring experience
Excellent communications skills, both written and verbal
Must work well independently with minimal supervision
Willingness to work in a storage space environment for extended periods of time
Expertise in Excel, GoogleDrive, Word software, and facility with Mac OS
Experience with Basecamp and Keynote a plus
Must be able to carry and lift gear when necessary – 50 pounds +
Must be able to travel as needed to work/represent the organization
Other Skills/Abilities:
Knowledge of the music industry – touring experience a plus
Proven track record in parallel logistics and operations industry
Commitment to making the world a more sustainable and just place
Compensation:
$42,000-$50,000
To Apply:
Please submit resume, cover letter, and detailed example/explanation of your previous work and skill set and why they make you a great fit for this position to jobs@reverb.org.
ABOUT REVERB:
REVERB is a nonprofit organization that educates and engages hundreds of musicians and millions of their fans on environmental and social issues, utilizing the power of live music to create measurable positive change for people and the planet. Now entering our 18th touring season, REVERB has grown to be among the most effective nonprofits working in music today. To learn more and take action visit: REVERB.org
REVERB is an equal opportunity employer. We strive to be a diverse workplace and are committed to building a team that represents a variety of backgrounds, perspectives and skills. We do not discriminate on the basis of race, religion, color, sex, gender identity, sexual orientation, age, non-disqualifying physical or mental disability, national origin, veteran status or any other basis covered by appropriate law. All employment is decided on the basis of qualifications, merit, and organizational need. BIPOC and LGBTQIA+ applicants encouraged to apply.