REVERB and NRDC Engage Fans at Forest Hills Stadium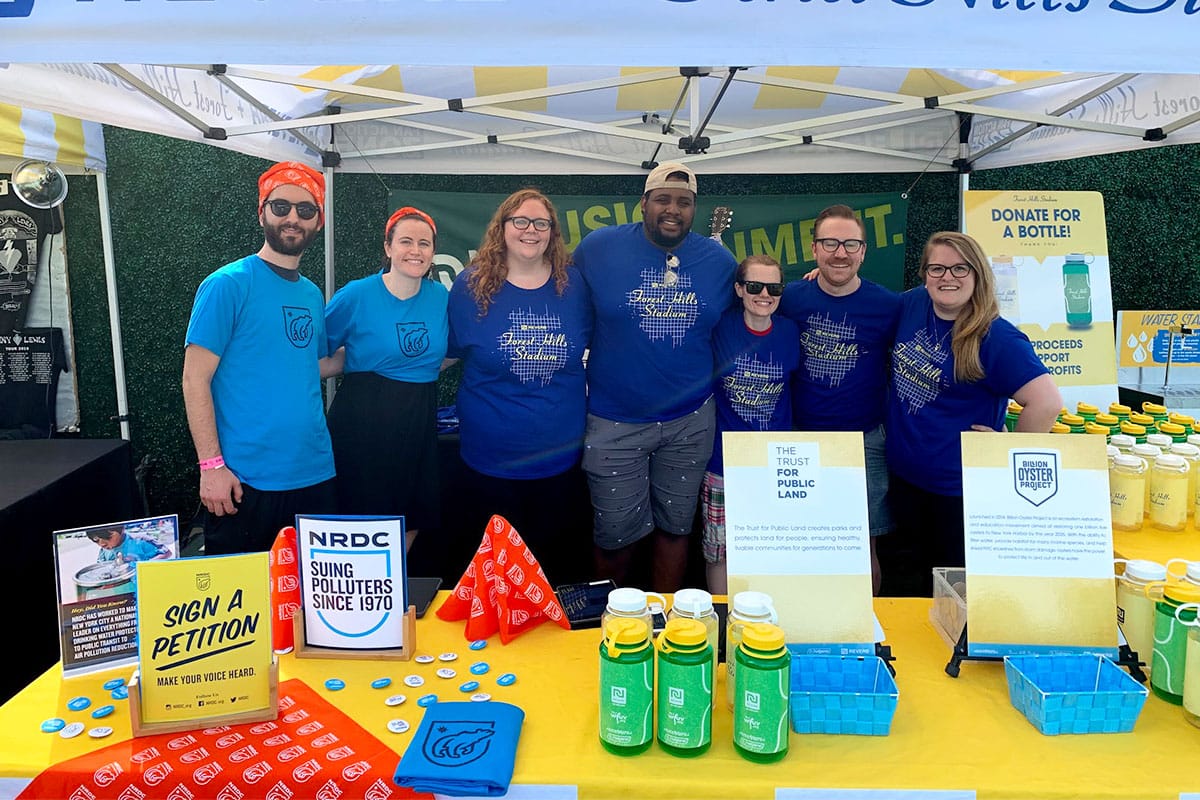 REVERB and NRDC Use Music to Engage Fans on Environmental Issues
The Environmental Nonprofits Had a Season-long Residency at Iconic Forest Hills Stadium
---
New York, NY (October 7, 2019) – Nonprofit organizations, REVERB and the Natural Resources Defense Council (NRDC) partnered with iconic New York City music venue, Forest Hills Stadium, to engage music lovers to take action for the environment.
NRDC joined REVERB in their Fan Action Zone at Forest Hills Stadium to connect with fans on important environmental issues facing New York. NRDC empowered concert goers to make their voices heard by signing a petition  demanding immediate action on climate. Nearly 900 New York City music fans took action this 2019 concert season.
"Music brings people together and live performances have a special way of energizing and inspiring people. It was exciting to tap into that energy to galvanize music lovers to act on climate. Now is the time to come together and voice our demand for climate action, our voices are a powerful instrument for change," said Michelle Theodat, Director of Entertainment and Brand Partnerships at NRDC.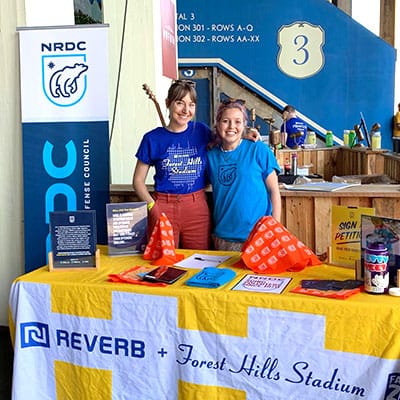 NRDC was a new addition to the three year partnership between REVERB and Forest Hills Stadium and the response from fans and artists alike has been very positive. "The response we have received from Artists who have experienced the program first hand has been phenomenal! Artists and fans alike appreciate seeing a venue like Forest Hills Stadium making it easy to reduce waste and take action on climate change." said REVERB Director of Partnership, Tanner Watt.
Since 2017, REVERB and Forest Hills Stadium have worked together to reduce the environmental footprint of concerts at the venue, while enabling fans to be a part of the effort. REVERB's #RockNRefill program, a partnership with reusable water bottle maker Nalgene, offers fans a chance to donate for custom-designed bottle that can be filled for free at one of Forest Hills Stadium's water stations. One hundred percent of the dollars raised by the bottles support national and local environmental nonprofits.
The program has eliminated over 15,000 single-use water bottles this year and more than 40,000 since 2017.
NRDC and REVERB have partnered on multiple projects including the Dave Matthews Band 2018 Summer Tour and the Fleetwood Mac Reunion tour, empowering fans to take meaningful action for the environment at concerts and festivals.
###
About REVERB
REVERB is a nonprofit organization dedicated to empowering millions of music fans to create a better future for people and the planet through taking action at concerts and beyond. We partner with artists, festivals, and venues to reduce the environmental impact of live music tours and events while engaging the music community – music-makers and music-lovers – to create real, positive change.
Since 2004, REVERB has worked on over 5,000 concert events and 250 tours, including Maroon 5, P!NK, Harry Styles, Dave Matthews Band, Jack Johnson, John Mayer, and many others. Learn more at REVERB.org
About the Natural Resources Defense Council (NRDC)
The Natural Resources Defense Council (NRDC) is an international nonprofit environmental organization with more than 3 million members and online activists. Since 1970, our lawyers, scientists, and other environmental specialists have worked to protect the world's natural resources, public health, and the environment. NRDC has offices in New York City; Washington, D.C.; Los Angeles; San Francisco; Chicago; Bozeman, Montana; and Beijing. Visit us at www.nrdc.org and follow us on Twitter @NRDC