My Last Twenty: Particle Kid (Micah Nelson)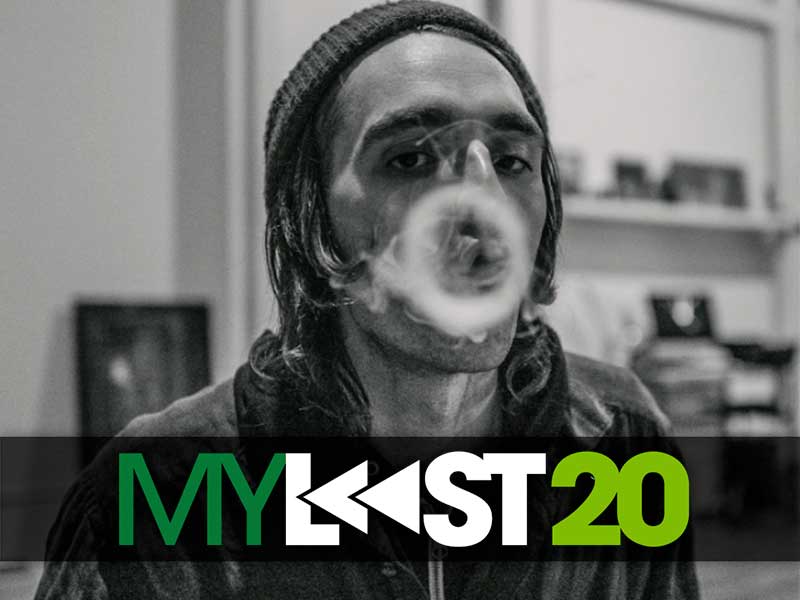 I've recently been doing this thing where I'll hit play on the random song shuffle just to see where it takes me. It has been a rewarding experiment. I have been discovering music I didn't even realize I had… and rediscovering old stuff I'd completely forgotten about buried in the digital bowels of my music library which I otherwise may have never revisited. Occasionally some embarrassing guilty pleasure from my high school years pops up and a wave of forgotten memories floods my mind …or sometimes it's an overlooked b-side from a band I used to love but hadn't thought about in years and it reignites my appreciation of that music …or even a song from a band I thought I knew that somehow slipped by and then I  want to go back and reabsorb that whole album again.. In general I tend to gravitate toward vinyl or cassettes for listening to music, but I gotta admit the random shuffle feature can be a uniquely surprising aspect of the whole digital music collection thing. Especially when I'm out on the road, far far away from my records and tapes..
So for this playlist I figured I'd just hit shuffle and see what sort of musical picture gets painted.. Radio roulette from the digital song library of Particle Kid… an organic collaboration with algorithmic technology… Here's what popped up:
---
"Powerless" Flaming Lips – Embryonic
Not surprising that the Lips would be the first thing my robot chose to play. I cannot understate the life affirming impact the Flaming Lips music and mythology has had and continues to have on my musical journey. This is a pure vibe song from "Embryonic". It's so haphazard and feels almost collaged together in the studio, (which it probably was). I love Steven Drozd's guitar solo on this track especially – it has such an ambivalent weirdness to it and the first part sorta reminds me a bit of Neil Young's guitar solo on "Vampire Blues". We are off to a good start.
"When You dance I can really Love" Neil young  – After the Gold Rush
Intriguing! I wonder if the algorithm picked up on the Neil-esque guitar solo from the previous Flaming Lips track. Or Jack Nitzsche's fantastically reckless piano part at the end of this classic jam, just hammering that one note over and over and then sliding haphazardly up and down the keys. Ragged perfection.
"Seen and not seen" Talking Heads – Remain In Light
David Byrne is my spirit animal.
"Song for someone" U2 – Songs of Innocence  / "I Love You Golden Blue" Sonic Youth – Sonic nurse
Ok.. Let me explain. I'm not trying to fit two songs into one and cheat the system of this playlist experiment here..but the truth is I did in fact skip one and here's why..
The song that came up next was one of the songs from that U2 album they force fed everyone through some mega corporate deal the band did with Apple. . Anyone who had an apple device had the album automatically download onto their library whether they wanted it or not. Now I'm not gonna be a ridiculous first-world extremist and call U2 "fascists" like many upset iTunes downloaders did ..it was a "free" album after all (the irony of that word not going unnoticed)…but it definitely was one of the most uninspiring and completely anti-rock&roll marketing moves ever.. and since I didn't use my "free" will to personally choose to download it into my library and since the album really doesn't reflect my musical taste now or at any time (not that there haven't been other great U2 albums in the past that I actually chose to own and listen to), I couldn't allow "songs of innocence" in this playlist and still sleep at night. Not to sound like a snob or break the rules of the game, but it wouldn't make sense in this context NOT to skip it and I didn't want to waste a song slot. So I clicked next… and something really perfect happened. The next song that came up was Sonic Youth "I Love You Golden Blue" from the album Sonic Nurse.
Sonic Youth is arguably the antithesis of U2 in that Sonic Youth may be the only rock and roll band that had as big of an impact on culture without ever selling out to cultural imperialism (or becoming insulated megalomaniacs). How serendipitous that Sonic Youth came up next when I chose to skip the corporate ego-rock album.  Shoot! My robot is smart!
"Whole lotta love" Dread Zeppelin – Un-Led-Ed
Here's a perfect example of music that I haven't heard or thought about in years. Dread Zeppelin is a super bizarre and hilarious band. They call it a "reggae" tribute to Led Zeppelin. I'm not so sure. I believe it's something different, not reggae though. In a category of its own. Dread Zeppelin is actually kind of terrible. In a superb way. The lead singer is a 300 pound Elvis impersonator called Tortelvis. I'm pretty sure someone else in the band is called Butt Boy… I couldn't make this up. Very strange project. I'm not sure how to define it. Way more interesting and original than Greta Van Fleet. I mean that. Apparently Robert Plant is a fan of theirs and claimed he actually wanted to do more reggae style songs in Zeppelin back in the day, but Bonzo couldn't play the reggae rhythms properly.
"Sabor A-Mi" Bobbie Nelson – Audiobiography
Editor's Note: This song is not available on Spotify so it's not on the playlist, but it can be found on YouTube.
A while back my aunt Bobbie made a great solo album of straight up piano music called Audiobiography. I get nostalgic whenever this album comes on reflecting on all of our endless conversations on the bus about music, religion, love, mythology, Joseph Campbell, YouTube, picking cotton in the 30s etc…or the time I was her chaperone to the Clifford Antone fundraiser and we went dancing and drinking wine all night in Austin and then as I was expecting to take her home she insisted we go to Jim's for chicken fried steak so we ended up at Jim's eating chicken fried steak and eggs until 2am and she was still joking and laughing with purple wine-stained teeth keeping the party going  ..that was just a few years ago. Aunt Bobbie is gonna be 87 next month. She is a true legend and will live forever.
"Nuages" Willie Nelson and Fam – Let's Face the Music and Dance
My father is my favorite guitarist of all time and not just because he's my father. His guitar playing is like if  Django Reinhardt, Jackson Pollack, and a slow motion stampede of wild horses with glasses of wine balancing perfectly on their backs went skydiving from outer space and landed gracefully on their feet on a floating piece of driftwood in the middle of the Pacific Ocean without ever letting the joint go out.
"Love itself" Leonard Cohen – The Essential Leonard Cohen
I hadn't really paid attention to this song before, but I remember hearing it once, maybe in a dream. It sounds like drum machine karaoke in hell. I mean that in the best way. Very distinct vibe and sound. During this listen I was transported in my mind to an imaginary final scene of some lost Twin Peaks episode.
"The World Backwards" Broadcast – Work and Non Work
Broadcast sounds like a band from the year 3030 that traveled back in time through an analog rabbit hole to 1968 UK. Beautiful catchy psychedelic pop melodies, edgy synths , jazzy drums mixed with organic breathing drum machines, tasty guitar feedback, crunchy textured samples…was there ever a more perfect band? Tragic story though… RIP Trish. If a genie granted me three wishes, the second wish might be to go back in time to see them live.
"Music for 18 musicians IX: section VII" Steve Reich ensemble – Music for 18 Musicians
I used to play this album every day for my orchids and they all lived a surprisingly long time. Just sayin.
"Eden 1" Tortoise – Standards
Listen to this band. Loudly. Or with headphones. Internalize.
"Surrounded By The Stars" Amon Düll II – Wolf City
There were a few very formative years early on where Insects vs Robots spent a significant amount of time in Maggie's garage in Venice every other night smoking weed, watching Twin Peaks or Quay brothers films we'd rent from Vidiots, jamming for hours until the police showed up and then jamming on acoustically until we all fell asleep at our instruments… the rest of the time was spent listening to Amon Düll II at anti-bacterial volumes… no other band had that much influence on us during the years 2008-2010..except for maybe Deerhoof. I recently found an original pressing of "wolf city" at Antone's records in Austin. I may have peed a little when I saw it. It now resides in our living room. I also saw a 78rpm original test pressing from a 1953 Moondog EP there…if anyone wants to get it for me I won't be upset. It's only $1000 !!! Support yer local record store!
"What You Got" John Lennon – Walls and Bridges
Not as good a record as "Plastic Ono Band" in my opinion, but still a classic. This particular song has some nice abrasive pre-punk rock vocals..but "#9 Dream" is the real standout track on this album.
"The Whistling Song" Meat Puppets – II
I love this record. It's so fearless, unpretentious and raw. "Lake of Fire" and "Plateau" are standout tracks. Meat Puppets are fin Arizona and influenced countless bands like Pavement, Dinosaur Jr and Nirvana to name a few.. A brilliant blend of punk, country and psych rock. II is another album meant to be played loudly and proudly. A little bird told me they've got a new album coming out soon! Oh boy. Buckle yer britches.
"Give me my month" James Blake – James Blake
This is a great headphones album. James Blake is a genius of minimalism, r&b and soul.. When this album came out I had it on repeat for a good while.
"Modern World" Wolf Parade – Apologies To The Queen Mary
I discovered this band in high school, which in my opinion is the best time to discover this band. It kinda blew my mind. I also was really blown away by Spencer Krug's other projects "Frog Eyes",  "Sunset Rubdown" and especially "Swan Lake" at the time. Wolf Parade is hard to define.. If I had to try I'd say their songs sound like if Joy Division, Pixies and Beck were thrown in a rusty blender inside of a burning barn along with a bunch of Anselm Kiefer and Marcel Dzama paintings..and maybe a bundle of frozen twigs for extra fiber… Visual, haunting Lo-fi indie rock music. When they signed to SubPop and started working with Isaac Brock from Modest Mouse and made the "Queen Mary" record, they were able to sonically upgrade/streamline without losing that edgy haunting evocative moody weirdness. Wolf Parade also had a major influence on fellow Montreal band, Arcade Fire. Another standout track from this record is "Shine A Light". I'd also recommend the Swan Lake album Beast Moans, which is a collaboration with Dan Bejar of Destroyer and Carey Mercer of Frog Eyes… that album is super weird and will haunt yer dreams if you let it..especially the song "All Fires"…
"Nattura" Björk – Biophelia
Björk is an intergalactic legend. A rare Earth elemental. I had the privilege of seeing her perform this album live at the Hollywood Paladium with an Icelandic choir of female vocalists, a woman playing a gigantic harp, a hang drum player she found on YouTube who also played electronic drums , and two massive Tesla coils providing sub bass lines in the form of purple lightning on a rotating stage with 360 degree psychedelic deep sea claymation visuals. You know. The usual.
"An Introduction to Indian music" Ravi Shankar – The Essential Ravi Shankar
Ravi talkin ragas! The title of this one explains itself. Very informative. I love when Ravi says "..if I may say so.."
"What Do You Go Home To?" Explosions in the Sky – All of a Sudden I Miss Everyone
An epic band from my hometown of Austin, TX. Their sound is highly original and unmistakable …Beautiful sad cinematic apocalyptic music..major influence on many other great bands including Sigur Ros.. I once saw them play a free show at auditorium shores in Austin when I was 17. I may or may not have teared up a bit.
"U" Kendrick Lamar – To Pimp a Butterfly
This record is like watching a captivating stage play. When Bowie's final "Blackstar" masterpiece came out, I read somewhere that Kendrick Lamar's "To Pimp a Butterfly" had been a big inspiration on Bowie at the time… so of course I soaked it up and was immediately hooked. This record made me understand the artistic genius of Kendrick.. although I can't say that without also giving a much deserved nod to the under appreciated artistic geniuses Steven Bruner (aka Thundercat) and Steve Ellison (aka Flying Lotus), who played major roles in the groundbreaking production of this record. "To Pimp a Butterfly" solidified the personal mythology of Kendrick Lamar and stamped it upon the mainstream culture …it was further fleshed out with his subsequent album "Damn".
---
…Damn! That was a weird mix! Definitely put it on a cassette and give it to yer crush. They will "know".
This random radio flyer roulette collection was brought to you by Particle Kid in collaboration with my robot shuffler . I hope it inspires you as much as it has inspired me. Don't forget to play it loudly…and BIGLY!!
Shameless promotion section: Last month I put out a split 12" vinyl 45rpm with John Doe from X called KidDoe as part of Small Business Saturday to support our local small businesses. John Doe covered a Particle Kid song and vice versa, plus a couple others to fill out the wax. You can support yer local record store by goin down there and buying it!
I've also got a new Particle Kid record with the trio coming out next spring and will be touring extensively. Stay up on PK tours and everything else by visiting www.particlekid.com and/or following the @particlekid insta thing. Seeya down the röd