Reverb
Tame Impala Impact Report: Slow Rush Tour North America
IMPACT HIGHLIGHTS
25 SHOWS
IN 22 CITIES ACROSS THE UNITED STATES
18,000+ ACTIONS TAKEN BY FANS IN THE ECO VILLAGE
SUPPORTING IMPORTANT SOCIAL AND ENVIRONMENTAL ISSUES
$52,000 RAISED
TO SUPPORT REVERB AND ENVIRONMENTAL CAUSES
22,000+ SINGLE-USE PLASTIC BOTTLES ELIMINATED
AT SHOWS ON THE SLOW RUSH TOUR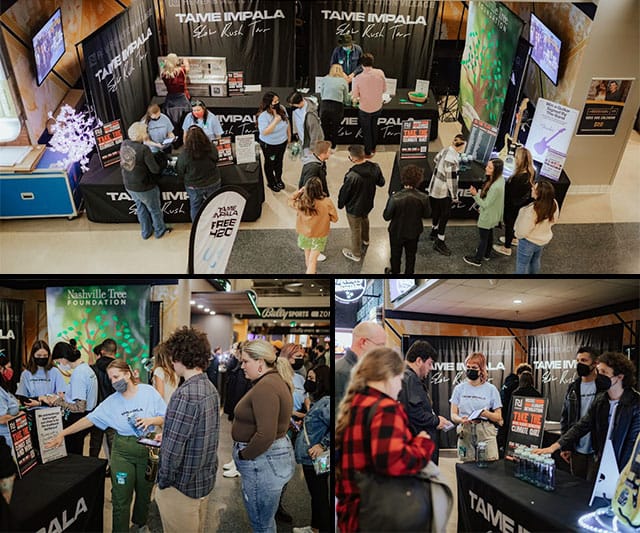 FAN ACTION
Thousands of fans took action for people and the planet in the Tame Impala Action Village
2,078 Fans took the Music Climate Revolution Climate Quiz
2,983 Donated for a #RockNRefill custom Nalgene
6,700+ Filled up at the free water refill station
219 Volunteers gave 600+ hours at Tame Impala shows
$52,476 Raised to support REVERB's work and environmental causes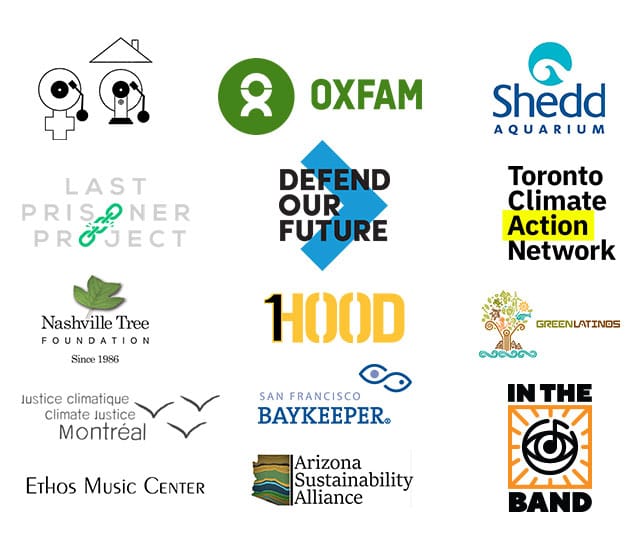 LOCAL NONPROFIT ORGANIZATIONS
Tame Impala and REVERB invited local nonprofits to be featured in the Action Village at every show. Seventeen nonprofit organizations connected with dozens of local interested fans to highlight their work and offer opportunities to volunteer.
Fans took approximately 1,656 individual actions with local nonprofits at shows!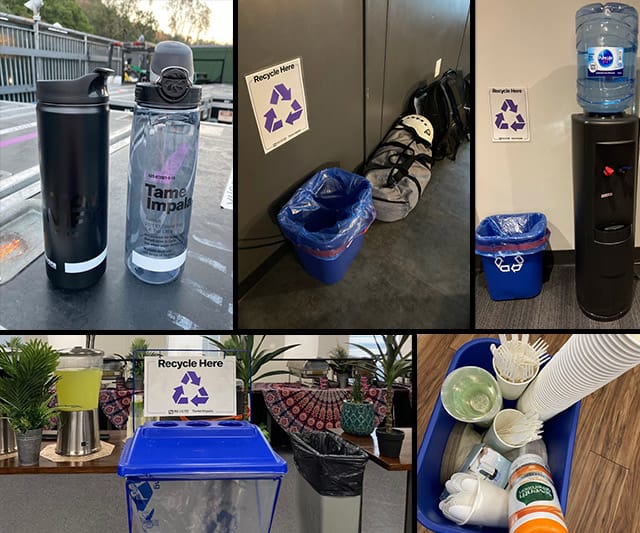 SUSTAINABILITY MEASURES
22,155 Single-use bottles eliminated at shows
Single-use plastic bottles banned at most shows
Water refill stations backstage and front of house
Supplemental recycling backstage and on buses
Battery donation and/or recycling
Reusables backstage, Compostables when reusables were not an option
Eco-friendlier products backstage and on tour buses
Toiletry donations from hotel stays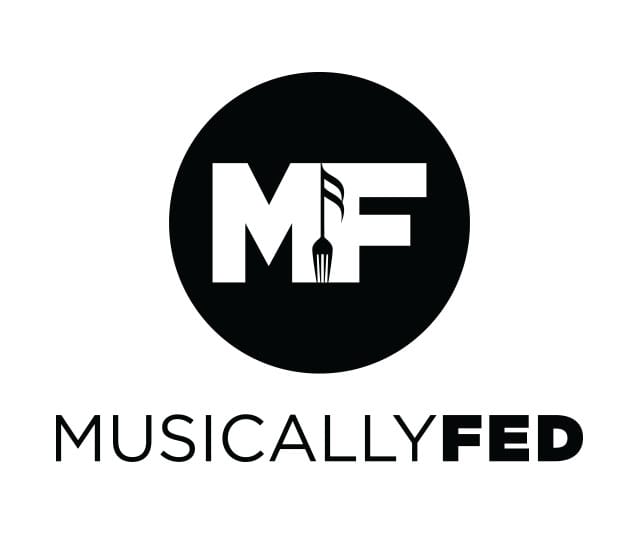 FOOD DONATIONS
Partnering with nonprofit Musically Fed, Tame Impala and REVERB were able to facilitate the donation of 437 meals to people in need!
Working with local catering services at select venues, REVERB's onsite coordinator collected unused food from backstage catering. A volunteer from Musically Fed then met with REVERB's coordinator to collect and transport the food delivering it to food insecure people in the United States and Canada.
On this tour, food donations were made in:
Pittsburgh, PA • Toronto, ON • Brooklyn, NY • Boston, MA • Philadelphia, PA • Asheville, NC • Nashville, TN
#RockNRefill SINGLE-USE PLASTIC WASTE REDUCTION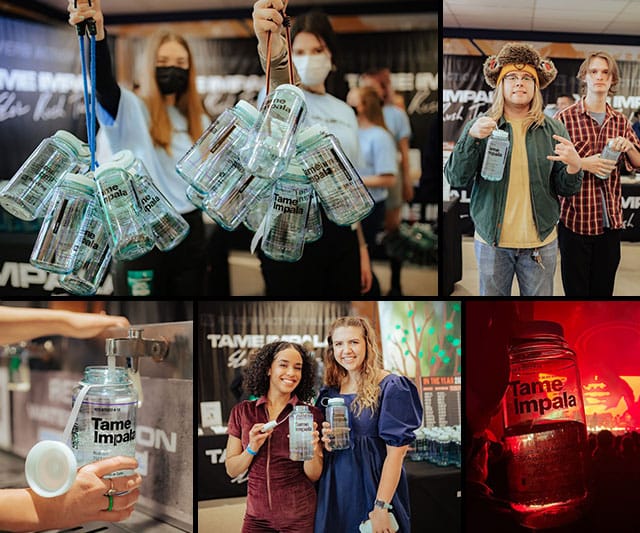 #RockNRefill
A Single Bottle, A Huge Positive Impact
As part of the #RockNRefill partnership with Nalgene, REVERB provided custom-designed reusable water bottles for the Slow Rush Tour. In addition to providing bottles to band and crew, REVERB also made the bottles available for donation to fans in the Action Village.
REVERB also provided free water refill stations for fans front of house and ensured water refill stations were available for band and crew.
Together, these efforts resulted in the elimination of 22,155 bottles at shows on the tour.
10,688 Backstage

11,467 Front of House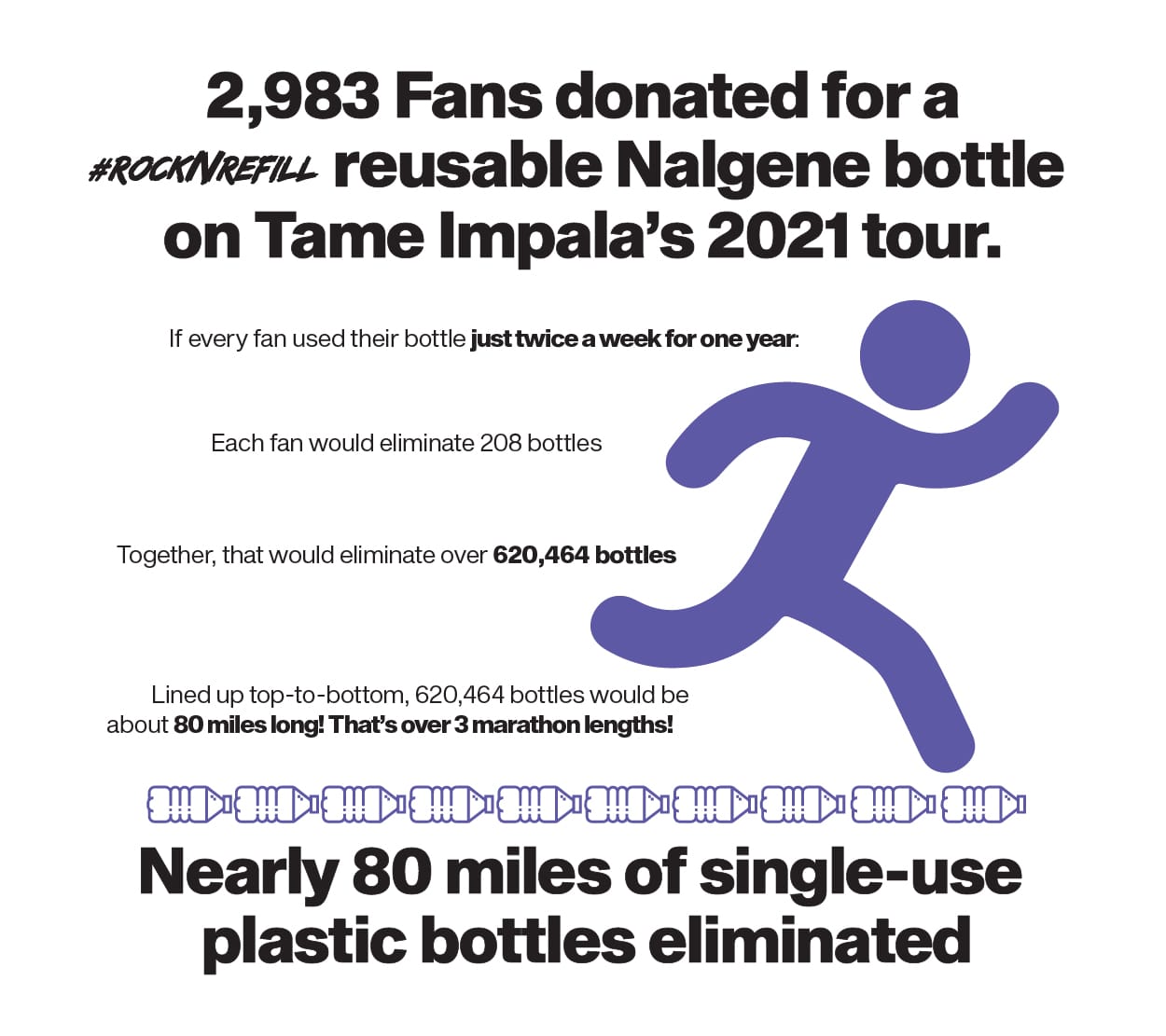 #RockNRefill
LASTING POSITIVE IMPACT
2,983 Fans donated for a #RockNRefill reusable Nalgene bottle on Tame Impala's Slow Rush tour.

If every fan used their bottle just twice a week for one year instead of using single-use plastic bottles:
Each fan would eliminate 208 bottles
Together, that would eliminate 620,464 bottles

Lined up top-to-bottom, 620,464 bottles would be about 80 Miles long! That's over 3 marathon lengths!

THANK YOU
Tame Impala
Aiofe Ahern, Matty Chequer, Alice Fraser
Pati Villegas, REVERB COVID Compliance Officer
Kelsey Weber, REVERB On-Site Coordinator
Touring Crew
All the Fans that took action