Reverb
My Morning Jacket 2022 Tour Impact Report
HIGHLIGHTS
12,000+ ACTIONS BY FANS
SUPPORTING IMPORTANT SOCIAL AND ENVIRONMENTAL ISSUES
$28,000+ RAISED
TO SUPPORT NONPROFIT ORGANIZATIONS AND FIGHT THE CLIMATE CRISIS

15,000+ SINGLE-USE PLASTIC BOTTLES AVOIDED
AT SHOWS BY FANS, ARTISTS, AND CREW
OVERVIEW
Building on the momentum of 2021's tour, My Morning Jacket and REVERB have partnered to increase sustainability on this year's tour and engage fans in meaningful action for people and the planet. This year fans tested their Music Climate Revolution Climate Quiz. My Morning Jacket's efforts focused on reducing climate impacts and single-use plastic waste.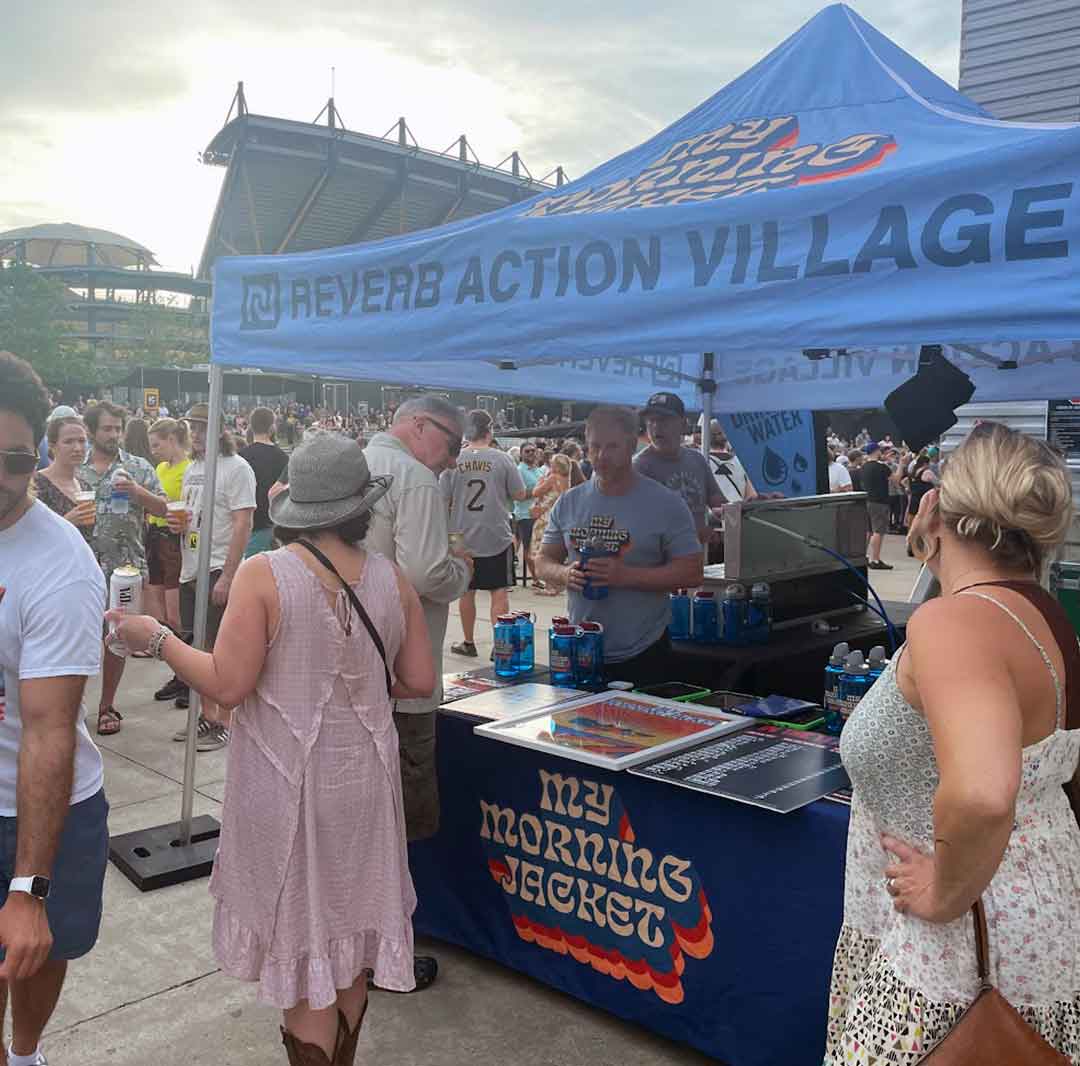 Fan Engagement
Eco-Village
Each night on the 2022 Tour, fans took meaningful action for people and the planet with REVERB in the Eco-Village. In all, fans took 12,090 ACTIONS.
2,073 Donations for custom reusable Nalgene bottles
9,742 Single-use bottles were avoided by fans at shows
1,330 Music Climate Revolution Climate Quiz participants
88 Voter Registrations and 190 digital actions with

HeadCount

$28,000+ Raised to support nonprofit organizations
131 Volunteers gave over 400 hours of time at shows
Fans that took action were entered to win a nightly prize from the band!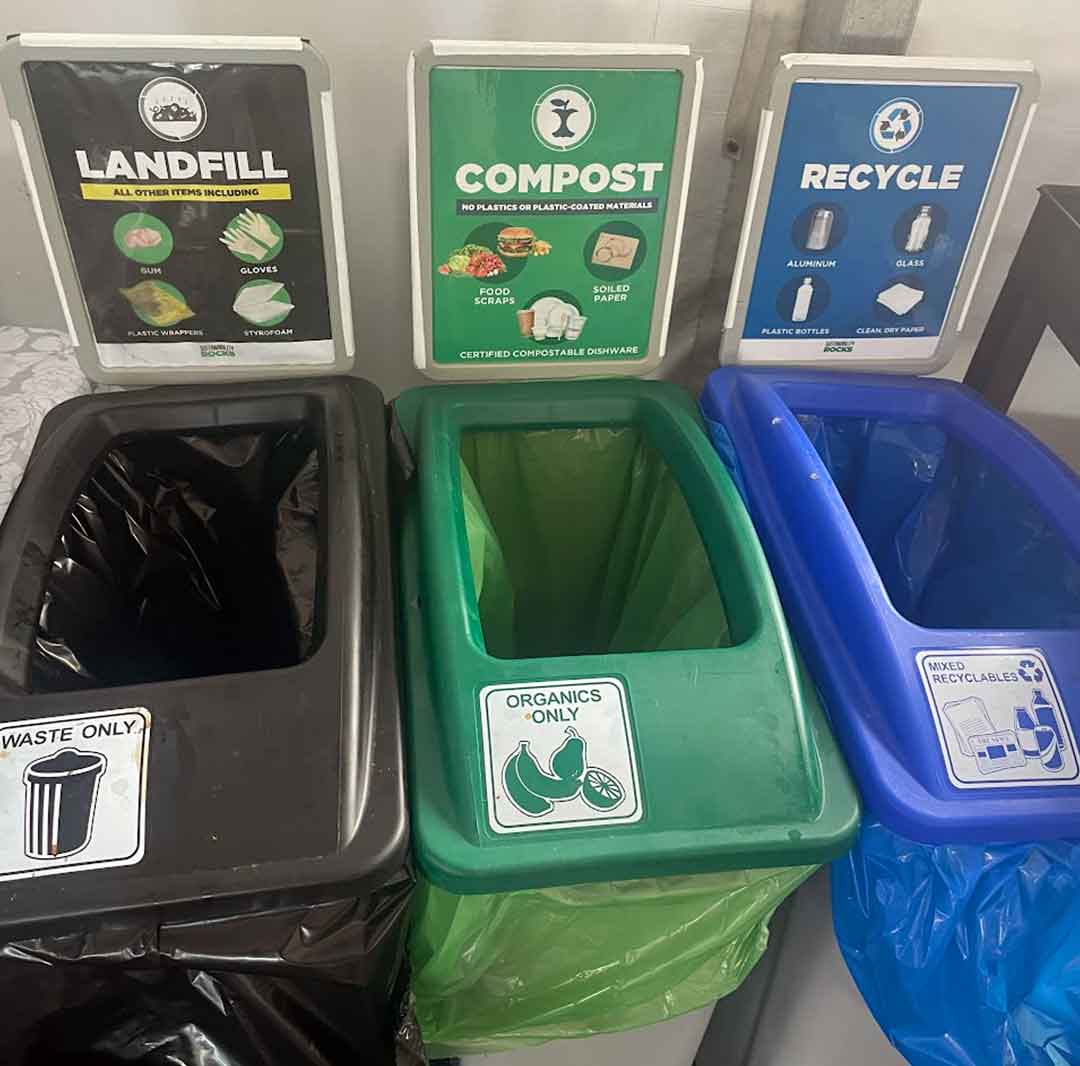 Tour Sustainability
Tour Sustainability Measures
My Morning Jacket and REVERB partnered to make the 2022 Tour more sustainable. Efforts were made across the tour to minimize environmental footprints and maximize positive impacts.
Single-Use Plastic Waste Reductions
Backstage and at Venues

Enhanced Recycling
Backstage, In Catering, and On Tour Buses

Battery Reclamation & Donation
Usable batteries donated to shelters; Dead batteries properly recycled
Unused Hotel Toiletries Donated to shelters (otherwise they end up in landfills)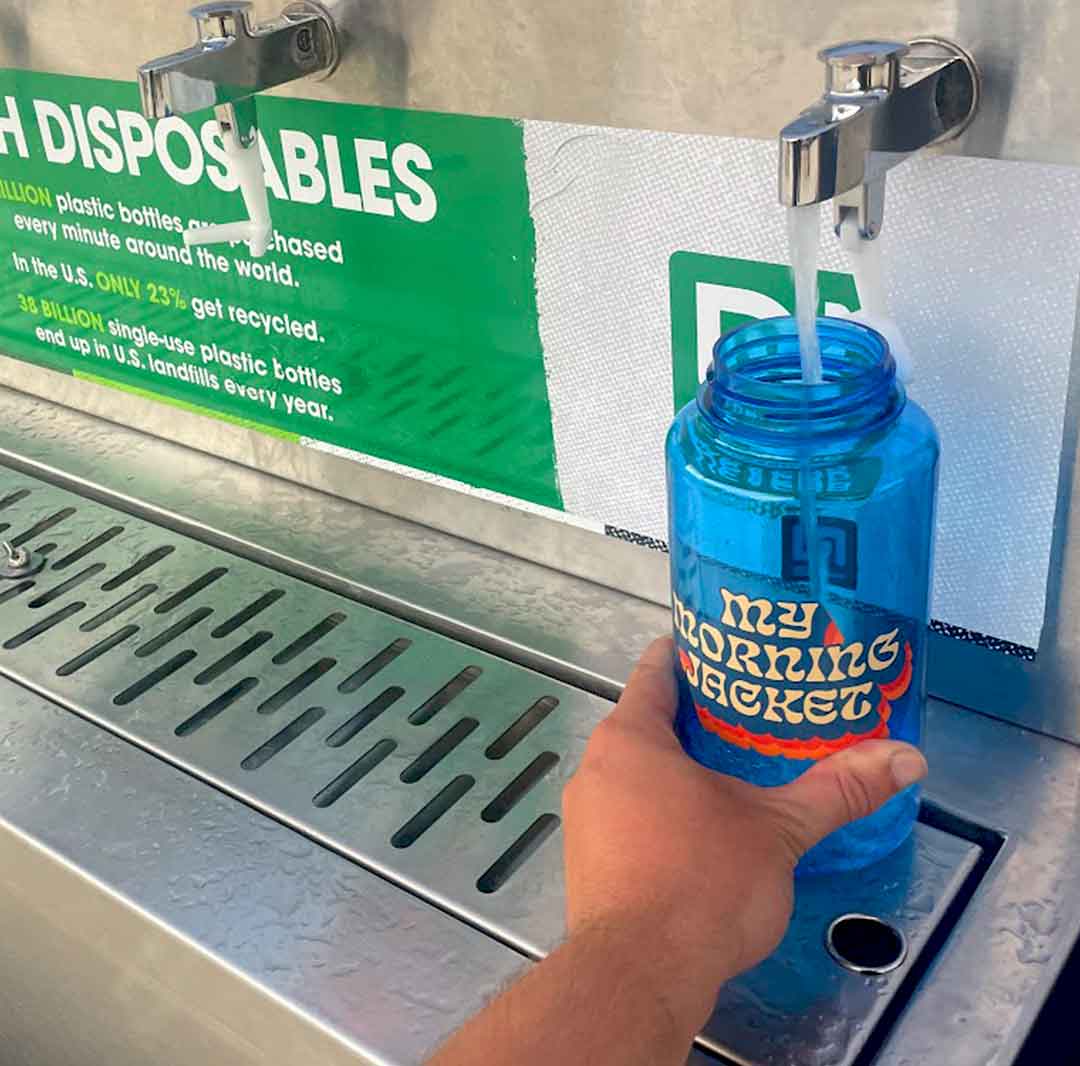 Tour Sustainability
Single-Use Plastic Waste Reductions
15,000+ SINGLE-USE PLASTIC BOTTLES WERE AVOIDED on this tour by artists, crew, and fans.
Water Refill Stations were set up for artists and crew backstage, in catering and on buses and in main concourses for fans
Reusable Water Bottles and Insulated Mugs were provided for artists and crew
Custom #RockNRefill Reusable Nalgene Bottles available to fans for donation
100% of donations supported nonprofit causes

Reusable or Compostable Serviceware used in catering and tour buses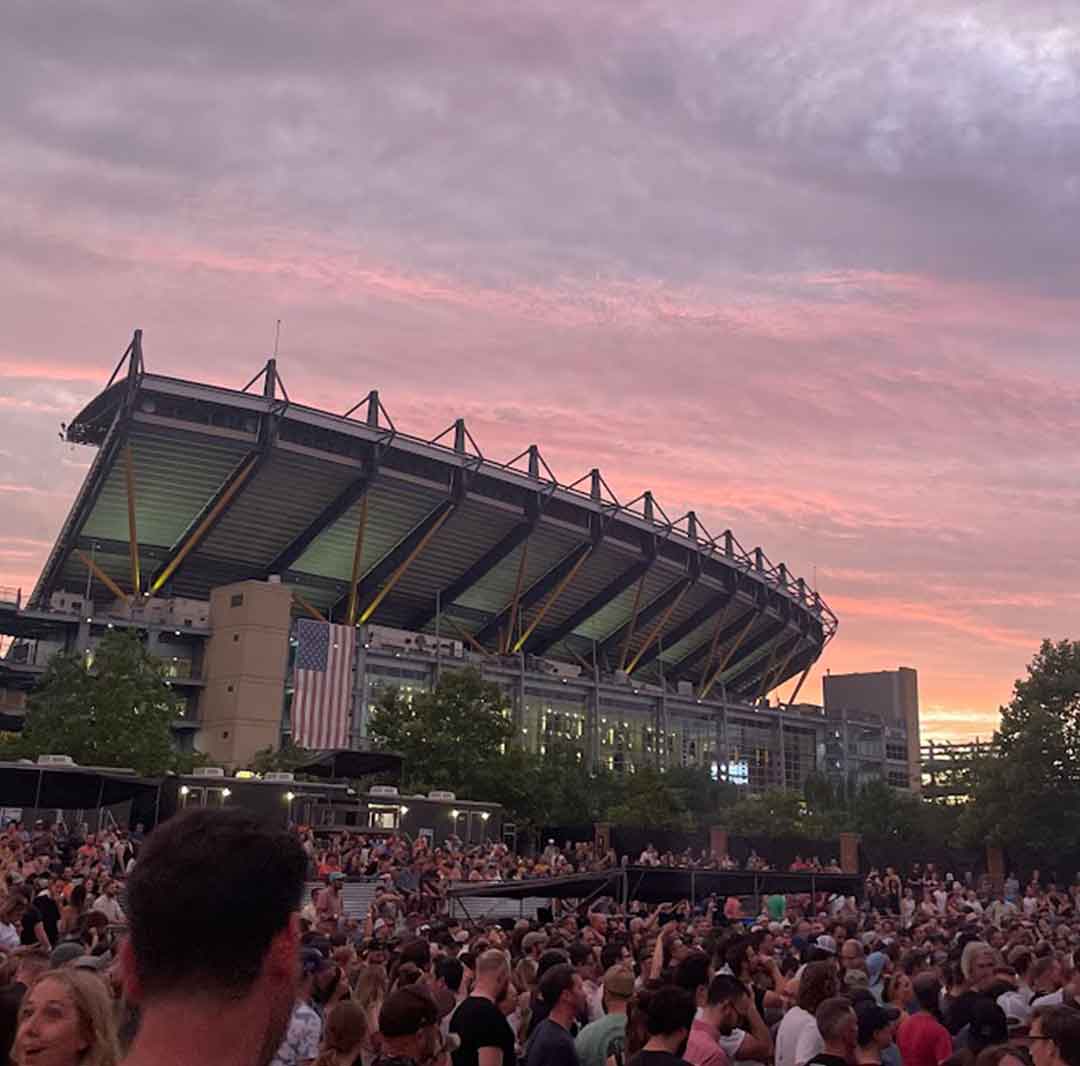 Tour Sustainability
Venues
REVERB connected with venues prior to the tour to support existing on-site sustainability efforts, discuss enhancements, and optimize plans to achieve best possible results
Water Refill Stations backstage and for fans*
More Sustainable Food: 81% of venues offered vegetarian or vegan options in concessions
Plastic Reductions: 74% of venues committed to reducing plastics throughout venue including:
eliminating or reducing plastic cups in concessions • avoiding plastic bags • straws only available upon request • offering non-plastic container water options in concessions

Recycling: 84% of venues offered recycling for fans
Compost: 50% of venues offered composting
No-Idling Policy: 90% of venues put a no vehicle idling policy in place
*at most shows
THANKS
We want to thank everyone that helped create positive impacts for people and the planet on this tour, especially
My Morning Jacket
MMJ Road Staff esp. David 5-1 Norman and Erin O'Rourke
Michael McDonald and all at Mick Management
Steven Burke, REVERB On-Site Coordinator
All the REVERB Volunteers
All the fans that took action at shows!

See REVERB's Work on More Tours